Getting Creative for Client Holiday Gifts
The holiday season is fast approaching, which means client gift giving is top of mind for many businesses that want to show gratitude for their professional relationships.
At Vitamin, our approach is to give meaningful and relevant holiday gifts to our clients — from gourmet spices and local snacks to jelly beans and HTML emails, we've explored it all. Some of our gifts have even been featured in magazines. But we also help our clients create gifts and emails for their key customers and stakeholders. We partner with them to develop unique ways to celebrate their clients in creative and meaningful ways.
Are you starting to think about your client gifts for this year? Below is a sampling of gifts we've developed over the years to help you spark your creative thinking.
Cathedral Stone Products — It's All in the Packaging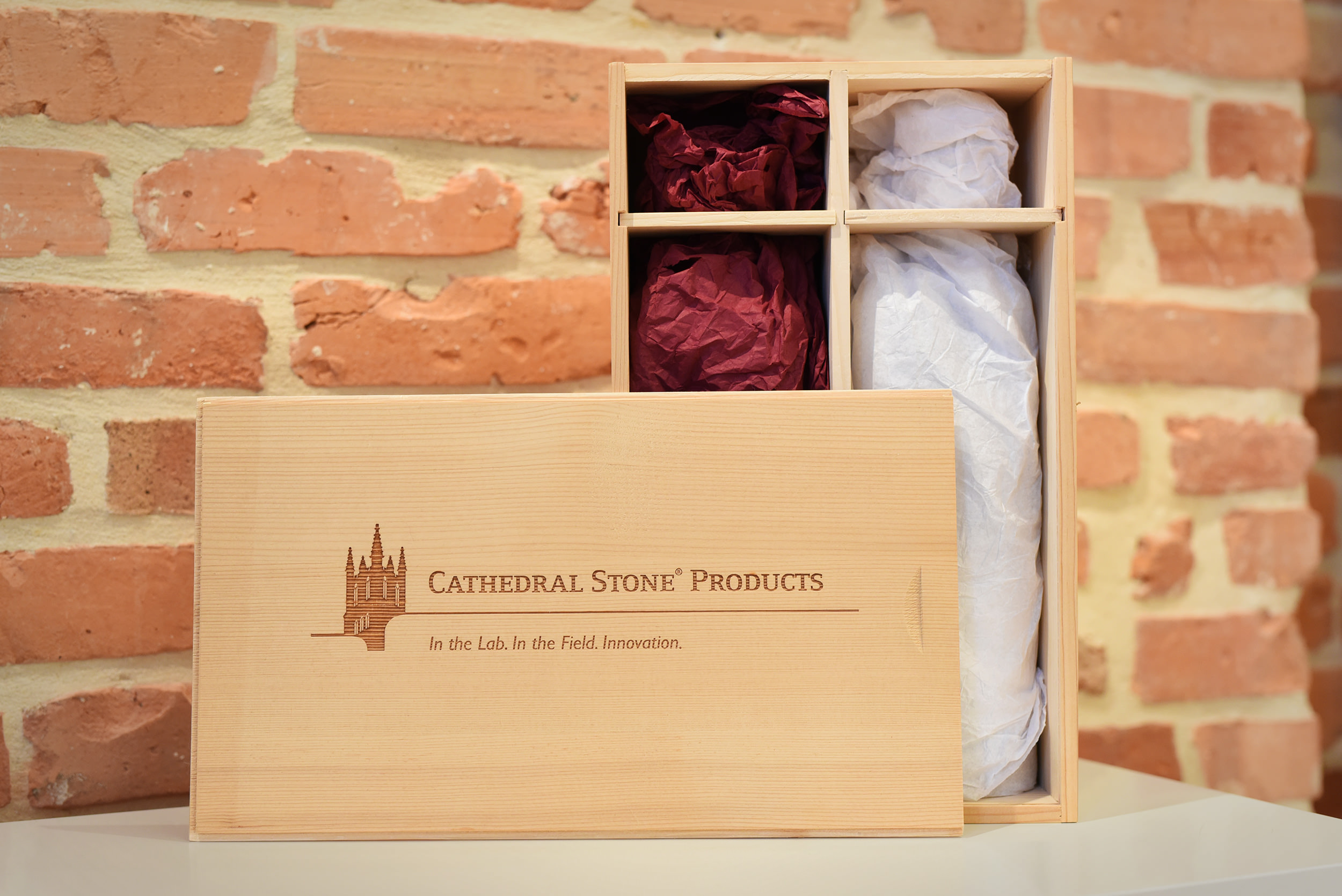 After handling Cathedral Stone Products' rebranding several years ago, the masonry materials manufacturer and distributor hired Vitamin to create a high-impact gift for its most loyal customers. We developed a custom-packaged and custom-labeled wine gift set. The box was wood-burned with CSP's new logo and contained two bottles of 90+ rated wine (one red, one white) each custom-labeled and wrapped in red and white tissue paper. Vitamin also designed a complementary thank you card. The end product was a refined, impactful gift that CSP's customers could enjoy right away or save for a special occasion. From negotiating the wine supply to designing the packaging, Vitamin handled this project from start to finish.
What made this gift great?
The custom packaging – while the gift itself was relatively simple, the packaging was a beautiful standout piece that reinforced CSP's new branding and made the gift delivery incredibly exciting and meaningful for CSP's clients.
The wine and its relevancy – as a wine connoisseur himself, the owner of CSP wanted to share his taste for vino with his best customers, who shared his appreciation of a good wine.
Vitamin — Wish 'Em a Happy New Year

We're big fans of giving New Year gifts: they're celebratory, they stand apart from the December holiday clutter and they allow you to avoid the religious holidays if you have clients from a variety of cultural backgrounds. In 2015, we got crafty and gave our clients custom-packaged jelly beans to bring in the New Year. The gift centered on an "open canvas" theme, so we packaged different flavored jelly beans in custom-designed paint cans. The gift, which we dubbed "CMY2K15" (to represent the colors used in printing [cyan — C, magenta — M, yellow — Y and black — K] as well as the year 2015) was a hit with our clients who loved the unique packaging and the sweet treats. Check out the full project here.
What made this gift great?
The creative theme and thoughtful tie to our industry
The custom packaging
The jelly beans — the jelly beans were edible, shareable and colorful, which made them a great conversation starter.
RJM Engineering — Involve the Whole Team
Sometimes simplicity is all it takes to share the respect and appreciation you have for clients. Consider sending an HTML email for the holidays this year. HTML emails can be elaborate and include all kinds of fun things like contests, promotions, etc., but for a more simple and easy approach, consider highlighting your team. For RJM Engineering we have regularly designed and sent festive holiday emails that incorporate their entire team's signatures.
What made this gift great?
The simplicity and ease
The signatures – RJM's clients grew to look forward to seeing how the company would incorporate its staff's signatures on new creative each year.
Vitamin — Keep it Local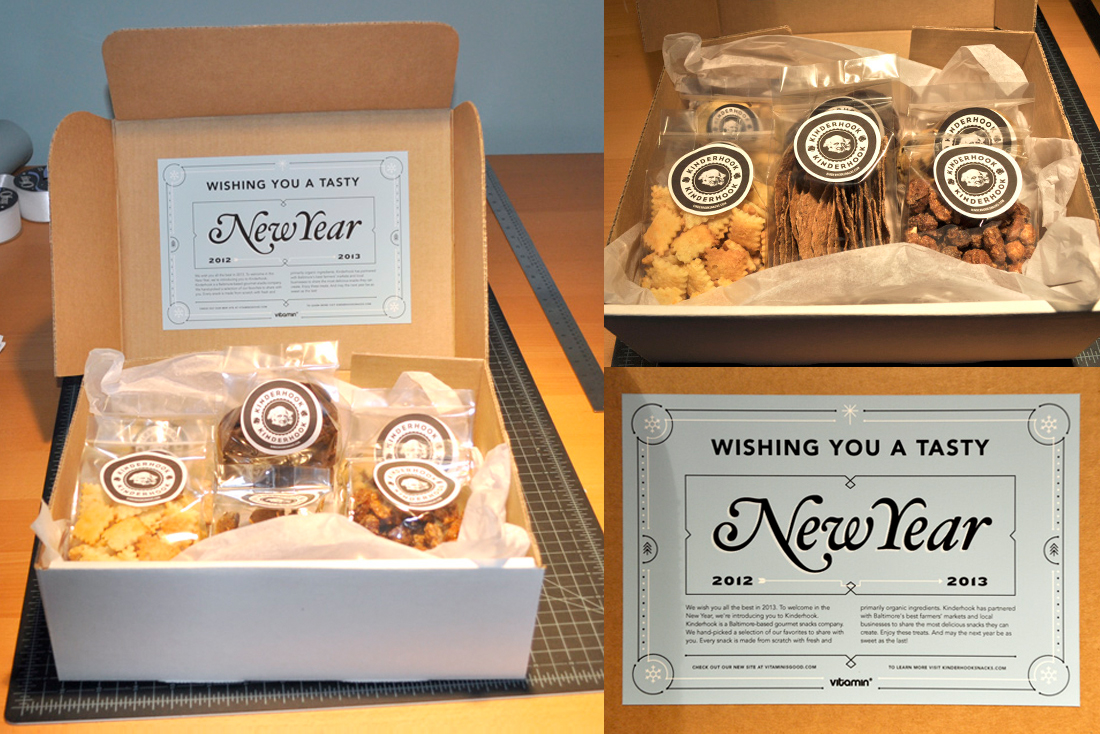 It's always nice to give gifts that are made by local vendors — especially for smaller companies or if your company is deeply embedded in the community; it shows that you support the local economy and gives you a chance to share a piece of your city with your clients. That's why one year we gave our clients tasty treats by Kinderhook Snacks, a Baltimore-based snack maker. We chose a selection of cookies, shortbreads, glazed nuts and crackers for our clients to snack on in the New Year. We crafted and assembled each package, designed and printed the seals and labels in-house and gift-wrapped the entire set. Check out the full project here.
What made this gift great?
The local touch
The snacks – who doesn't love an assortment of delicious, sweet treats?
Are you interested in doing something creative and meaningful to reach your clients this holiday season? Now's the time to start! Give us a shout at info@vitaminisgood.com.
Let's Do Something Great.
Get in Touch.