Baltimore, Md. – Vitamin®, the digital-first integrated marketing agency, today unveiled a logo refresh to complement the agency's recent move to its new Federal Hill headquarters at 720 Light Street. The modernized logo reflects Vitamin's maturity and evolution from its founding and roots as Baltimore's first, fully integrated marketing boutique nearly 20 years ago. Taken in combination with its stunning new HQ, the updated branding marks a major milestone, affirming Vitamin's position as a bold and forward-thinking agency.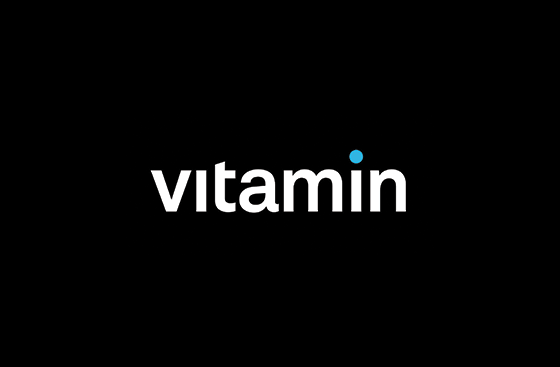 Founded in 2002, Vitamin has followed a methodical and strategic trajectory to stay the course as one of the mid-Atlantic's strongest boutique agencies. In 2019, the agency achieved a major milestone, purchasing an end-of-block, 6,000 square foot, four-level commercial building located just steps from the Inner Harbor and Baltimore's Central Business District to serve as its new HQ. Since then, Vitamin's leadership has worked closely with the agency's internal design team to fashion a modern and creative space that exudes the fun and deliberate energy of the brand's style and capabilities. With the new HQ now complete, Vitamin has unveiled a more streamlined, sophisticated logo that is equally reminiscent of the contemporary changes and growth that have epitomized its evolution.
"We are not the same agency we were just a few years ago," says Vitamin CEO Amanda Karfakis. "The people we've welcomed to our team have strengthened us and propelled even deeper integration across Vitamin. Equally important, our clients, those who are new or have been with us for nearly two decades, have continued to challenge and trust us, and the work we're producing together has delivered exceptional results."
The building itself is a geographical gateway to Federal Hill and a statement piece, cementing the company's status as one of Baltimore's most rooted agencies.
Though Vitamin employees have been working remotely since COVID-19 lockdowns began, the team is eager to begin collaborating in the agency's new digs. The expansive interior offers triple the space of Vitamin's prior location and leaves room for further team expansion.
Outside, temporary signage will be installed on May 29, 2020, which Karfakis anticipates will be replaced by a permanent version later this year. The agency is also planning for future exterior improvements in the next 12 months.
Inside, visitors will be met with an aesthetic experience and tone that exude a modern, progressive agency on the cutting edge of design and creative inspiration. Colors, materials, furniture, finishes and floor plans were all specifically chosen to follow suit with the agency's brand and website.
In the past 24 months, Vitamin has not only prepared for its relocation, but also welcomed a collection of new clients from a wide range of industries. These include: WesBanco, Inc., a multi-state bank holding company with $15.7 billion in total assets, Greater Baltimore Medical Center (GBMC), Society of Industrial and Office Realtors (SIOR), the world's premier CRE organization, and Penn-Mar Human Services, a leading regional human services nonprofit.
As Karfakis points out, Vitamin's client roster has grown in size and sophistication, and the agency has continued to excel at every turn.
"It's been highly rewarding to watch our team rise to meet every new challenge. In these unusual times, we're all reflecting on how grateful we are for the relationships we have and the ability to stay connected, even from afar. We're excited for the future- not only to see what new opportunities come our way, but how we will collaborate with our clients to find their unique voices and tell their stories."
About Vitamin®
Vitamin® is the "Cure for the Common Brand®," a full-service, digital-first agency providing clients with high-quality, process-driven deliverables within the disciplines of branding, website design and development, SEO/SEM, media & advertising, print, public relations, and social media. Founded in 2002, the Baltimore-based agency specializes in integrated, deeply branded experiences that define clients and bring their unique differences to life with a focus on inbound lead generation and lead nurturing. Vertical expertise includes banking, built environment, commercial real estate, financial services, healthcare & human services, manufacturing, and non-profit market sectors. Vitamin is a certified MBE/DBE/SBE by the Maryland DOT.
Let's Do Something Great.
Get in Touch.