Hamilton Bank is a community bank dedicated to building lasting relationships with small businesses, homeowners, individuals and entire families in Greater Baltimore. With more than a century of experience, Hamilton Bank has proven its stability, its reputation and its dedication to its customers.
Challenge
Founded in 1915 as a one-location federal savings institution in the Hamilton neighborhood of Baltimore, Hamilton Bank had spent decades developing a loyal core customer base. But as those customers began to age and younger generations perceived the bank as solely a savings bank, Hamilton Bank started to lose market share and preference among local residents. The bank had also geographically expanded and was providing a wide range of services at five locations across Greater Baltimore, so regaining a strong foothold in the market was critical to financial stability.
Strategy
Vitamin immediately saw an opportunity for Hamilton Bank to capture more market share by restoring the bank's brand vitality and generating public awareness through an integrated rebranding and marketing communications strategy that showcased the bank's rich history, future growth and commitment to the community. Vitamin implemented a comprehensive suite of services for Hamilton Bank, including a brand redesign, web design, public relations, redesigned stationery collateral, media planning, media buying, advertising, social media strategy and related marketing communications services. The goal was to create a uniform brand and consistent messaging throughout all internal and external marketing efforts and materials.
Results
The bank's elevated brand has helped Hamilton Bank acquire smaller banks and expand its footprint. Its new market presence rivals many larger banks, pushing it further into the younger generation's consideration set. When the brand launched, Vitamin earned a full-page exclusive story on Hamilton Bank in the Baltimore Business Journal, Baltimore's premier business publication. Other regional media and banking trade media also ran significant stories on the bank's new brand. Vitamin earned a variety of press exposure for Hamilton Bank covering unique programs, new hires and employee accomplishments, trends in business lending and more.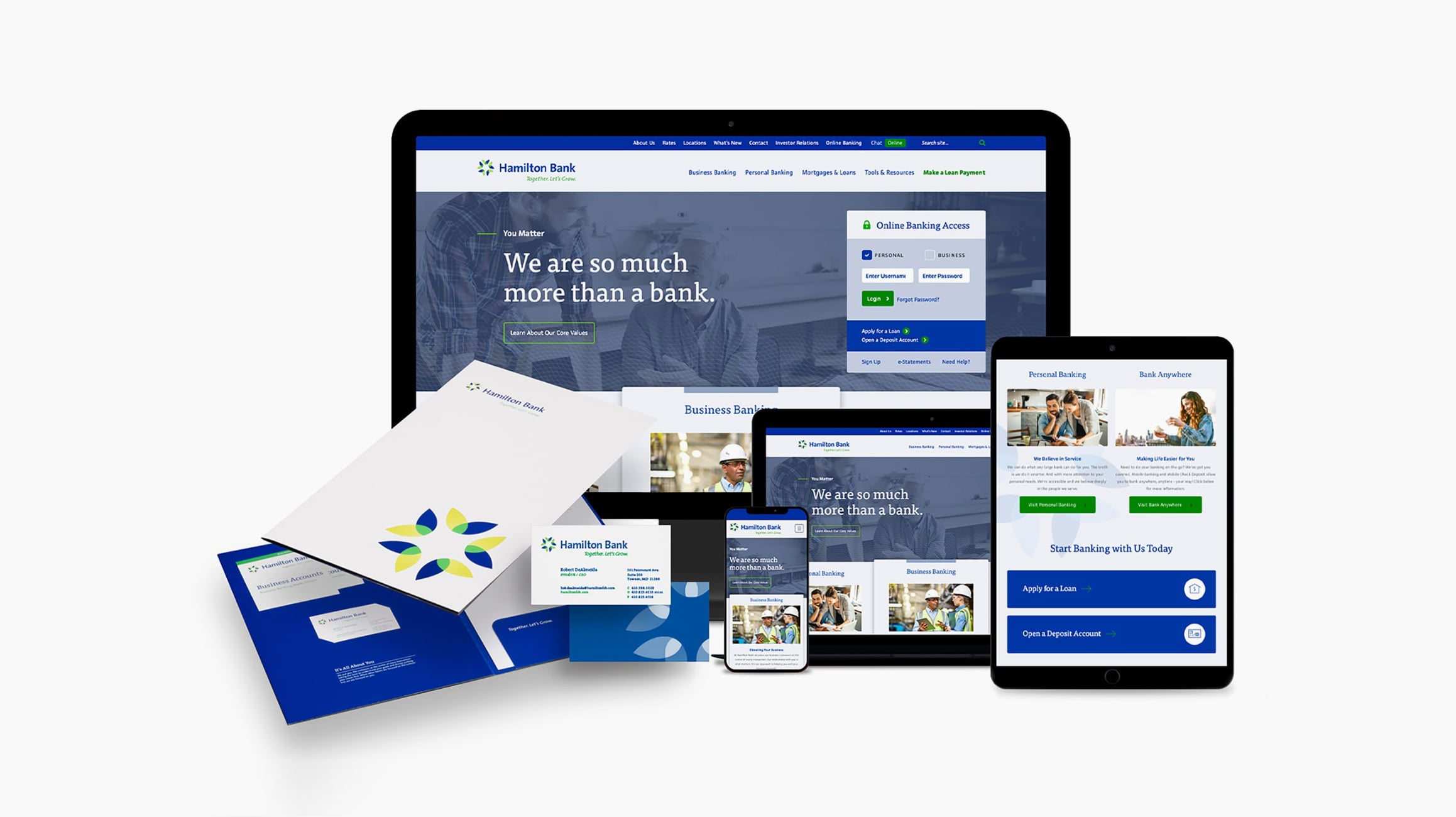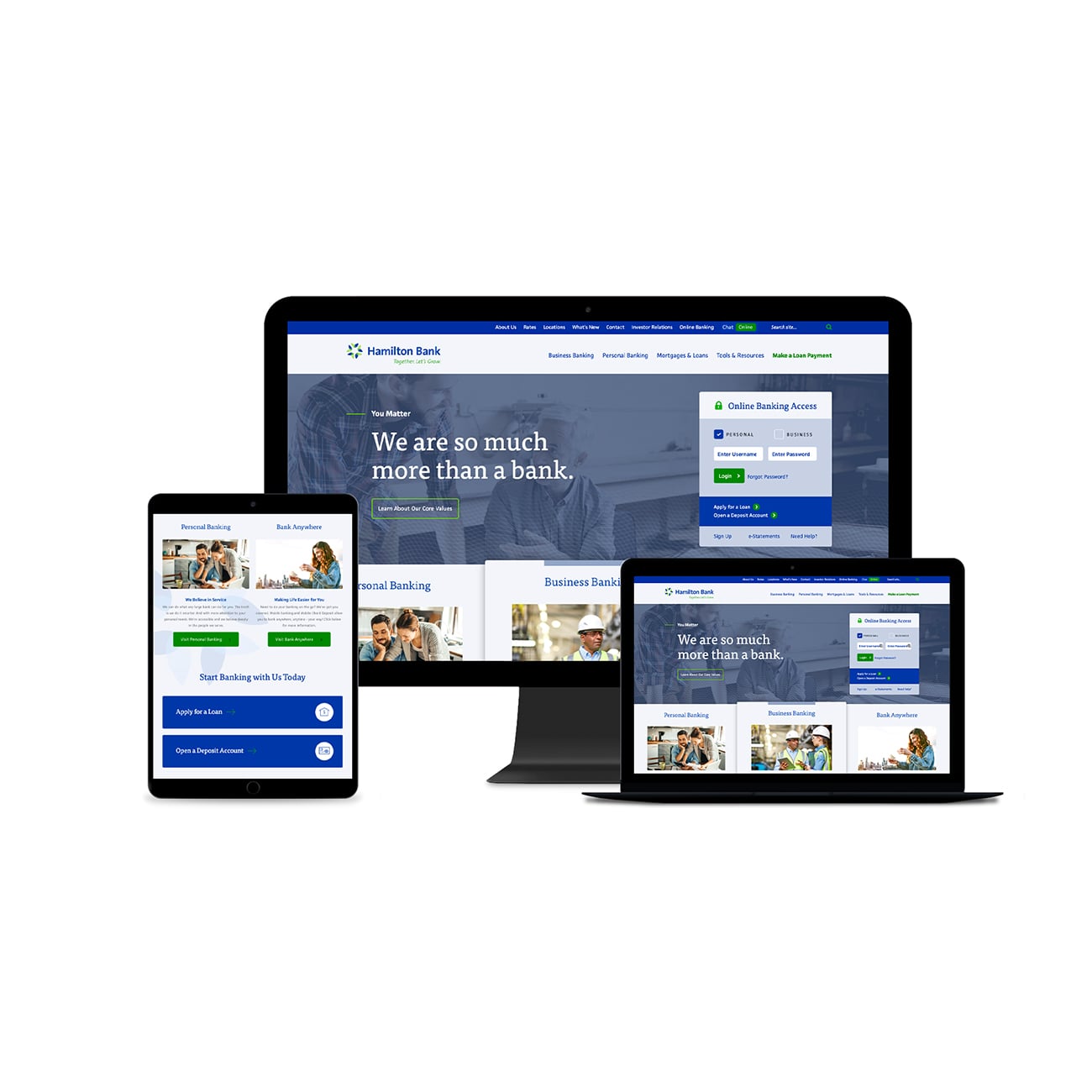 ADA Compliant Website
Hamilton Bank's website makes the user experience as effortless and comfortable as possible. The sleek, clean design and clear navigation make the site intuitive and easy to use. The website also offers a collection of custom financial calculators so customers can find information on loans, constantly changing interest rates, and a myriad of other financial topics. Built on the WordPress platform, the site features a ground-up custom template, which allows site administrators to update and change content as needed, in-house.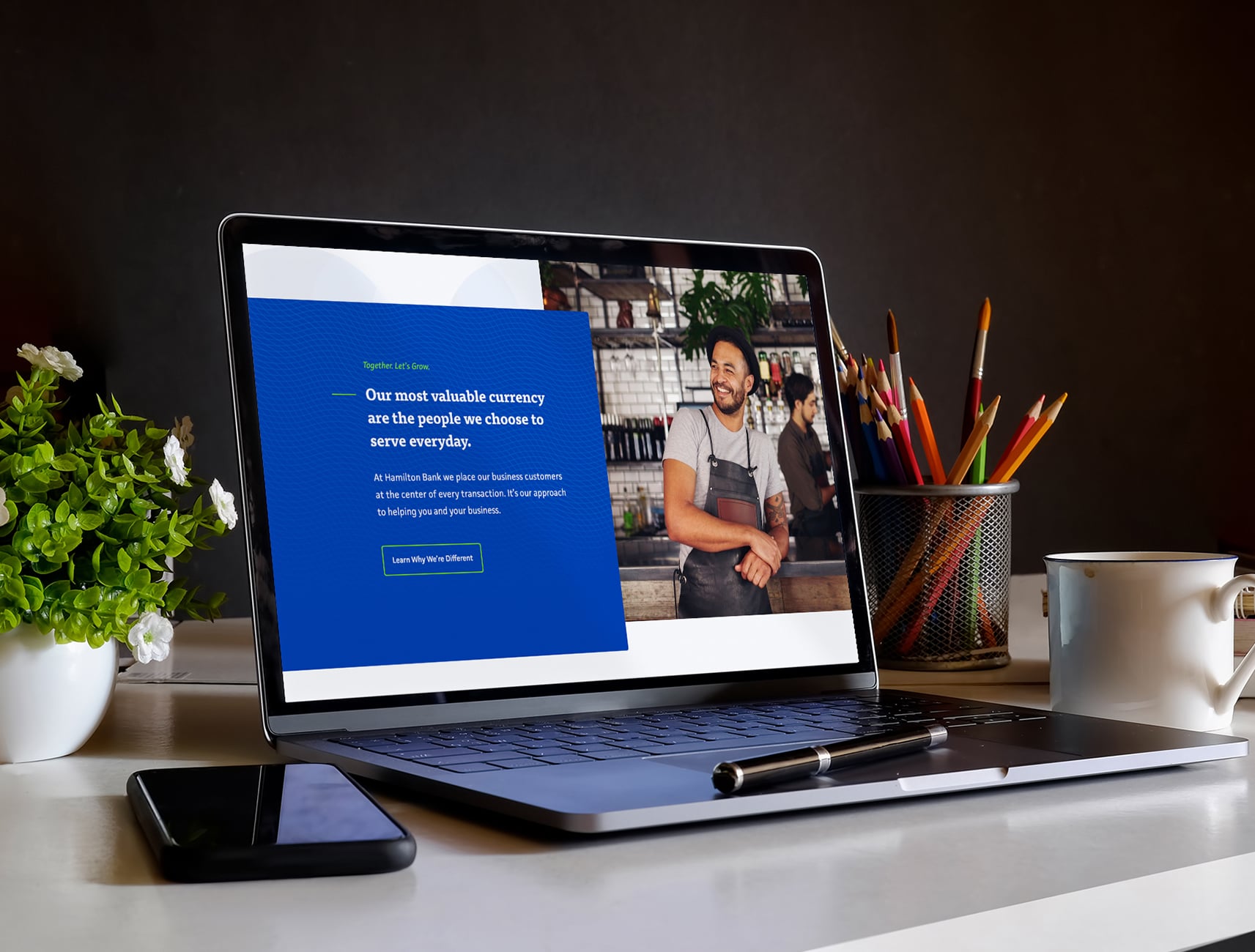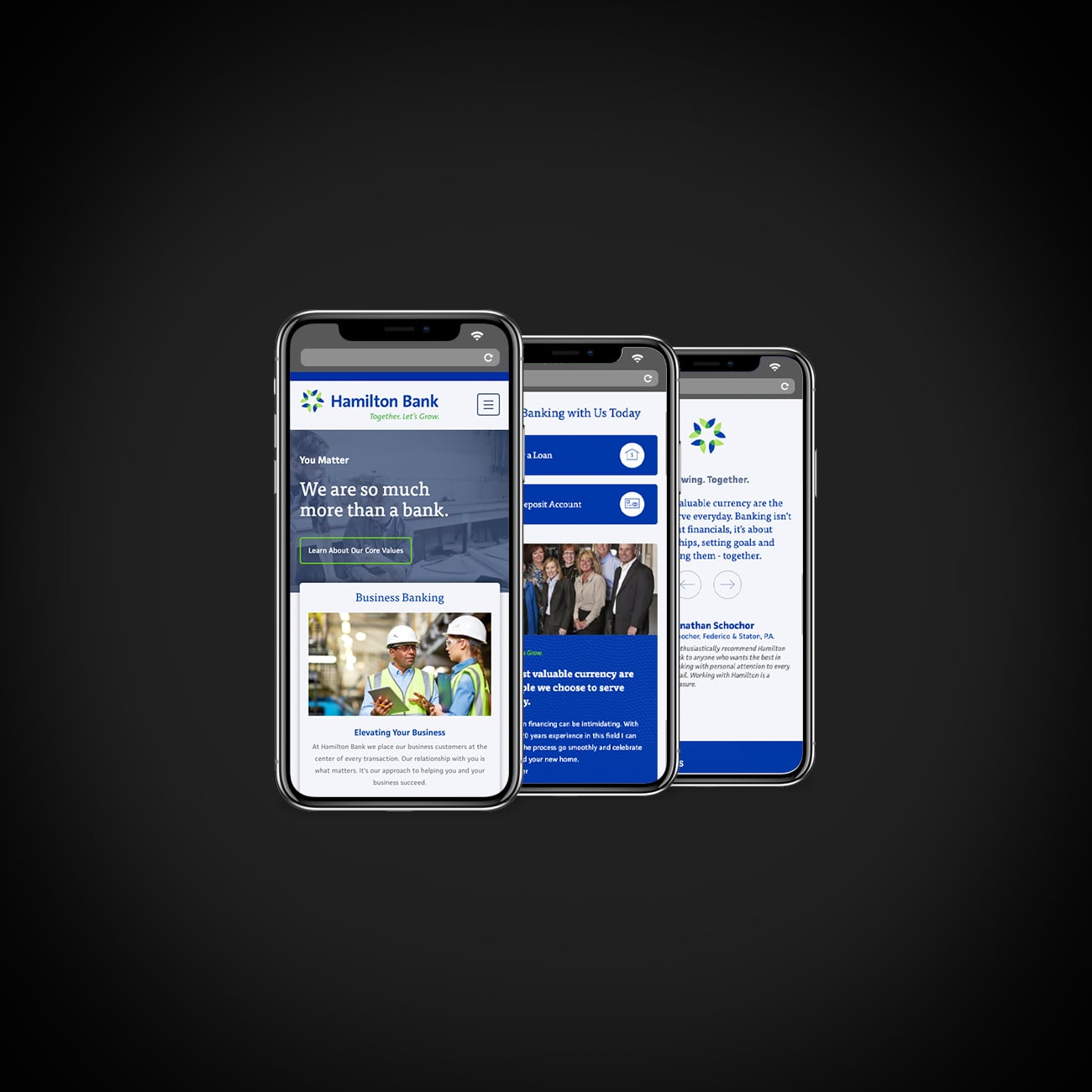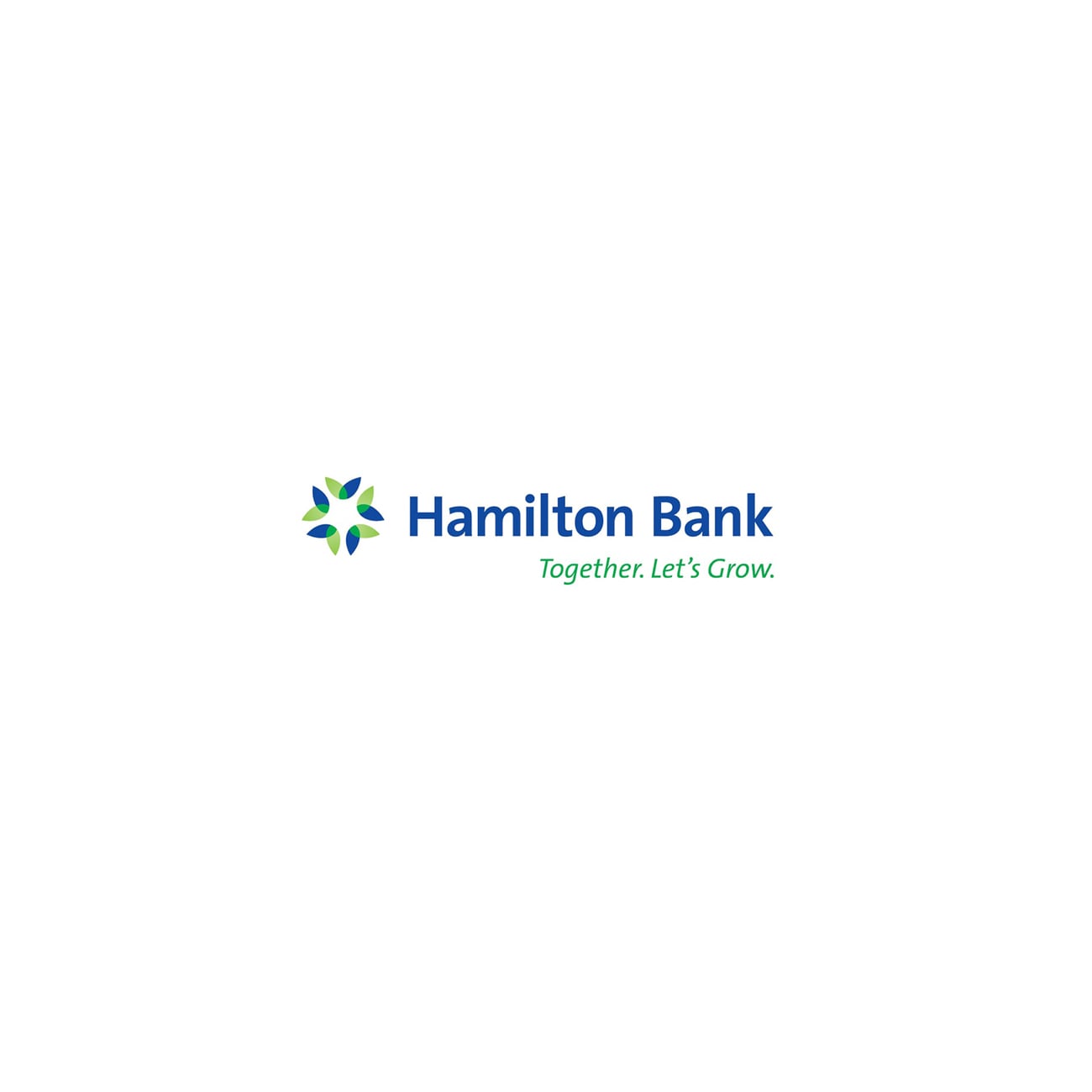 Complete Rebrand
The initial logo exploration for Hamilton Bank resulted in over a dozen different, solid potential directions. Hamilton Bank's final logo reflects the transformation from a traditional savings bank to a more diversified financial institution. The mark is fresh, friendly and attractive. Reflex blue was used to bring a bold, trustworthy look to the brand. The mark's interconnected, circular pattern depicts the bank's connection to the community along with a shared growth with customers.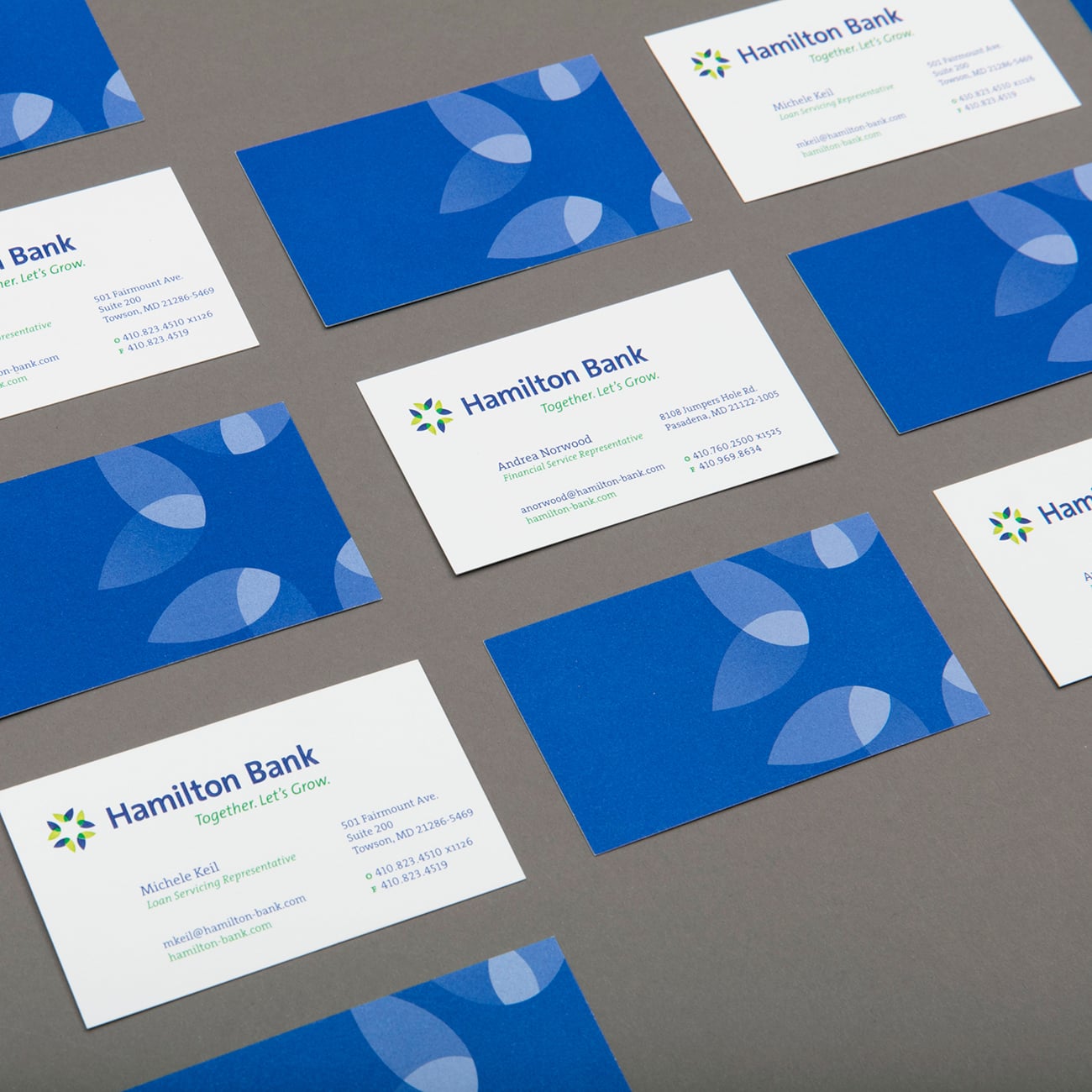 Brand Collateral
The stationery collateral and business cards fully reflect the fresh look of the new brand. The logo and tagline are presented on all printed materials in bright, highly saturated greens and blues that pop, showcasing Hamilton Bank as a contemporary brand with years of stability and hard work under its belt.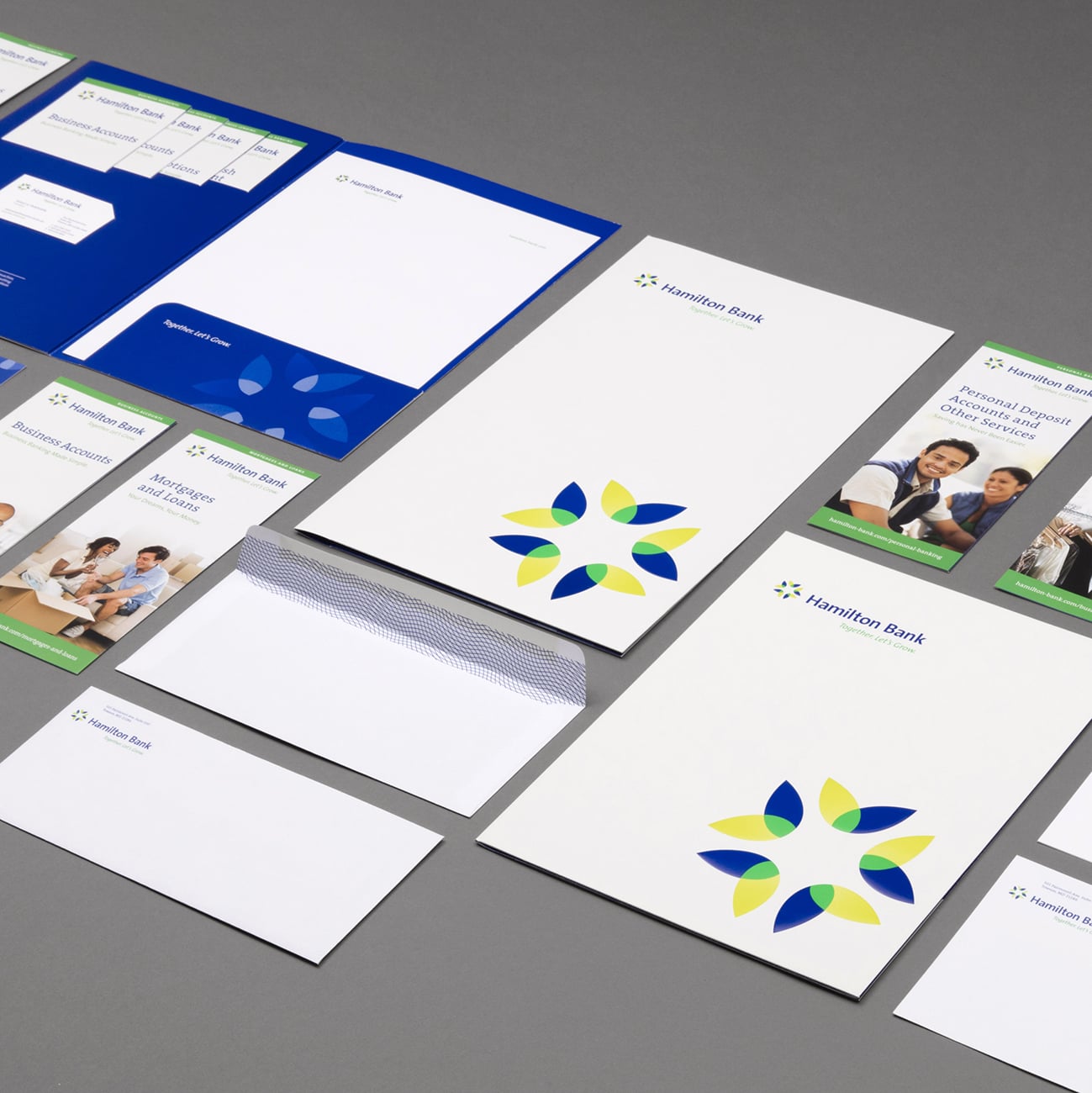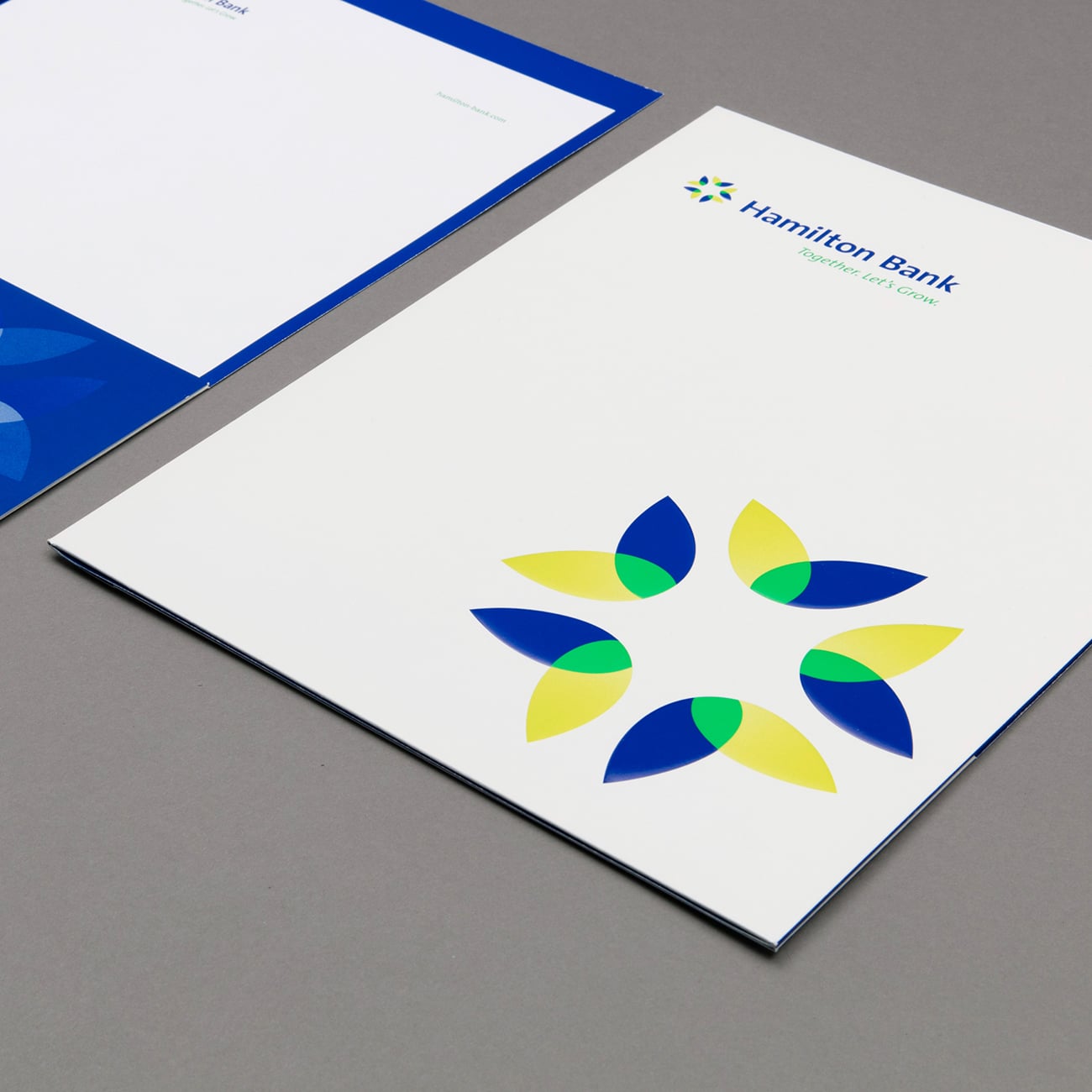 Custom Sales Kit
Vitamin designed a custom pocket folder, which was produced using high-quality, smooth, gloss paper and manufactured to receive a variety of delicate finishes and optimize color performance. The inside of this folder contains custom die-cuts designed to display four tri-fold brochures. The tri-fold brochures were custom designed to remain identifiable while housed within this system. Both logos on the front of the folder are embossed with hand-sculpted dies, which gives a layer effect to the emboss. This technique was leveraged to reinforce the visual layers that occur in the logo.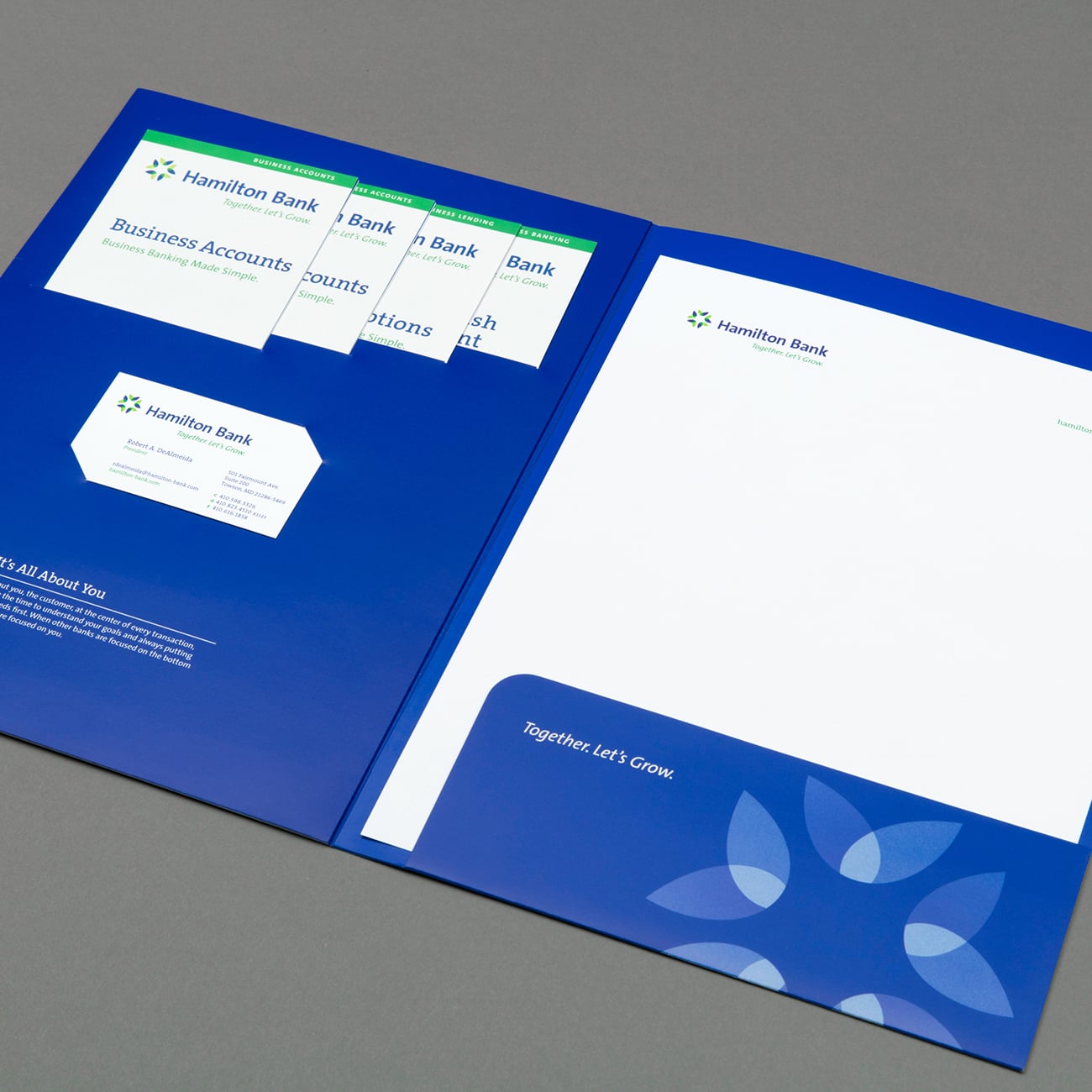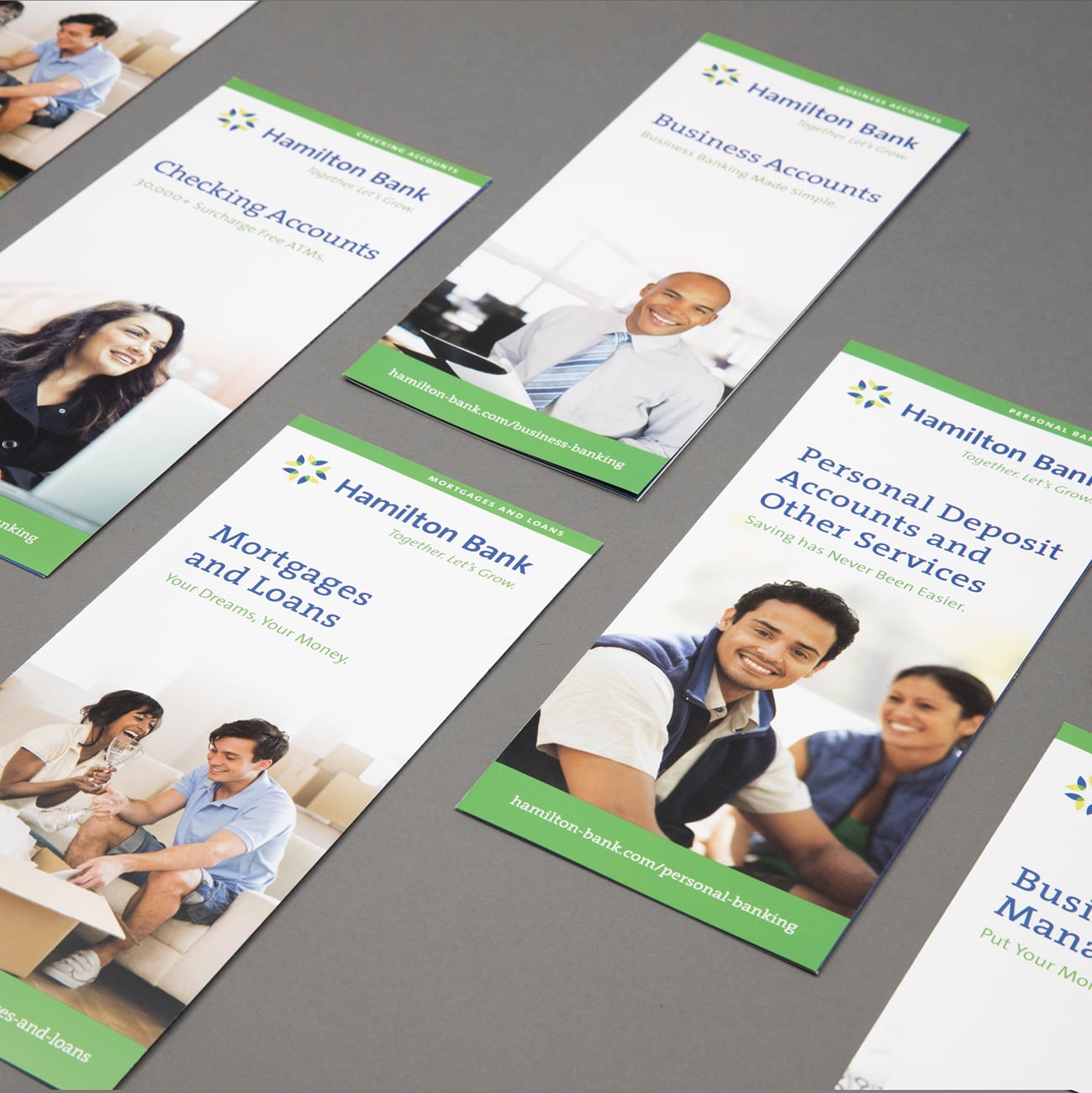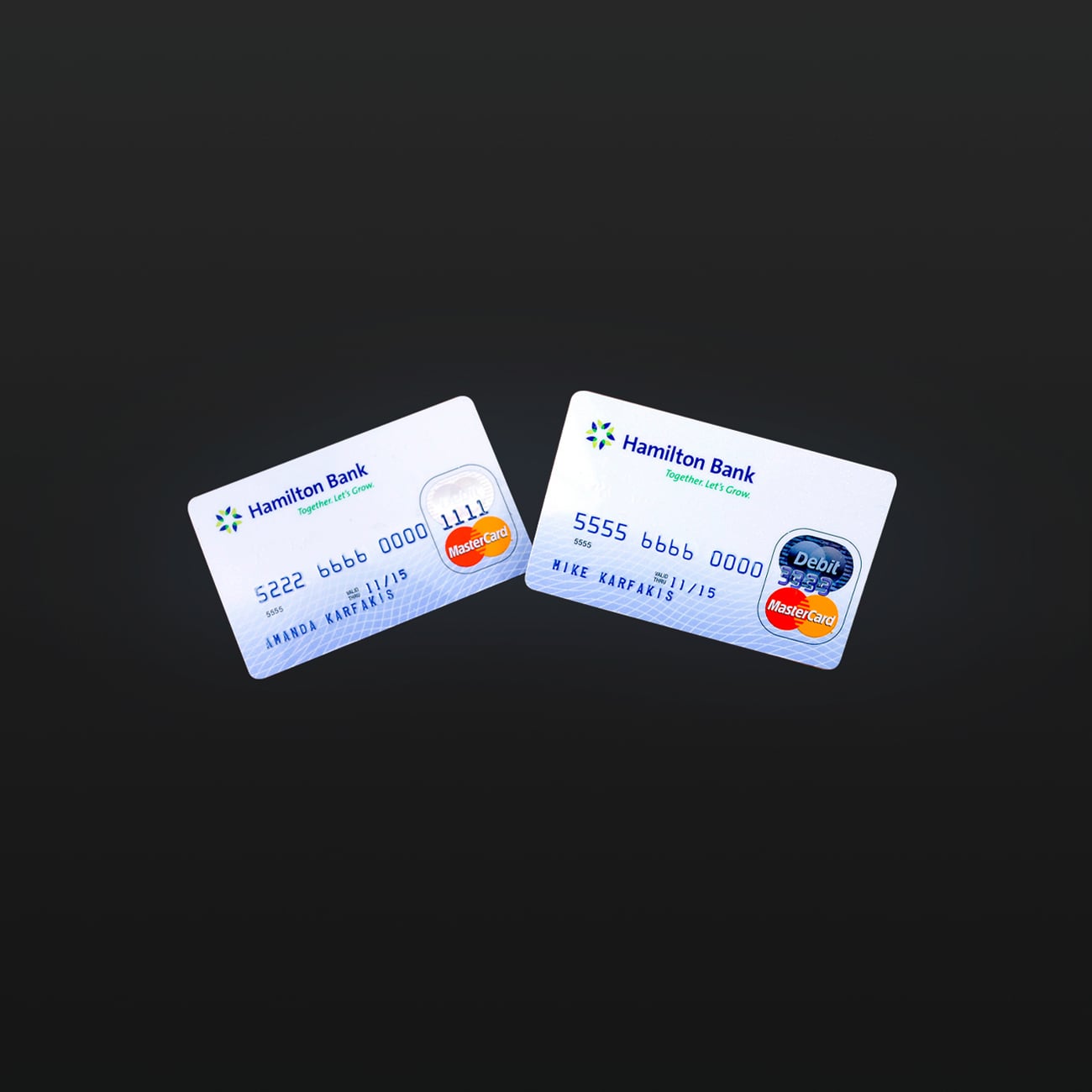 Let's Do Something Great.
Get in Touch.