With more than 80 programs at 200 locations, Catholic Charities is Maryland's largest private provider of human services. Every day, the non-profit serves children and families experiencing homelessness and poverty, individuals with intellectual disabilities, immigrants and seniors without regard to religion, race or other circumstances.
CHALLENGE
For their end of year giving campaign, Catholic Charities needed to find a new message to appeal to the generosity of the community and also articulate the impact the nonprofit organization makes on a daily basis. They had no shortage of powerful stories from individuals whose lives were changed by deep relationships with dedicated Catholic Charities staff. But they needed help synthesizing these stories in a manner that would rally the community and inspire them to join a movement that turns compassion into action.
STRATEGY
At a time in our culture where we are inundated with a 24-hour news cycle and the struggles of so many are ever present, awareness was not the issue. Cutting through the negativity with a story of impact was. In recent years, there has been criticism that extending "thoughts and prayers" when struggle and tragedy strike, can ring hollow. Positivity can feel empty if it does not compel the action that is needed for real change. Leveraging this sentiment, we created the anchor message for our campaign, "Hope is Just the Start."
RESULTS
Recognizing our capacity for empathy and the inherent goodness in us all, we know the community at large sees the struggle. We know that we all wish for the best and hope that things will get better. But that alone only goes so far. Hope is Just the Start. From that hopeful place, it takes a sustained commitment from an organization like Catholic Charities to make change. Robust programs, skilled staff, and caring volunteers can realize a hopeful vision and turn it into meaningful impact in our communities.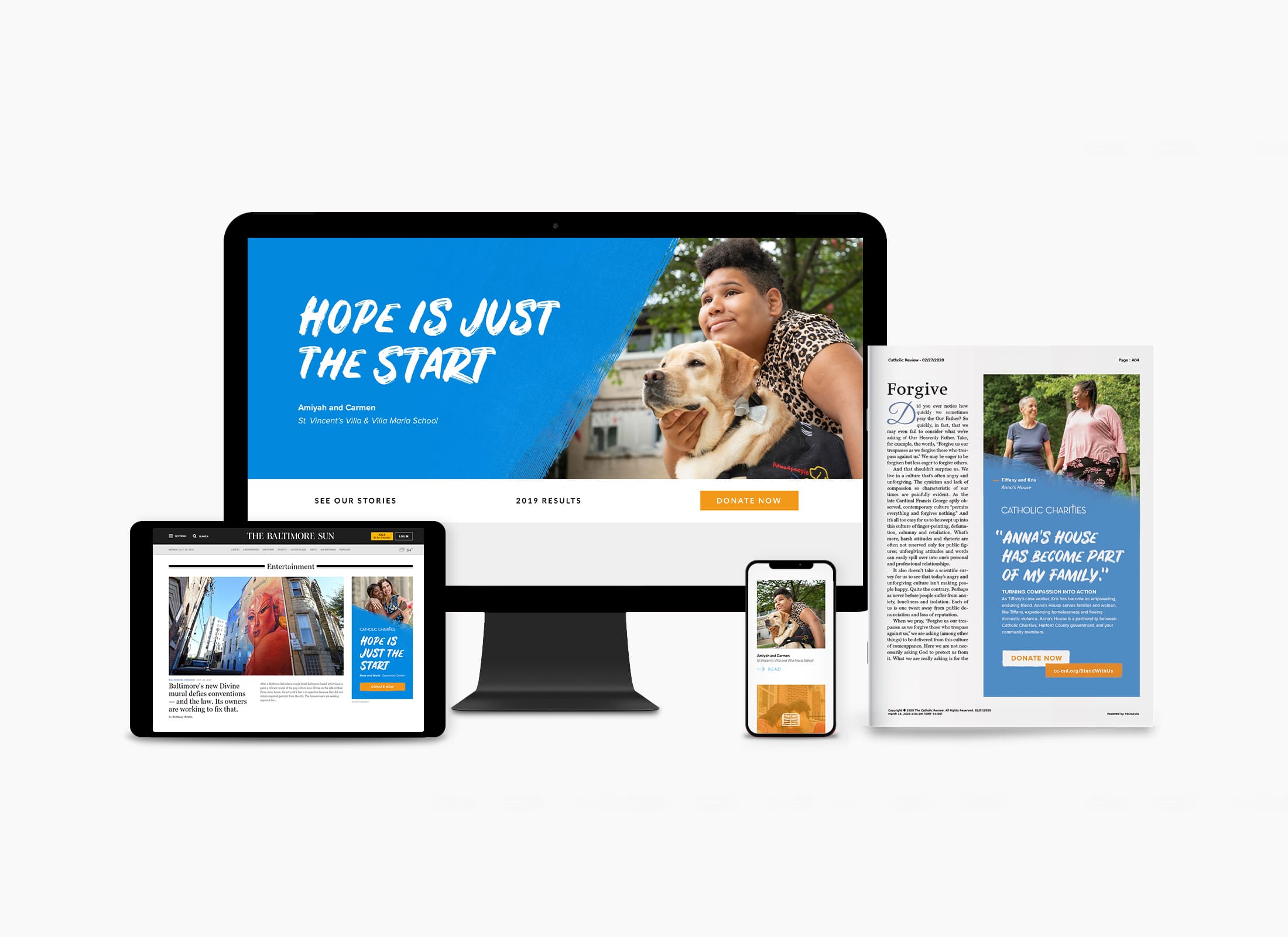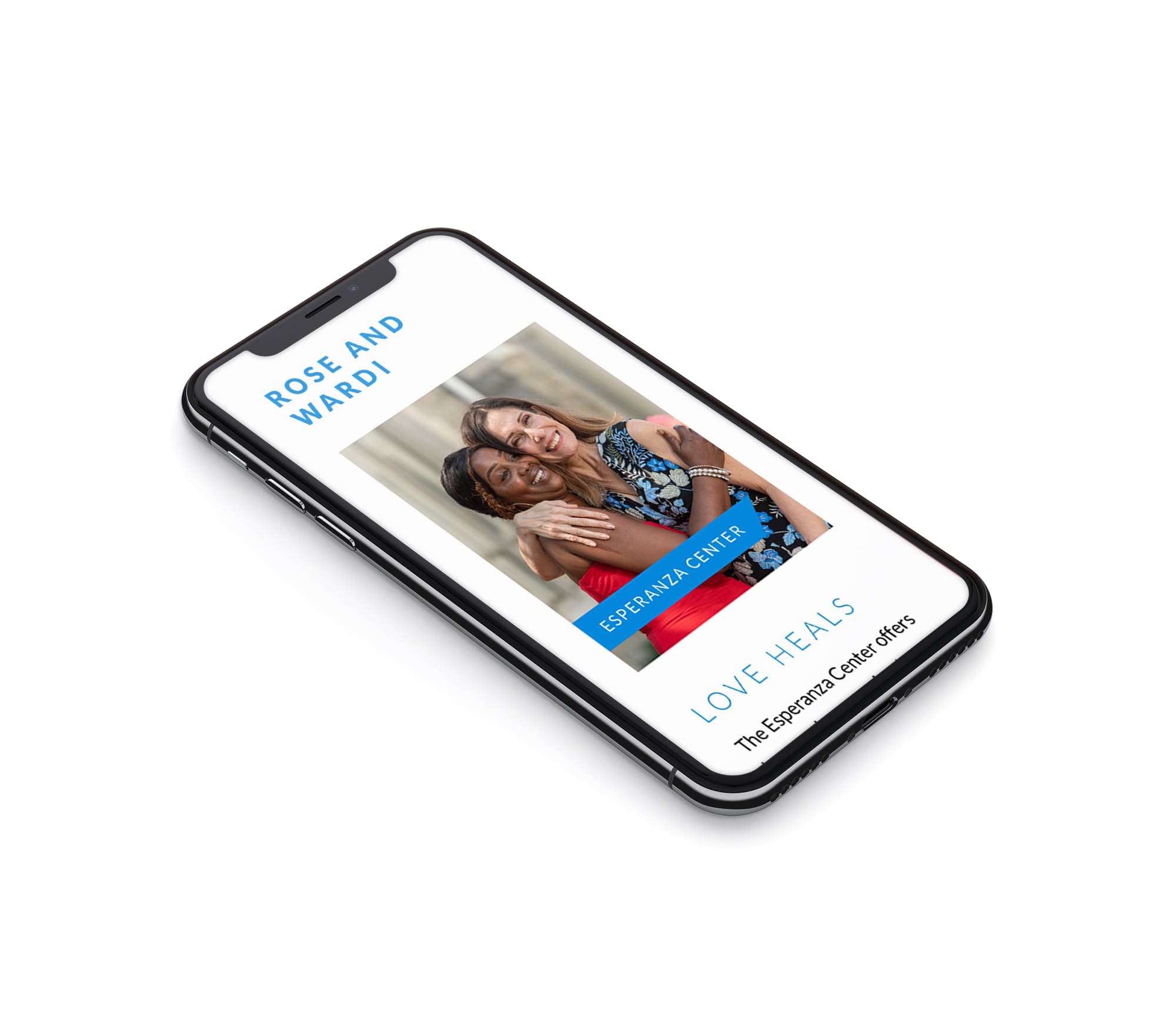 Real People. Real Stories.
The most powerful way to articulate the impact of an organization like Catholic Charities is through the compelling stories of the many lives that have been forever transformed. We featured profiles of real people from a number of centers. The depth of their relationships with the organization speak for themselves. Stories were utilized in both written and video form with an authenticity that's so relatable, they feel like they could be family members.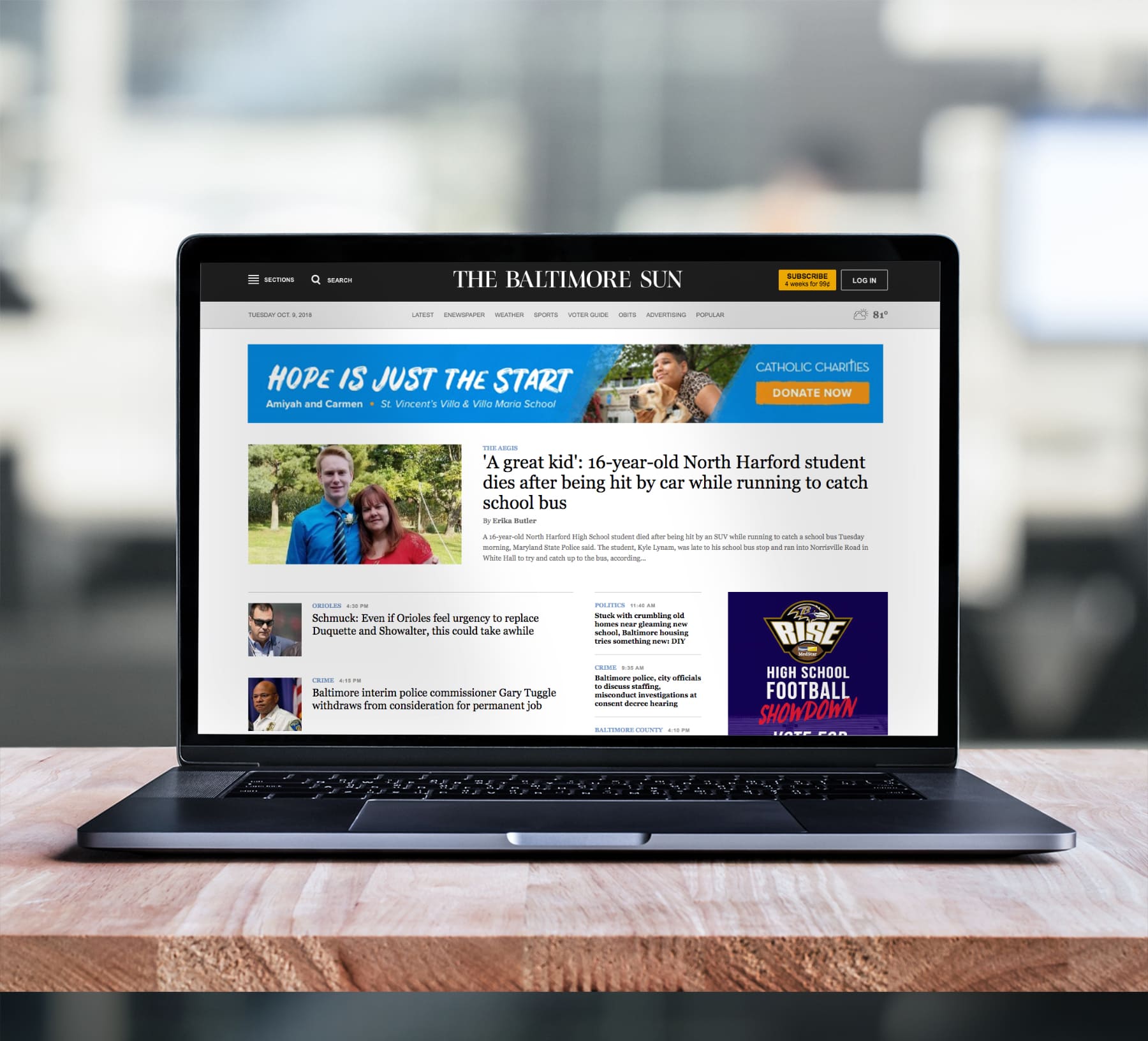 "Helping someone else through difficulty is where civilization starts."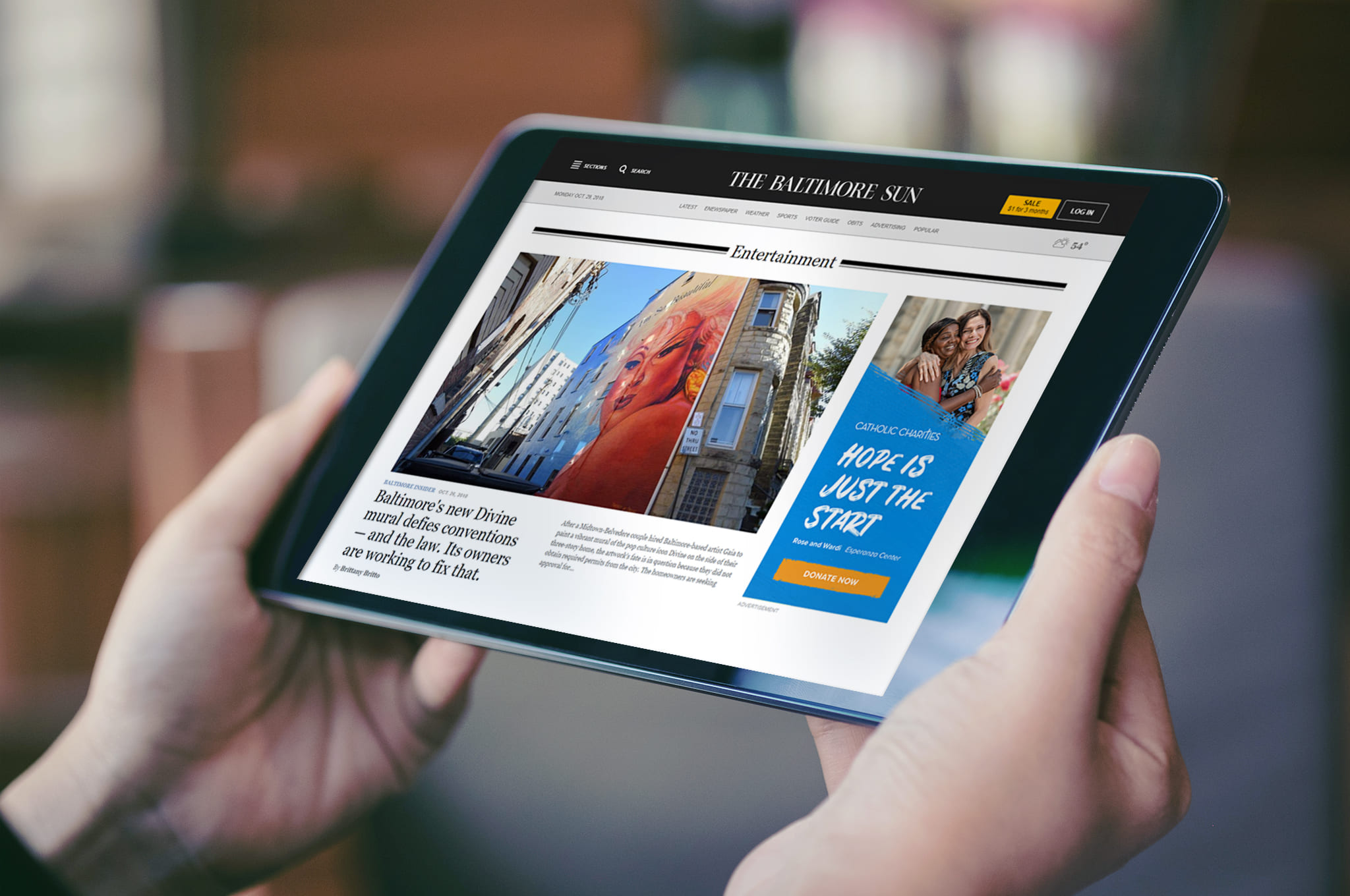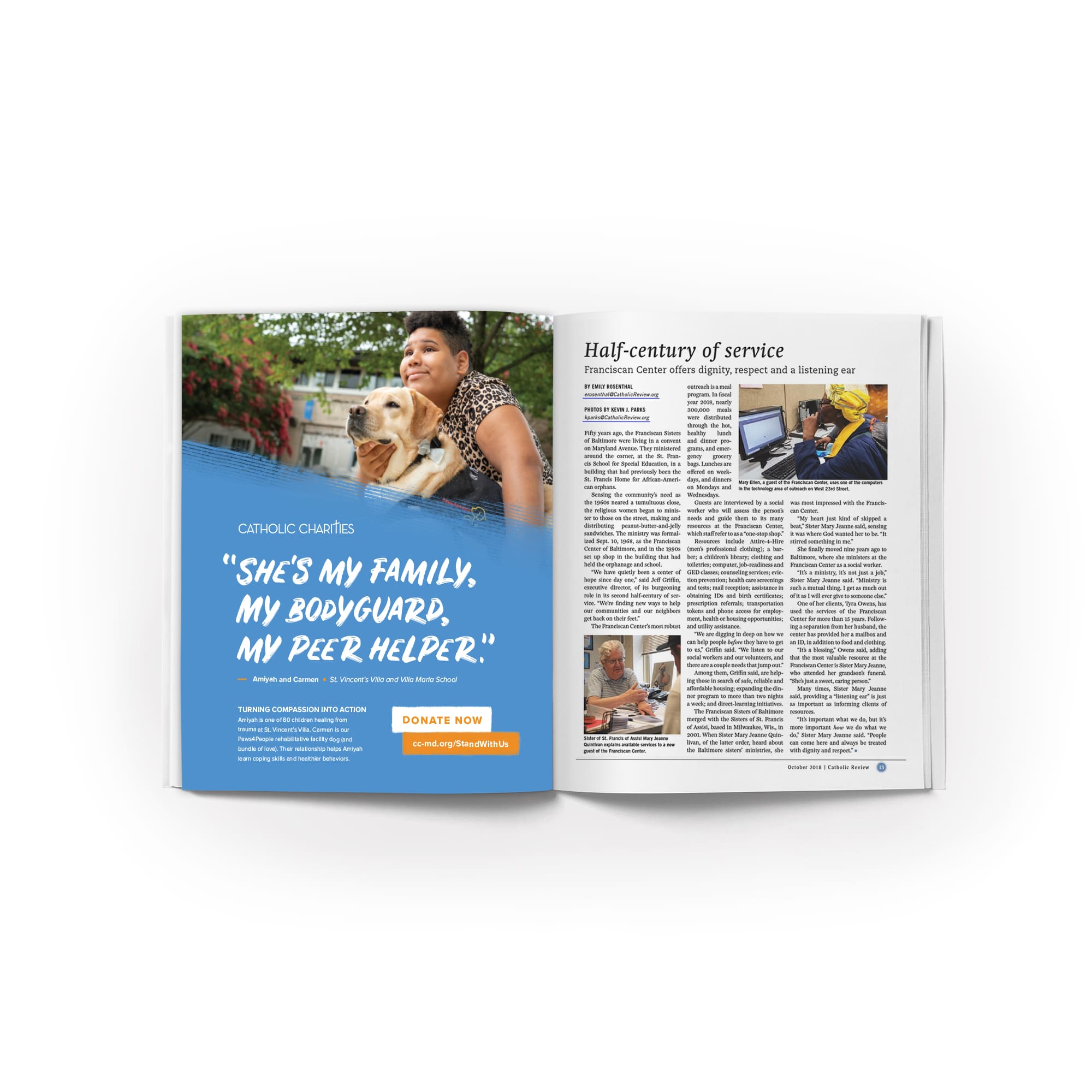 Compassion Into Action
A unifying theme of our messaging was the concept of turning "Compassion into Action." It is simply not enough to appreciate the circumstances of one in struggle nor empathize with their situation. It is our collective responsibility to lift one another up. This is a noble pursuit and one that good-hearted individuals can surely embrace, but many of us feel powerless and unsure how to be effective. An organization like Catholic Charities has the programs, structure, and experience to mobilize goodwill into real, lasting change.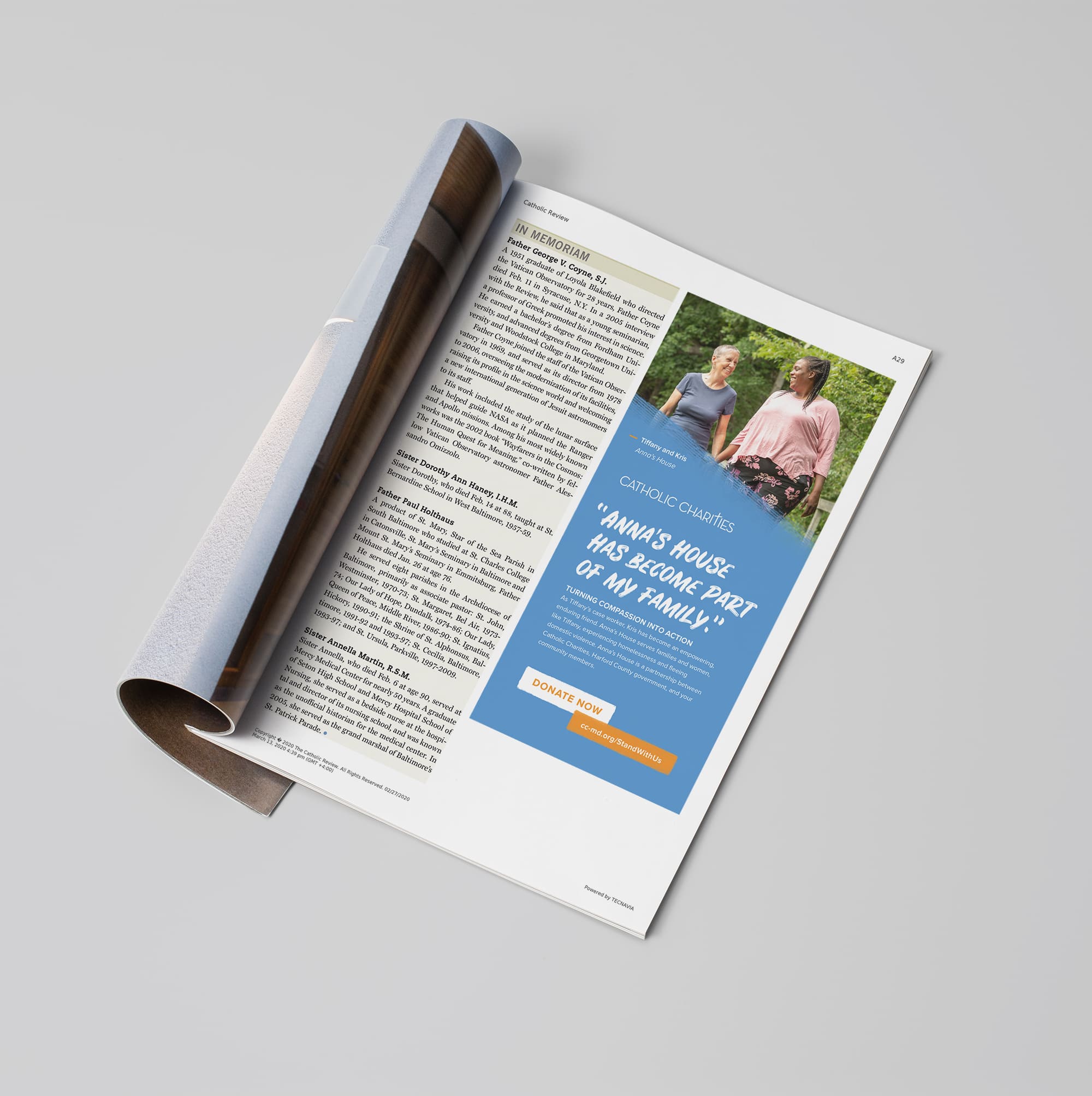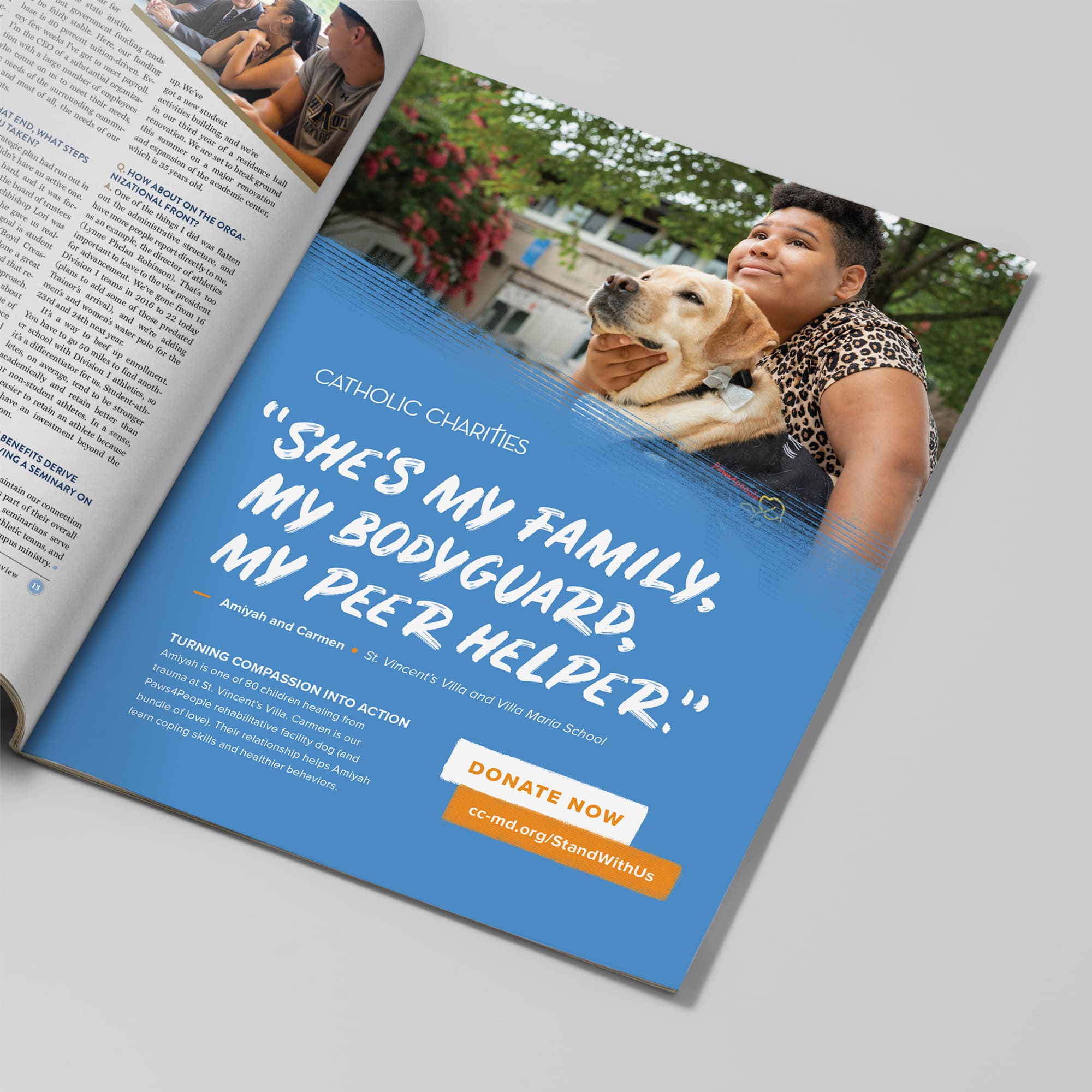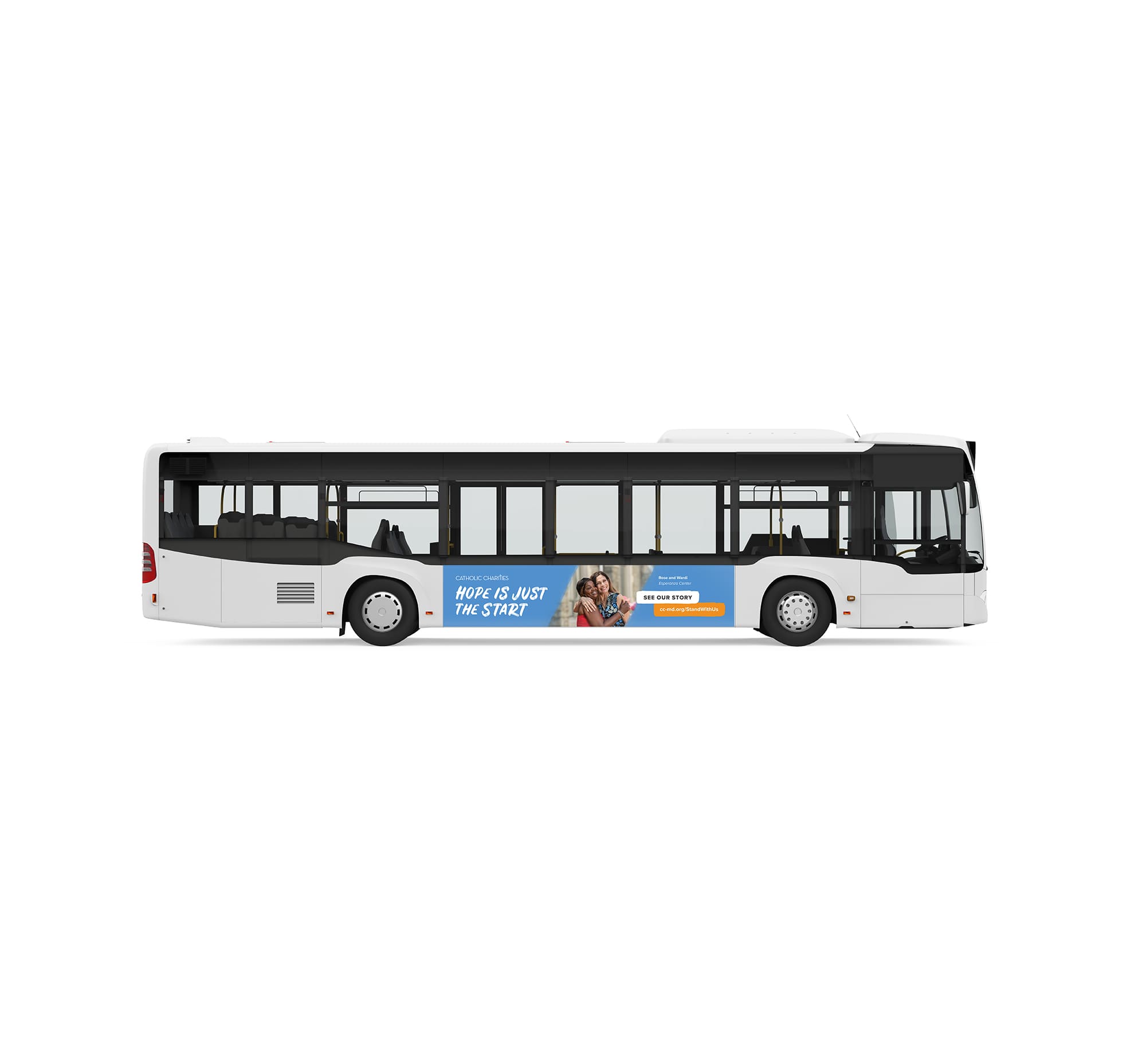 Stand With Us
Vitamin's campaign messaging blanketed Baltimore across buses, print, digital, radio, and social media, all imploring the community to "Stand With Us!" This second unifying call-to-action for our campaign was a message of inclusion, but also more of a declaration. This is where the campaign shifts from creating awareness of the good that's being done to a powerful rallying cry for the community. The goal was to harness the love, empathy and deep care of the community and set it into motion for the greater good.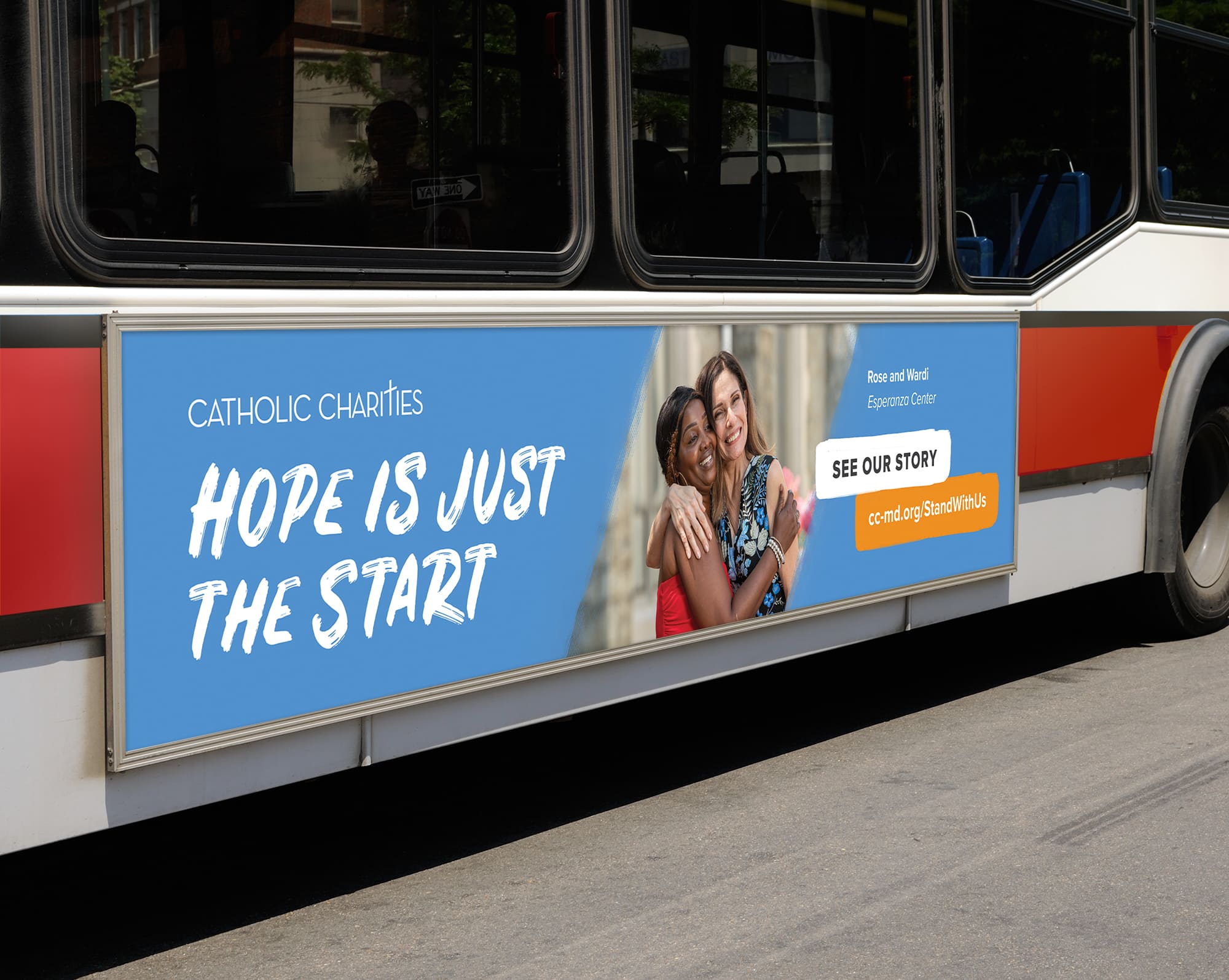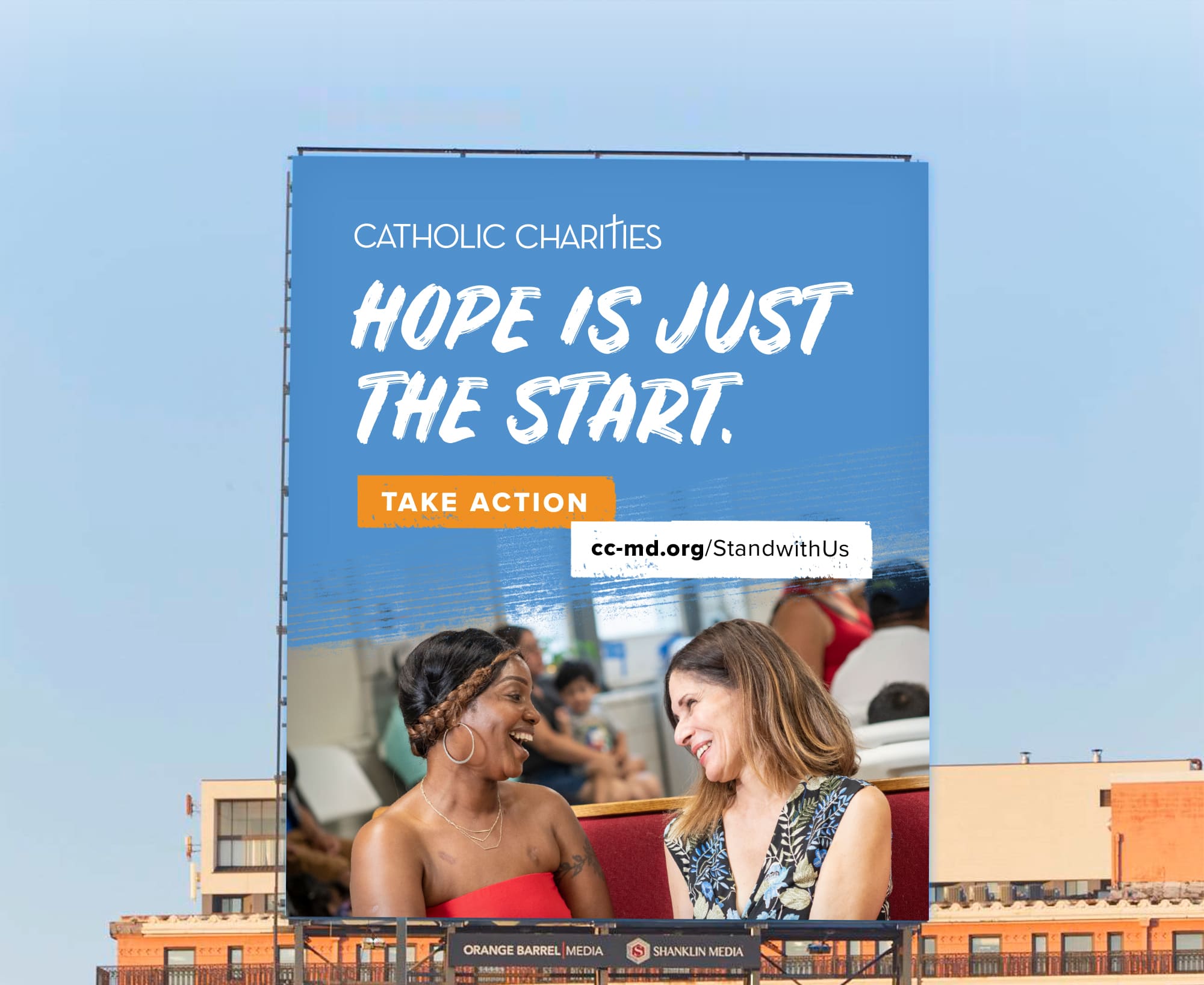 Let's Do Something Great.
Get in Touch.