Incorporated in 1933, Arnold Packaging began as a manufacturer of liquid, cold-seal adhesives. Today, Arnold Packaging is the Mid-Atlantic's single-source for the distribution of packaging supplies, the design and manufacture of custom-made containers, automated inventory management and packaging automation.
Challenge
Reposition a brand formerly known as a factory supply specialist into a modern-day, automation-savvy supply chain consultancy with deep capabilities in the fabrication of custom, industrial packaging solutions; and set the foundation for inbound lead generation and sales automation.
Strategy
Develop a naming and messaging framework that properly conveys the brand's evolution and level of expertise in manufacturing, automation and supply chain consulting. Completely reimagine how the brand is articulated from their name, to the design of fleet vehicles and their office space.
Results
Brand is now recognizable as a leader in Industry 4.0. Website funnels visitors to specific solutions for complex challenges, where the conversion from visitor to prospect is made easy through the presence of sales team contact information and lead generation forms. Website converts an average of two pre-qualified leads per month.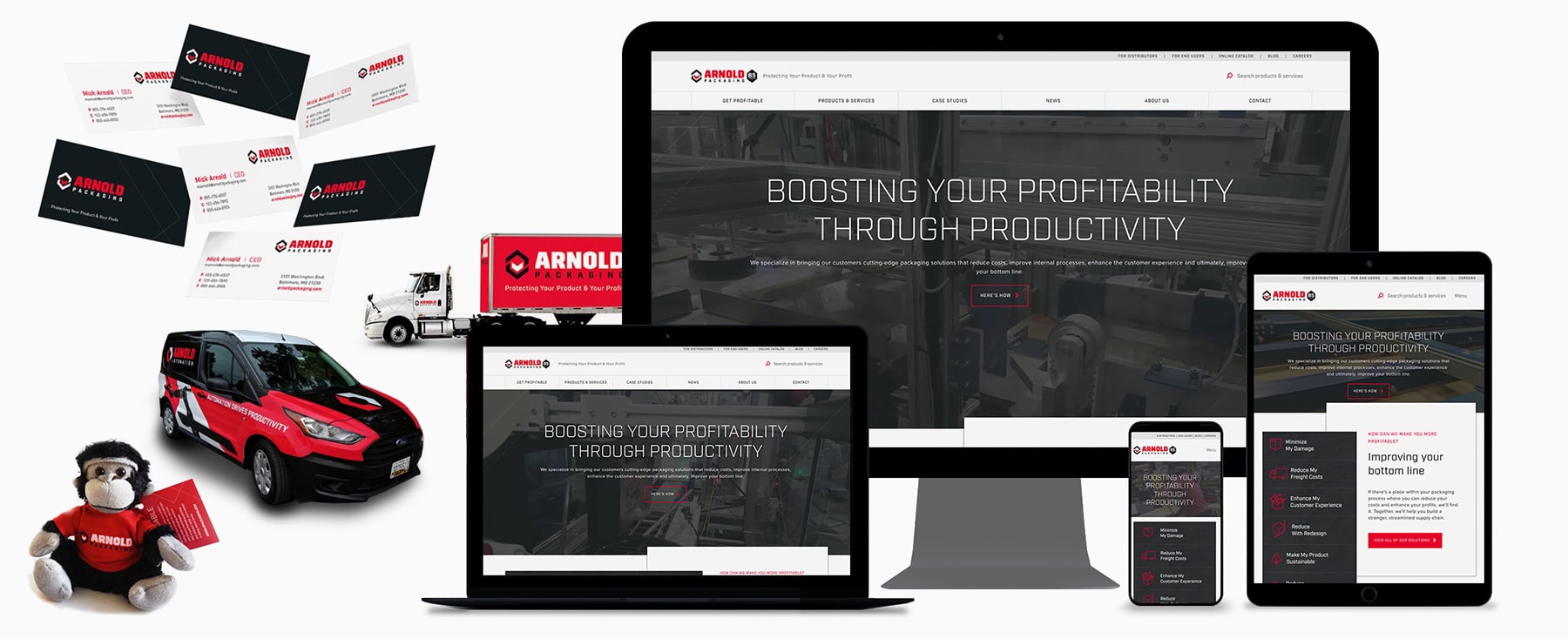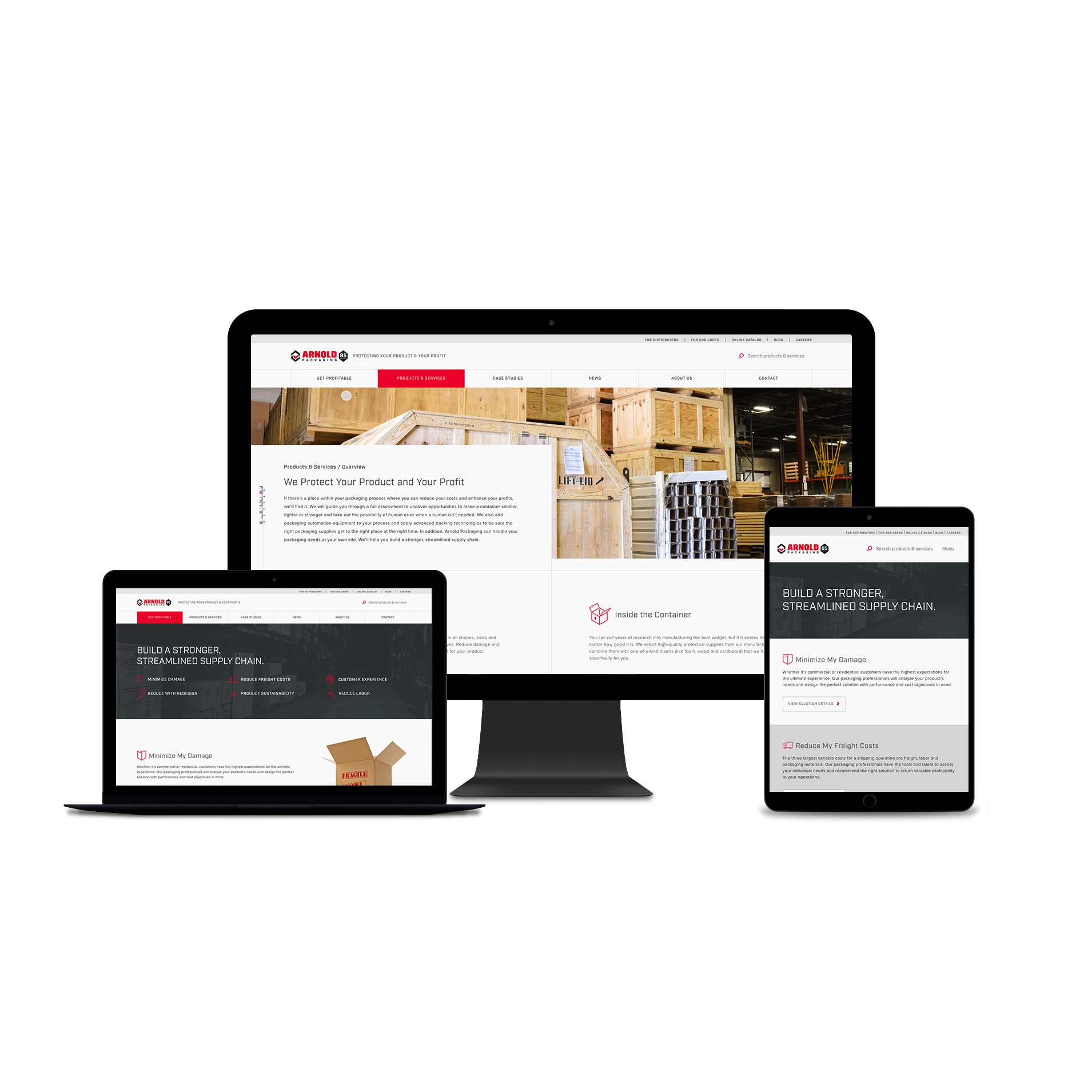 A Powerful Sales Tool
The Arnold Packaging website leverages video along with custom photography of the team and manufacturing plant to tell a compelling story of how Arnold Packaging increases productivity and profitability. Landing pages, navigation and content strategy quickly funnel visitors to specific solutions for complex challenges, where the conversion from visitor to prospect is made easy through the presence of sales team contact information and lead generation forms designed to dynamically segment leads.
View Live Site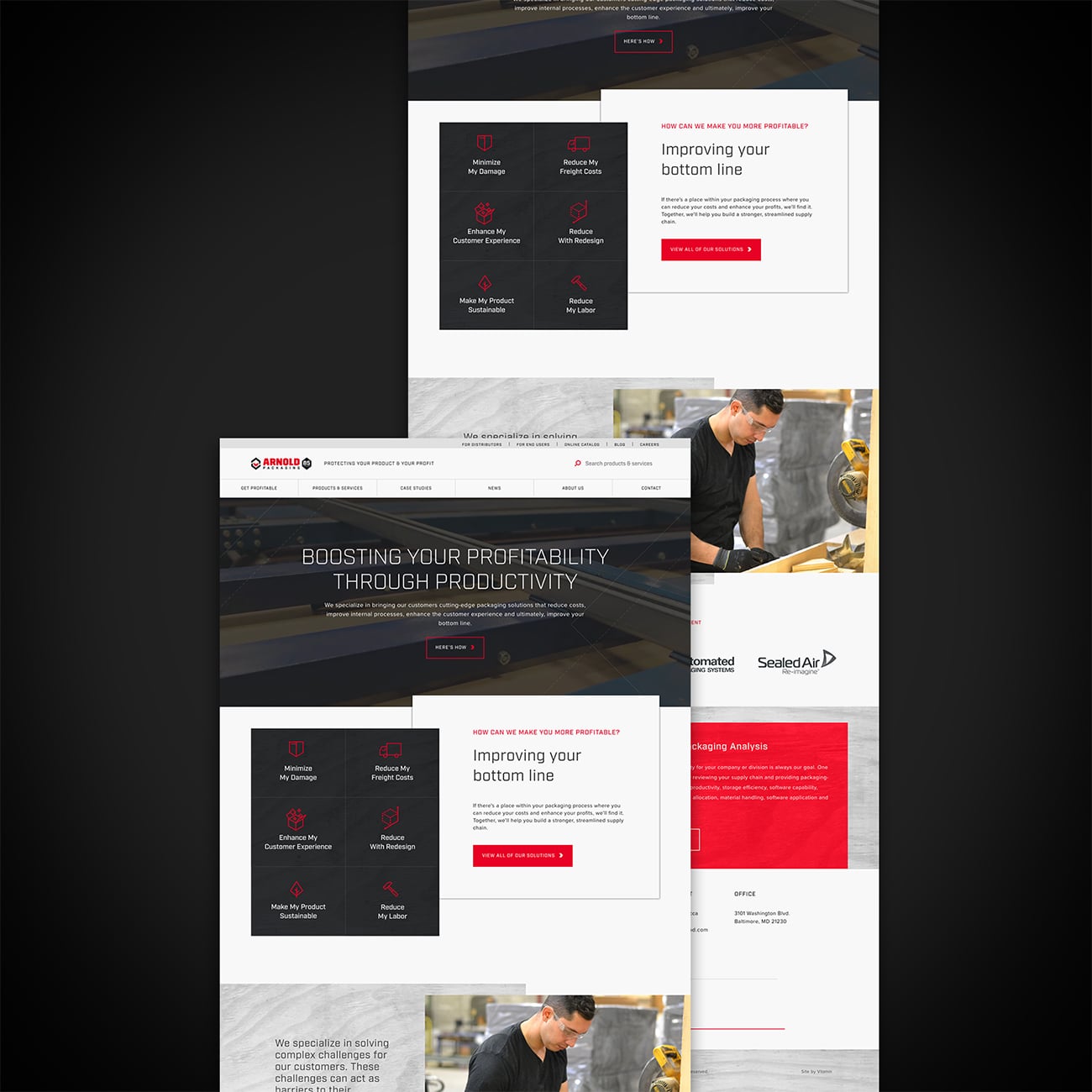 A New Way to Sell
There are six primary solutions in Arnold Packaging's approach to improving the bottom line for their customers. Vitamin created messaging and custom iconography to represent these solutions to make finding the right answer only a click away. This new way of selling was deployed to Arnold Packaging's sales team through printed collateral and a sales training where Vitamin presented the strategy our teams created together.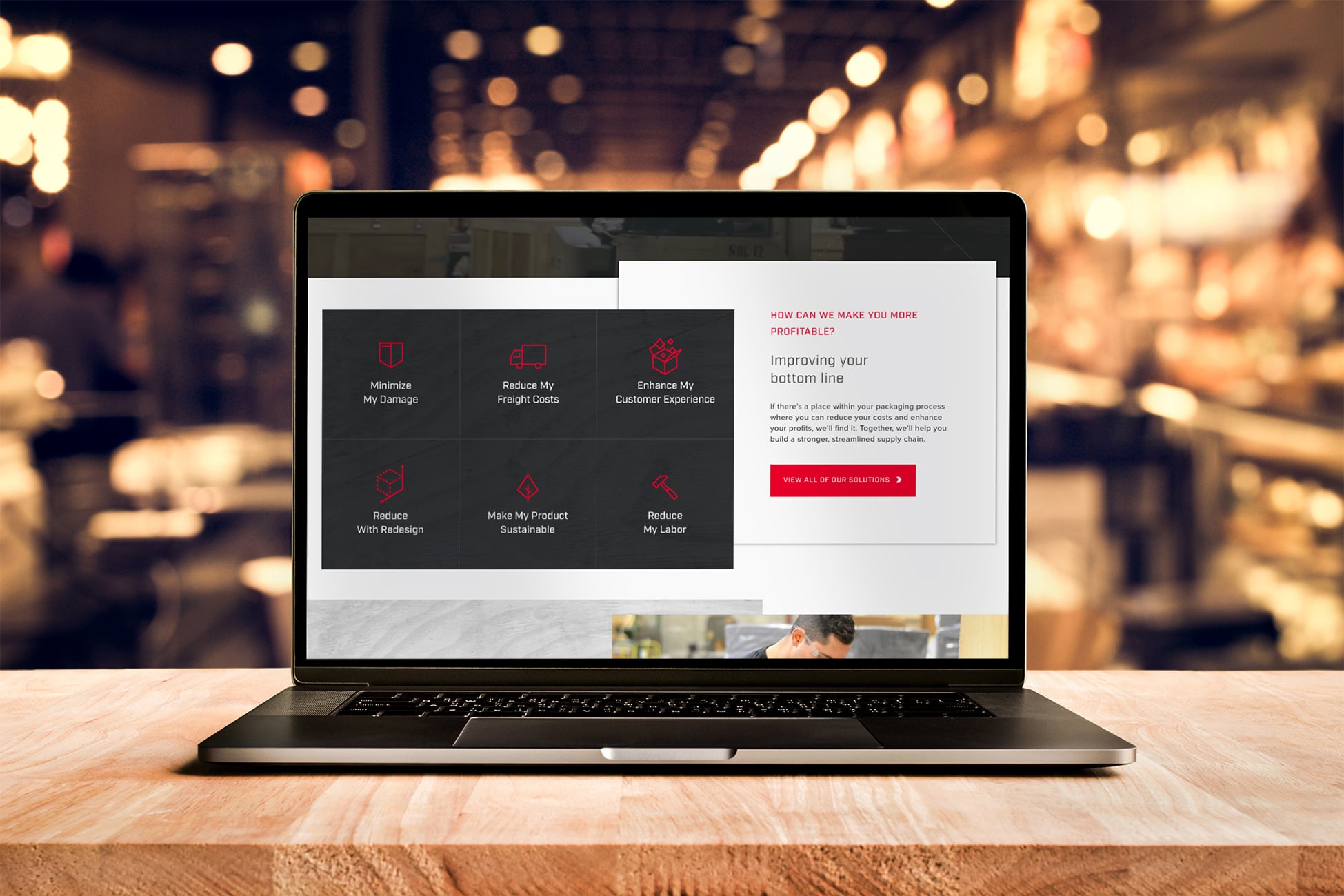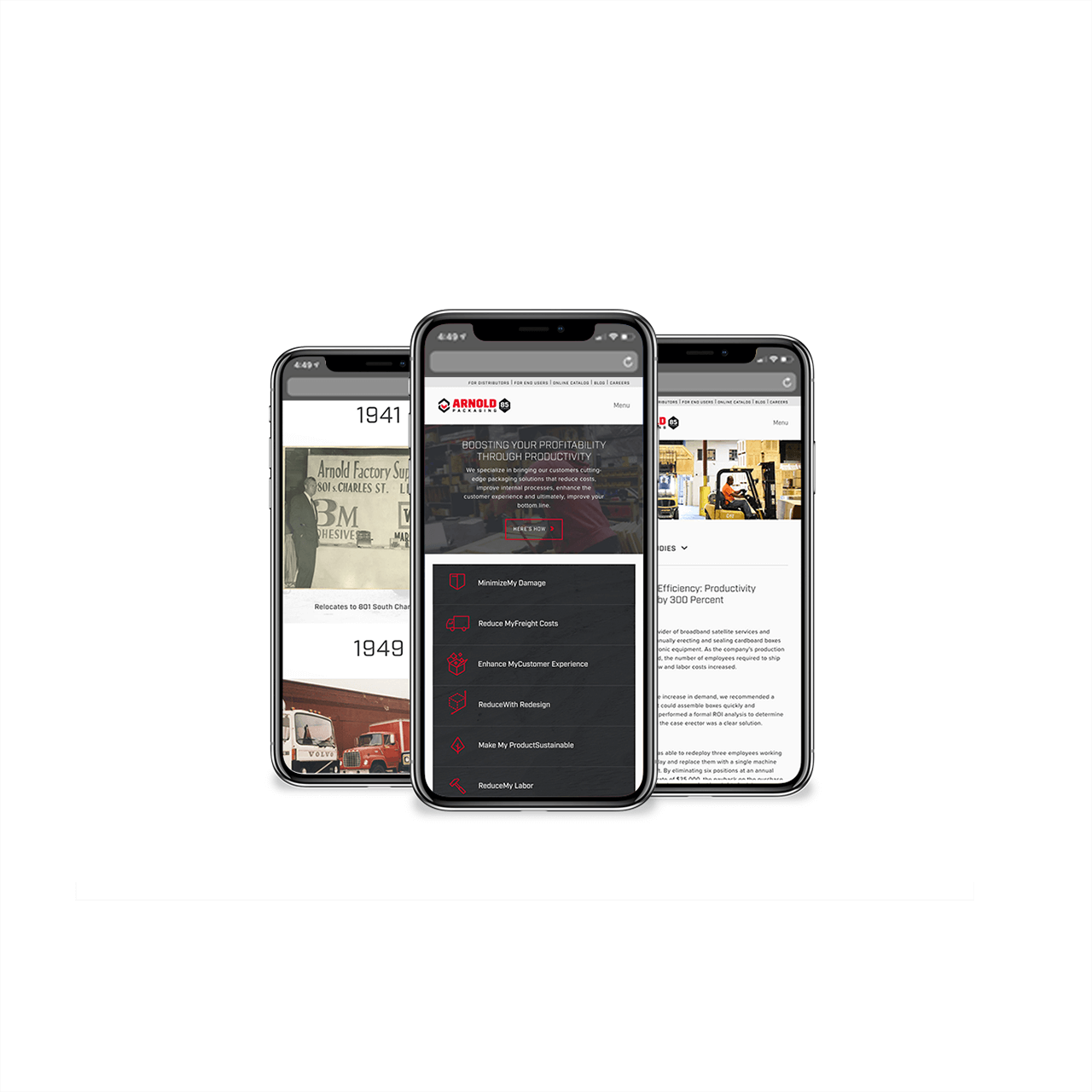 Lead Segmentation
At every turn, the website experience is built around identifying key characteristics of the user and simultaneously directing them to the solutions that address their needs. This enables segmented inbound lead generation for lead nurturing through email marketing and social engagement.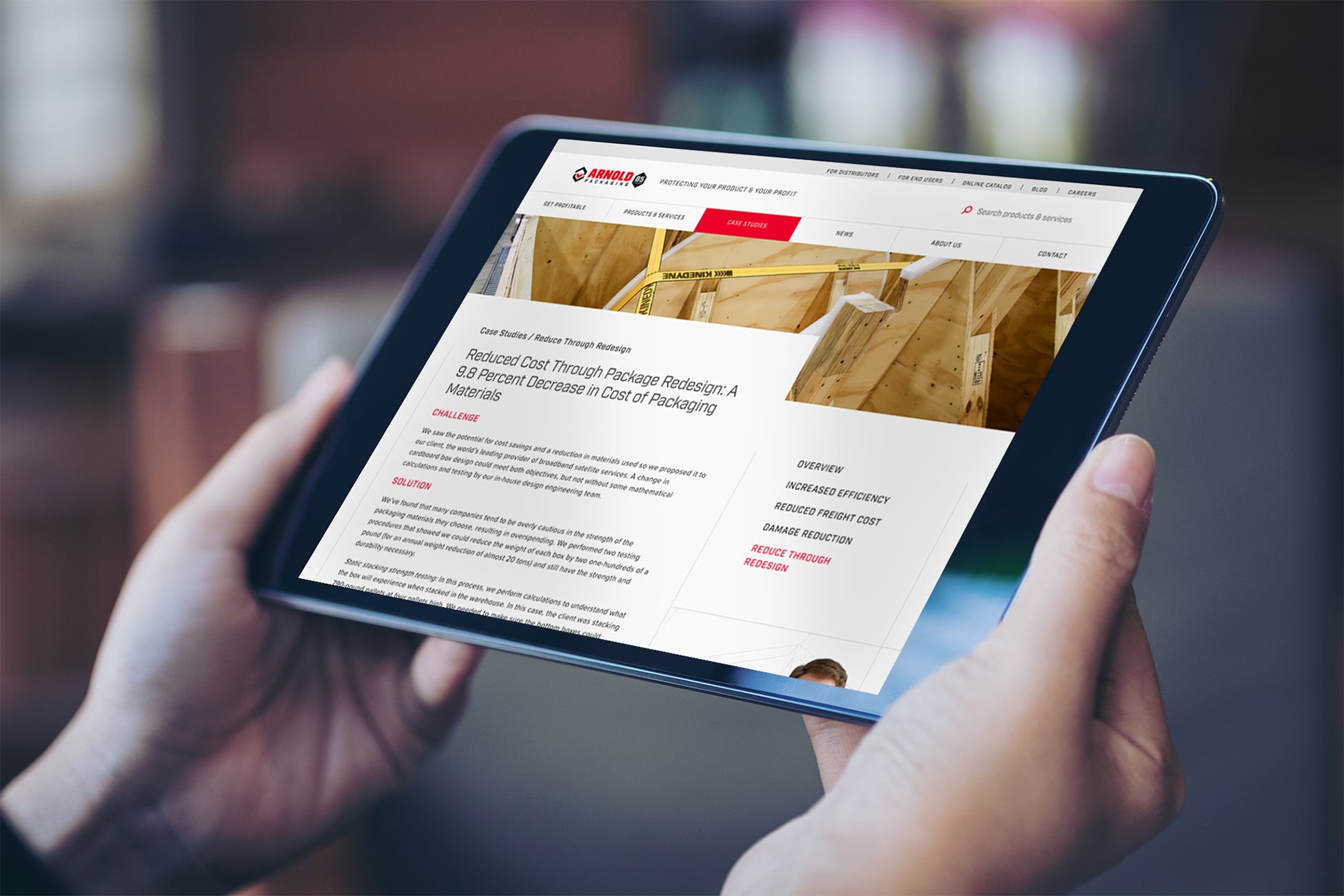 Mobile-First Perspective
We believe in designing for an optimal mobile experience. While more and more users are searching and accessing web content from mobile devices, their mindset and intentions are often different. The user journeys on Arnold Packaging's website are strategically crafted with the purpose of the user top of mind.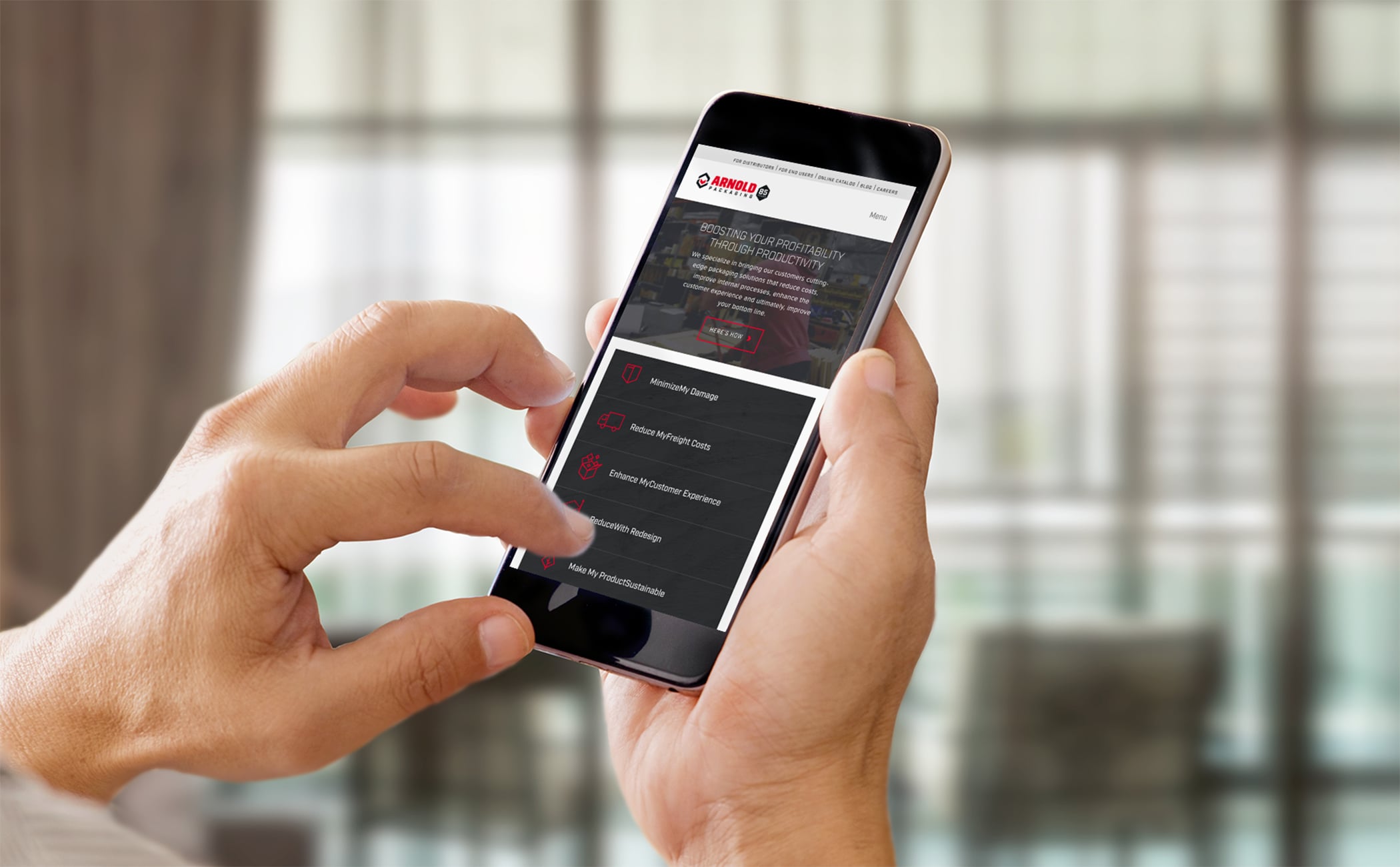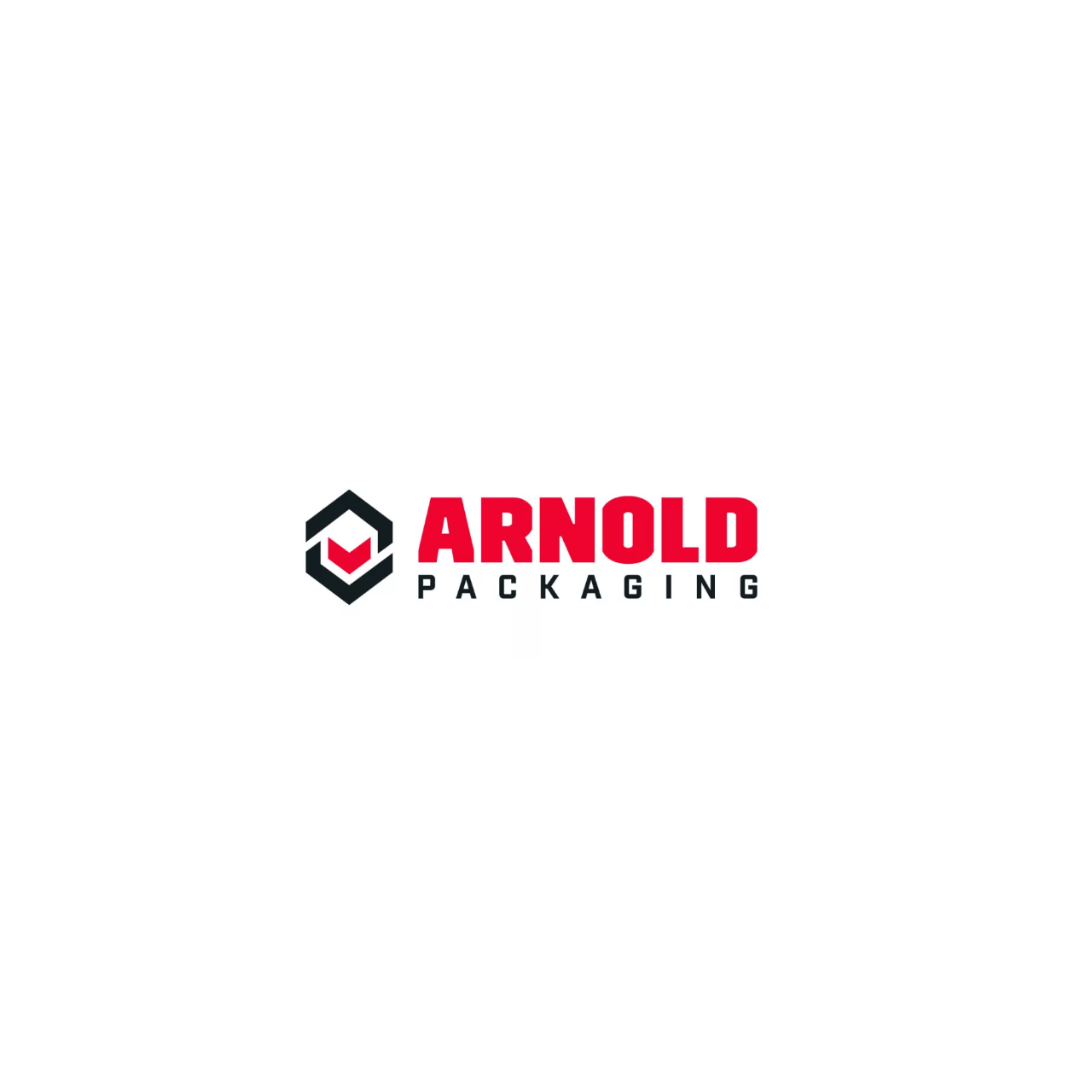 Identity & Collateral
Vitamin designed the new logo and mark for Arnold Packaging using a bold, strong typeface, representing the brand's history and the nature of the packaging industry. The mark is a custom illustrated, modernized packaging box — representative of their industry.
Arnold Packaging's business cards were designed to reflect the rigid, tactile nature of their product line. Vitamin used two sheets of 120# double-thick cover, glued them together and painted the edges in the bright, bold red selected as the primary brand color. The result is a card with presence and tooth. The print collateral uniquely incorporates all new brand elements, including thin lines and dashes that are reminiscent of the cut and fold lines in packaging.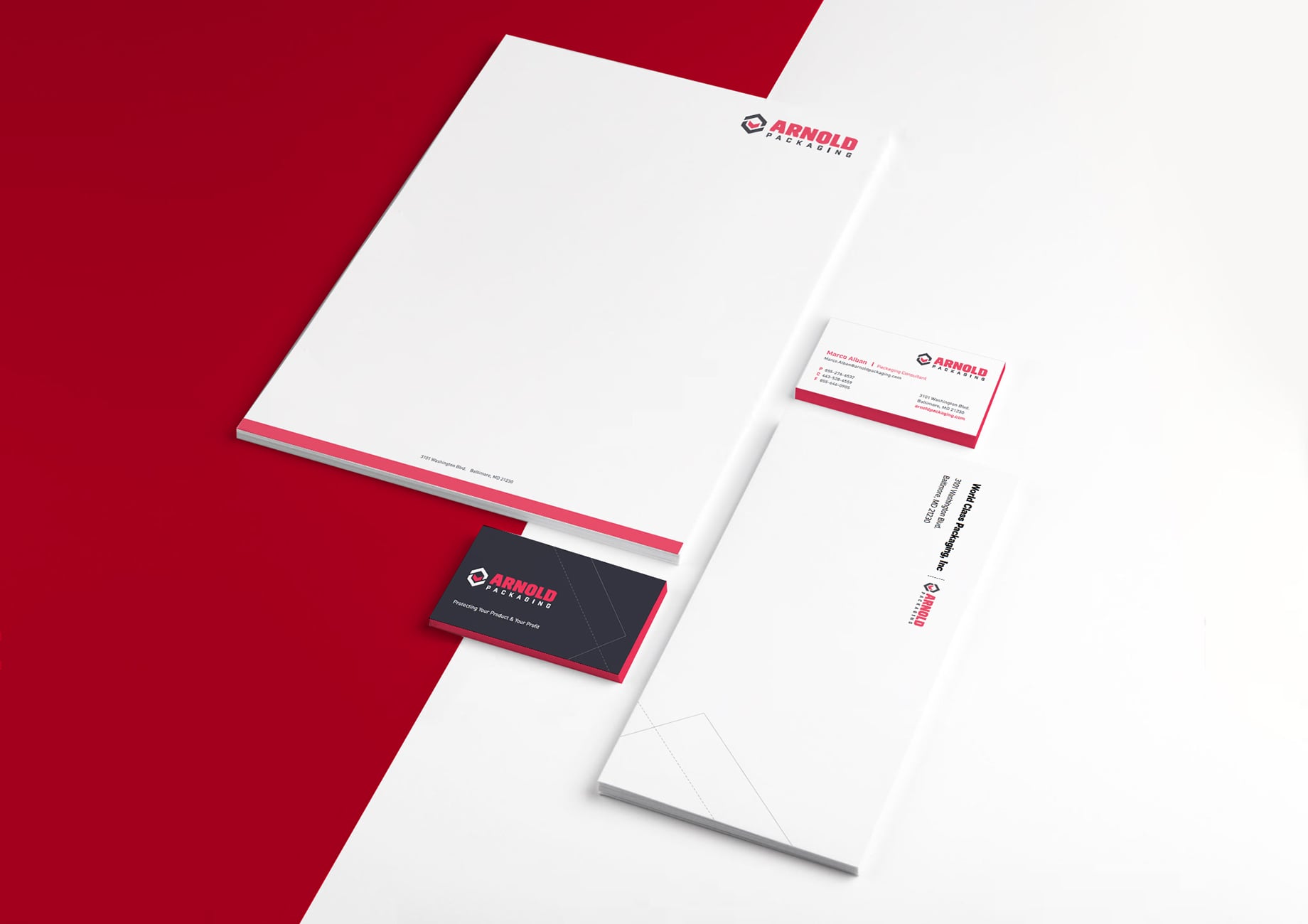 Celebrating 85 Years
We created Arnold Packaging's 85th year anniversary branding to highlight this significant milestone for the family-owned company. Platforms leveraged included email marketing, LinkedIn, a landing page with an interactive company history timeline, custom T-shirt design, and a gorilla promotional giveaway.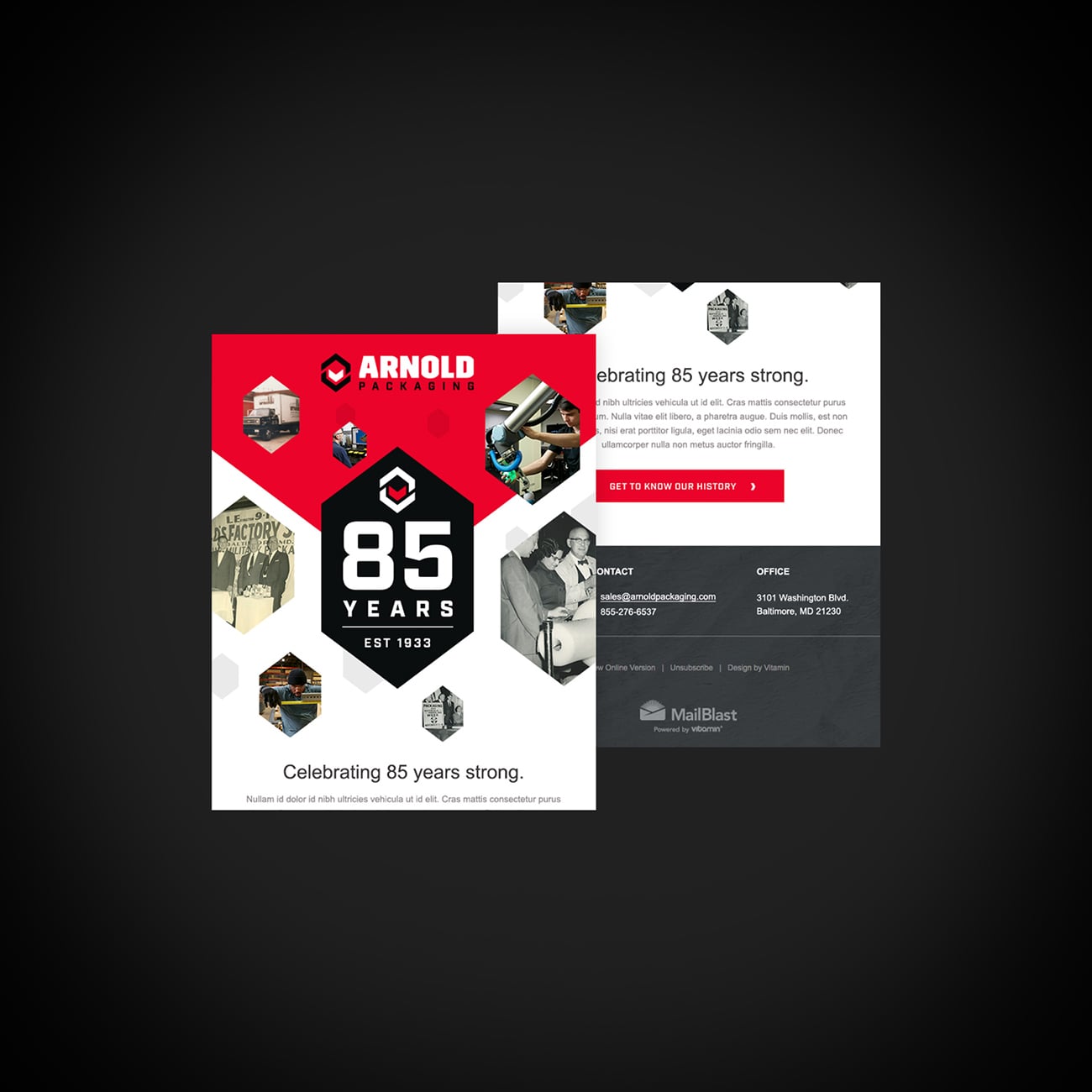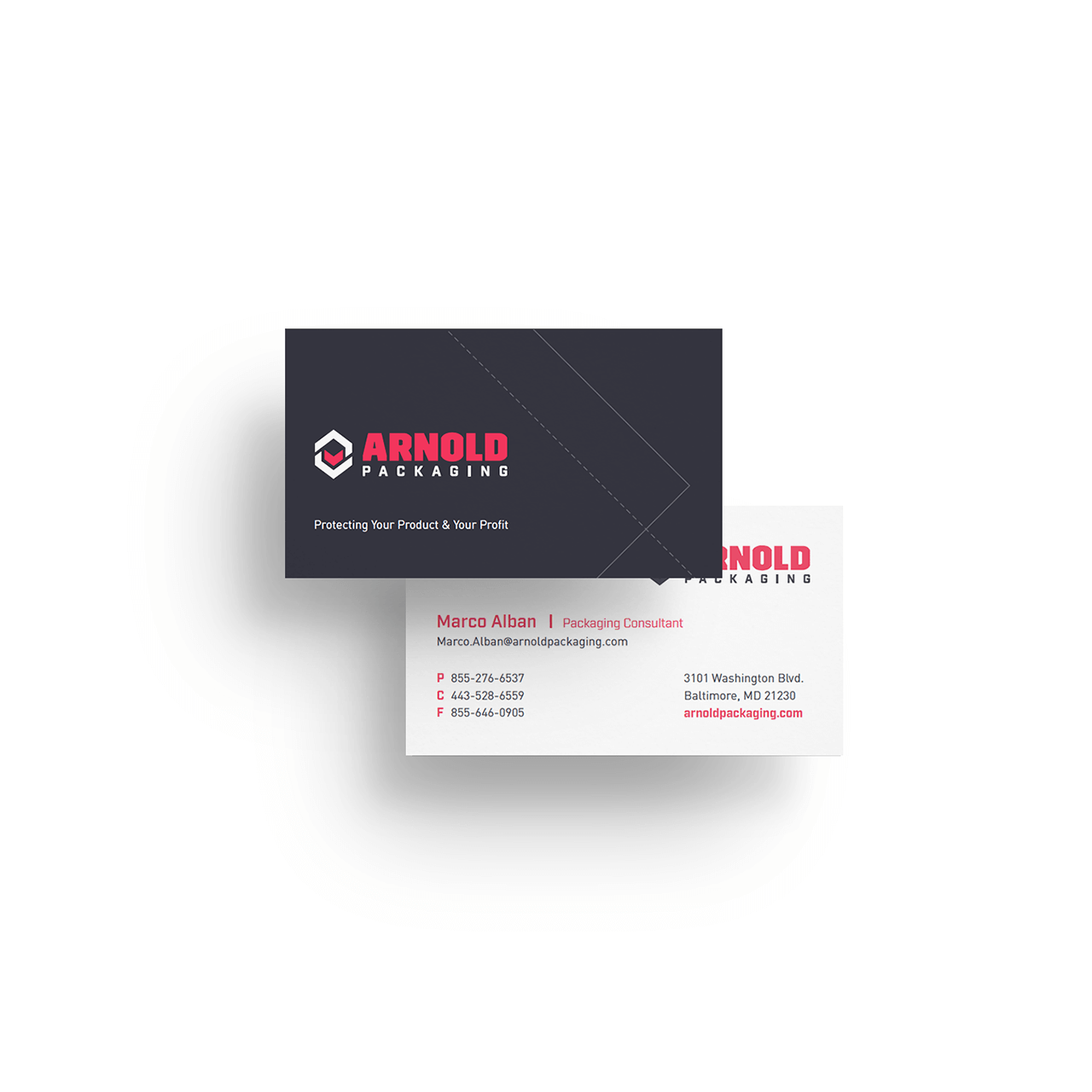 Environmental Office Design
Vitamin partnered with Arnold Packaging to bring the new brand to life throughout their corporate office, including lobby, interior walls surrounding the workspaces, and their conference room. Highlights of the project include an 85th year anniversary timeline and an employee wall featuring tenured employees.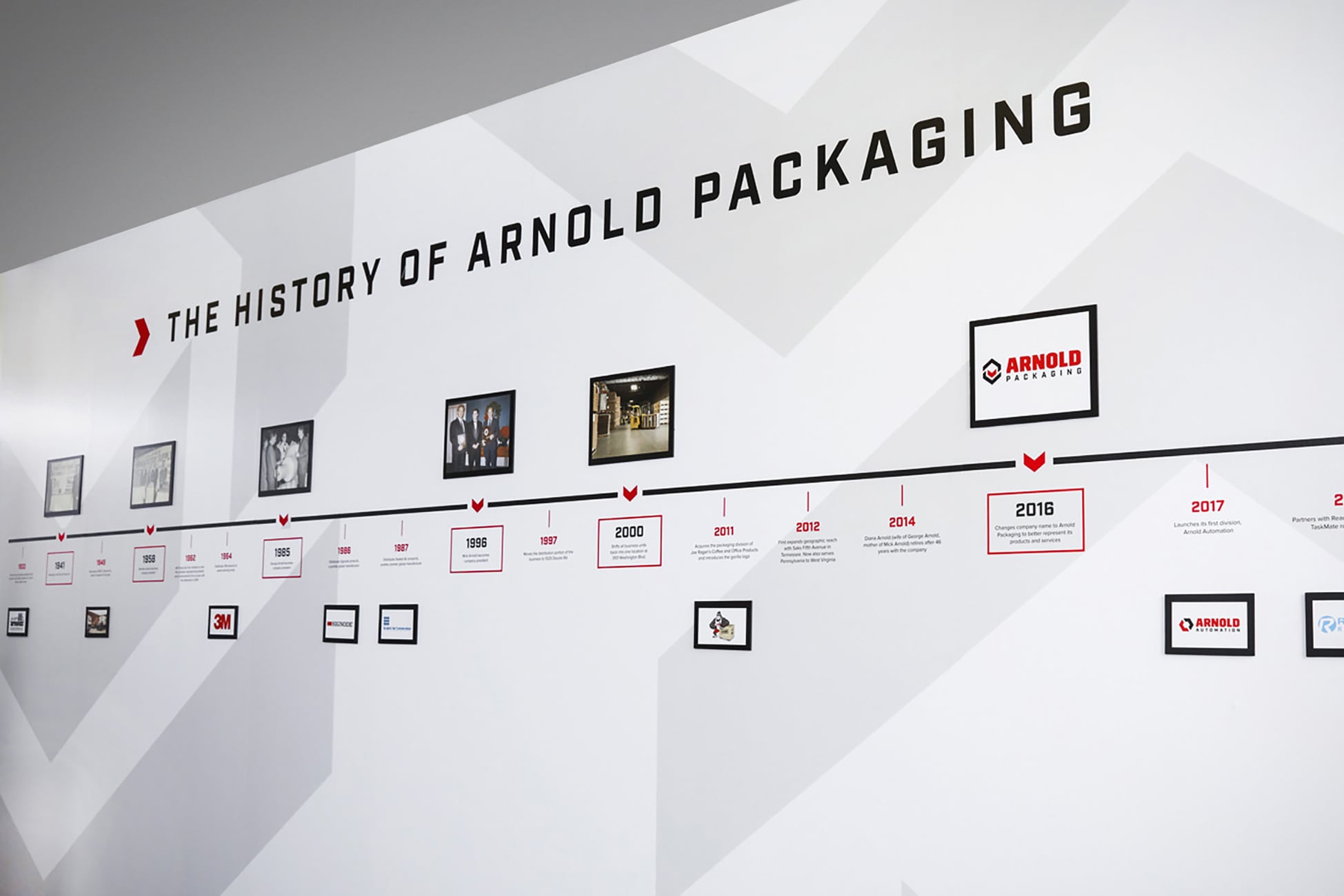 Branded Delivery Fleet
Vitamin redesigned Arnold's delivery fleet from the ground up. We designed branded, applied graphic wraps to convey the updated identity and product/service offering. Ten vehicles in total were wrapped: two 18-wheelers and eight 27-foot box trucks. The result is a unified fleet that is messaging Arnold Packaging's difference up and down the highway every day.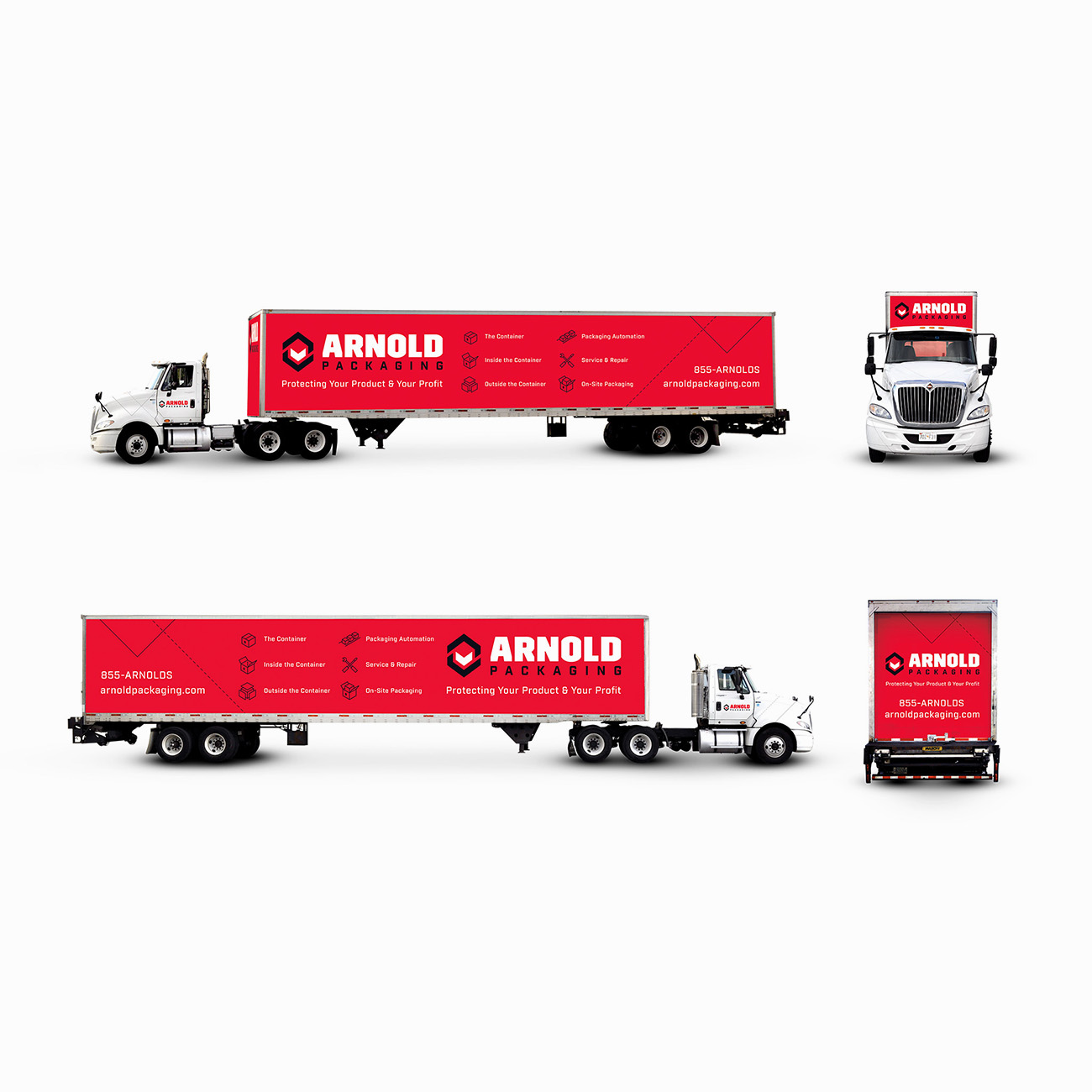 Let's Do Something Great.
Get in Touch.