Saint Agnes Healthcare offers a full range of services through Saint Agnes Hospital, the first Catholic hospital in Baltimore. Saint Agnes Hospital was built by the Daughters of Charity and began providing care for the poor in 1862. Today, Saint Agnes is a full-service teaching hospital and a member of Ascension Health, the nation's largest Catholic and not-for-profit health system.
Challenge
With population health growing in importance and 80% of Internet users now on a smartphone, Saint Agnes Hospital knew it needed to enhance its web presence. The hospital partnered with Vitamin — its web and public relations agency of record — to develop a website that would stand out among other hospital websites, be easy to navigate and better serve its patient population.
Solution
Vitamin designed a website meant to serve as an easy-to-access, digital wellness resource to attract new patients. The new website, built on the WordPress platform, is responsive and functions seamlessly across multiple devices. It is also easier and more intuitive to navigate, highlighting patient success stories and making the hospital's services easier to locate. Vitamin built a custom search module on the homepage that allows visitors to search for common ailments for which they want to seek treatment. The functionality links patients to the appropriate institute, making it easier for patients to find the specific services they need.
Results
Saint Agnes has seen marked results, including a 30% increase in mobile traffic to the website since the redesign. Google Analytics shows that wellness content is more accessible to user groups and is working to funnel patients and potential patients down pathways leading to conversion. The hospital's services are more prominent and the site's search function, which s operable using conversational commands, stands out as a valuable patient resource seeing a majority of home page traffic accessing the feature. The website won an Award of Excellence in the PRSA Maryland "Best in Maryland" competition.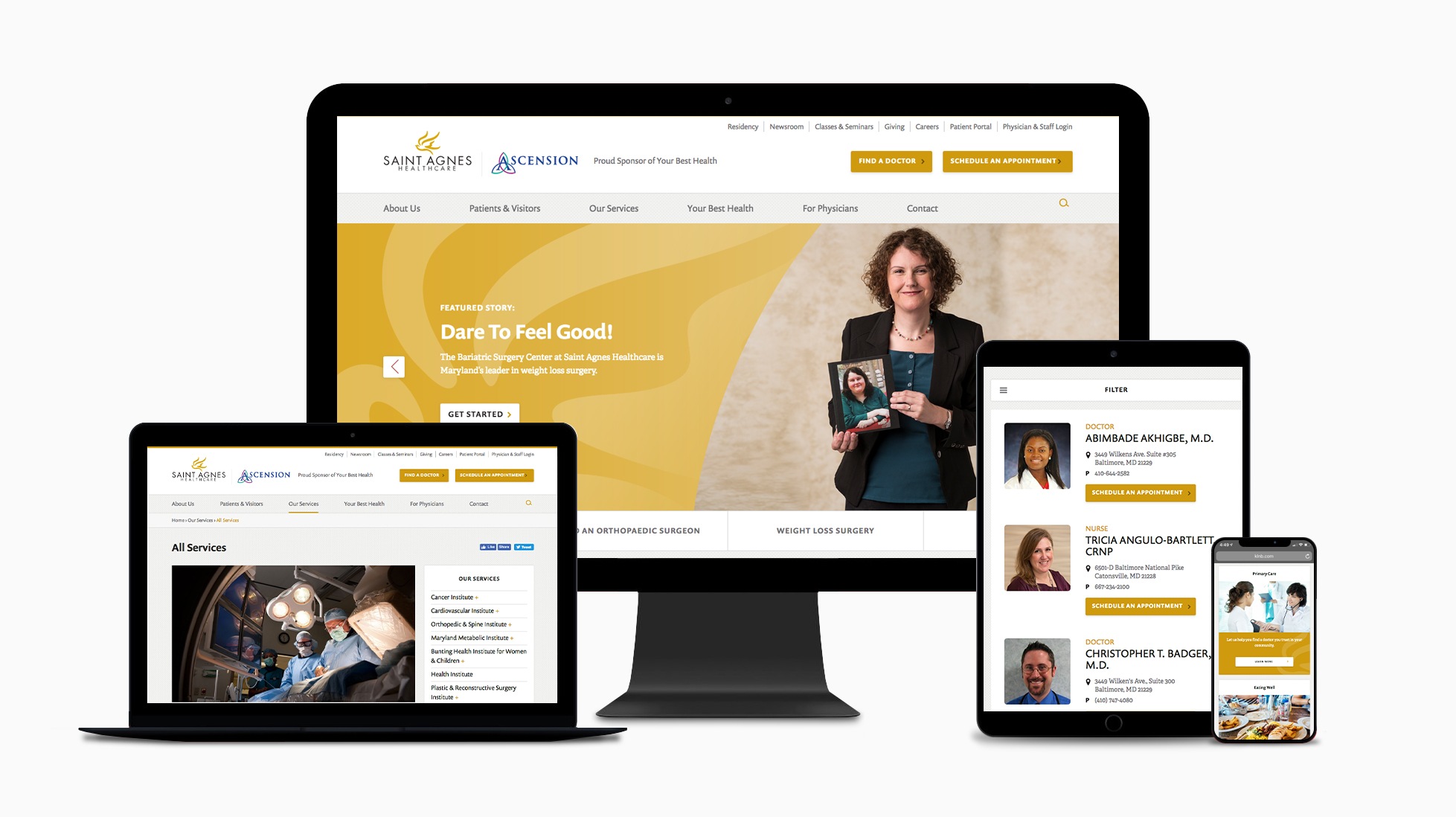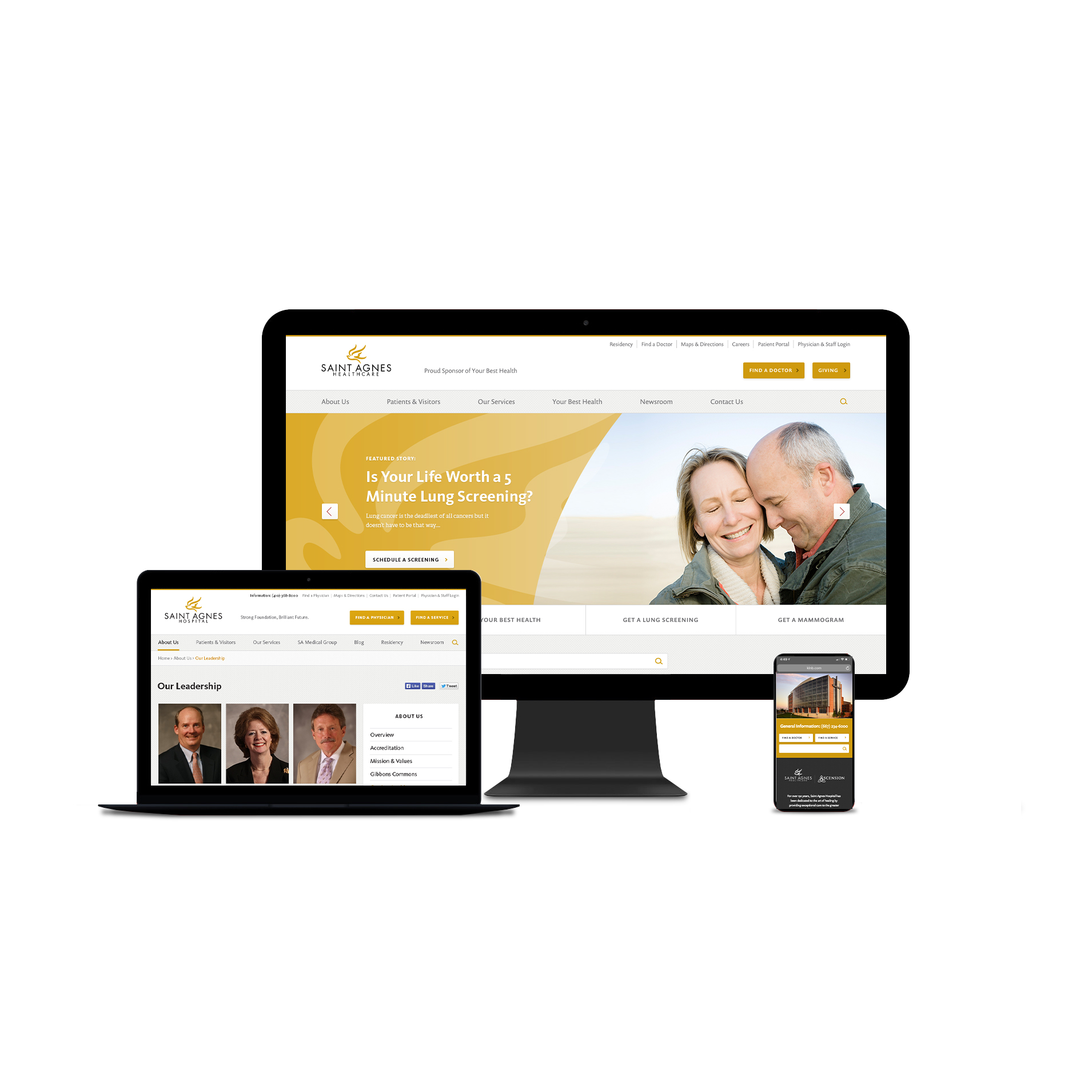 Easy Access to Healthcare
The mobile view of the Saint Agnes Healthcare navigation is big and easy to access with a search field readily accessible. Navigation was specifically designed to be large and chunky so that those looking for their admitted loved ones, or those looking to research specialty medicine, would be able to get there without having to dig or click tiny, less accessible links.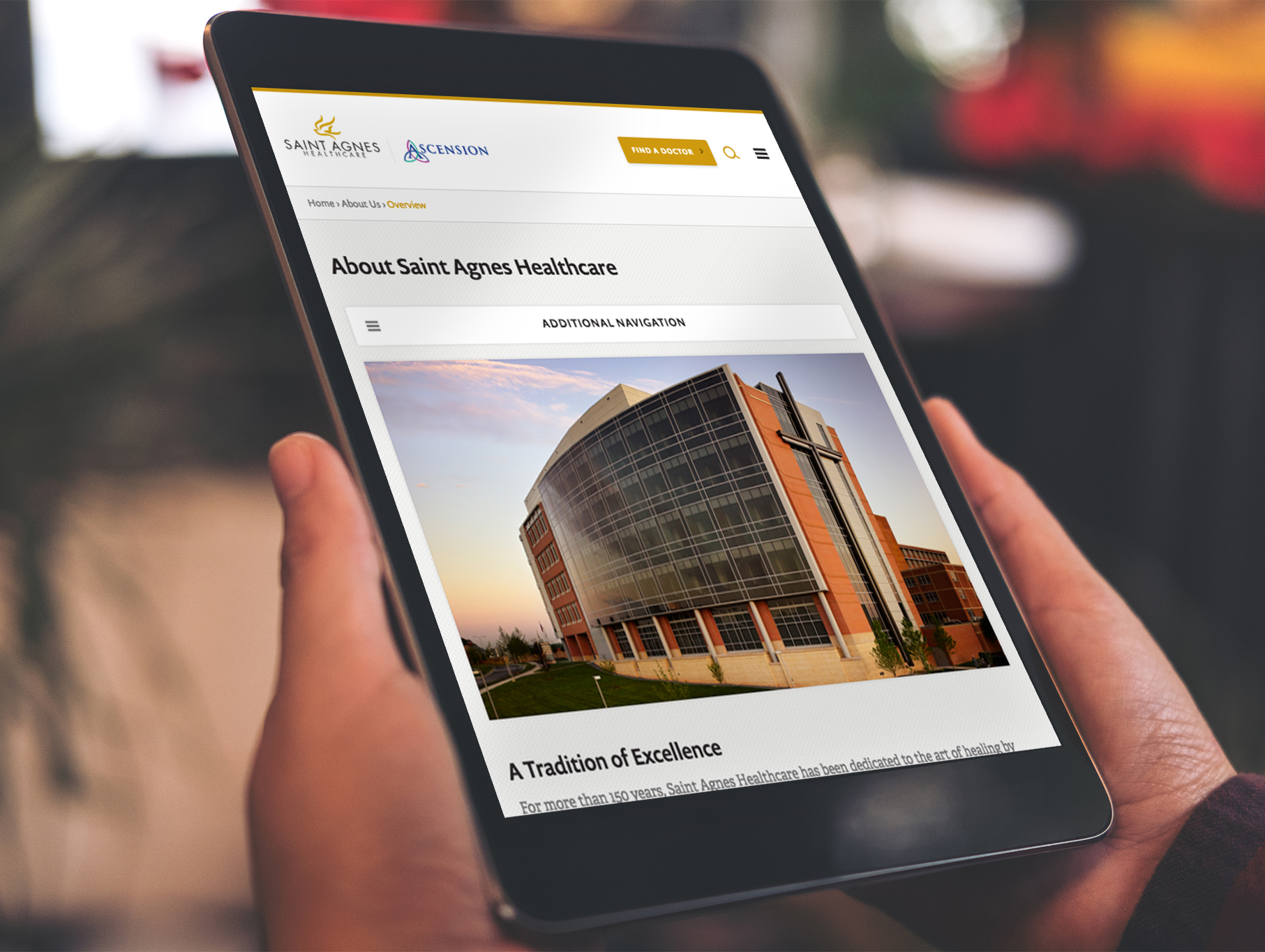 Diving Into Desktop
For users browsing from desktops, the website is broken out into four major areas, each of which are a breeze to digest through a clean presentation of content, bright and life-centric photography, and calls to action that leap off the page through pops of yellow/gold.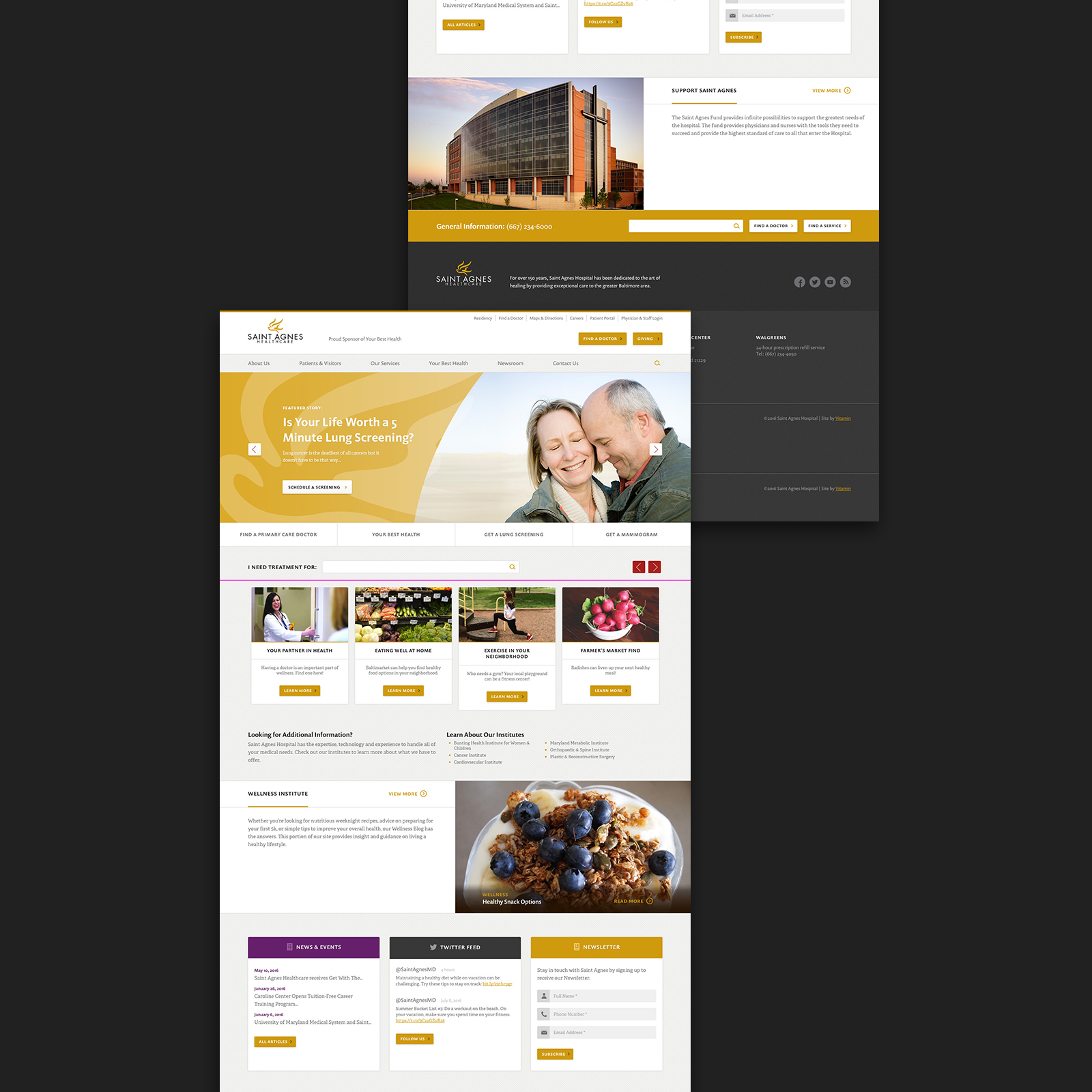 Tablet Optimized
The tablet experience offers large, expansive photos and an edge-to-edge navigation bar that makes the user experience immersive and quick to navigate.
Mobile First
The Saint Agnes Hospital website was designed with mobile in mind. Content is presented in a visually pleasing, immersive manner, with navigation and calls to action living in harmony with brilliant photos and quick access to a complete search that parses content as efficiently as the desktop version of the website.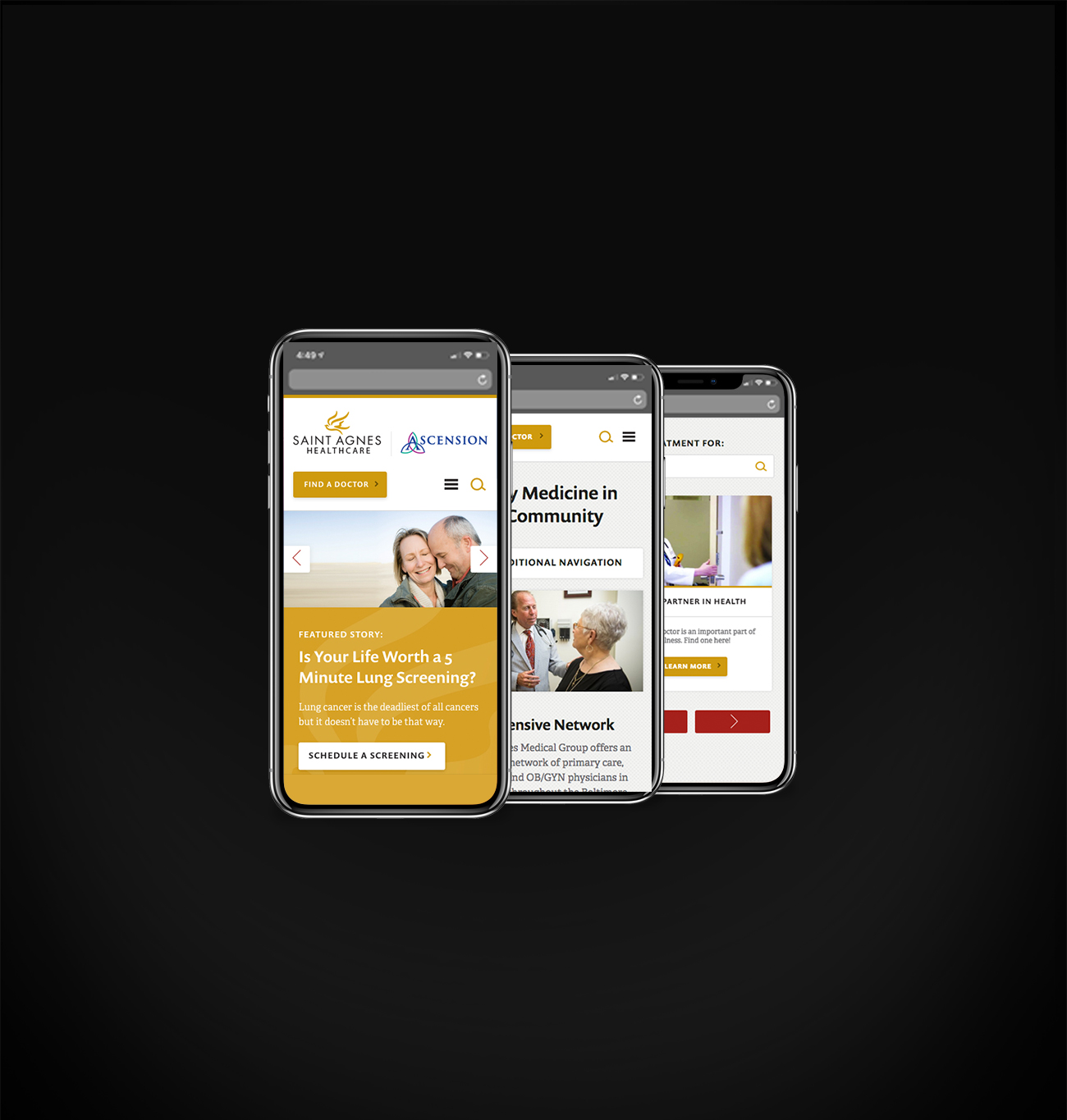 2018 Annual Report
Vitamin designed this 2018 annual report microsite using one of Saint Agnes' brand standard pop colors as the primary treatment. The result is an on-brand execution that appears unique yet unified with the hospital system brand itself.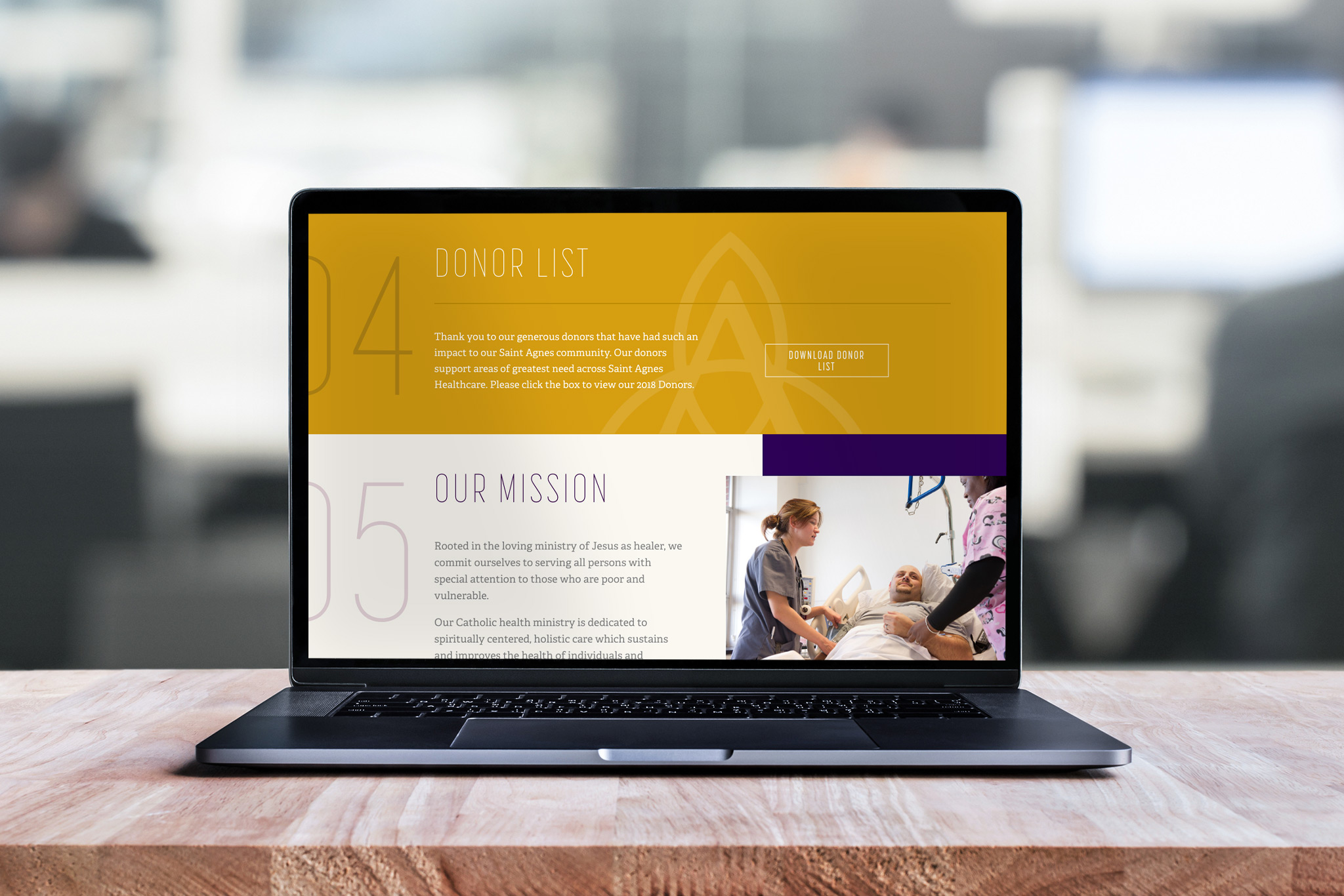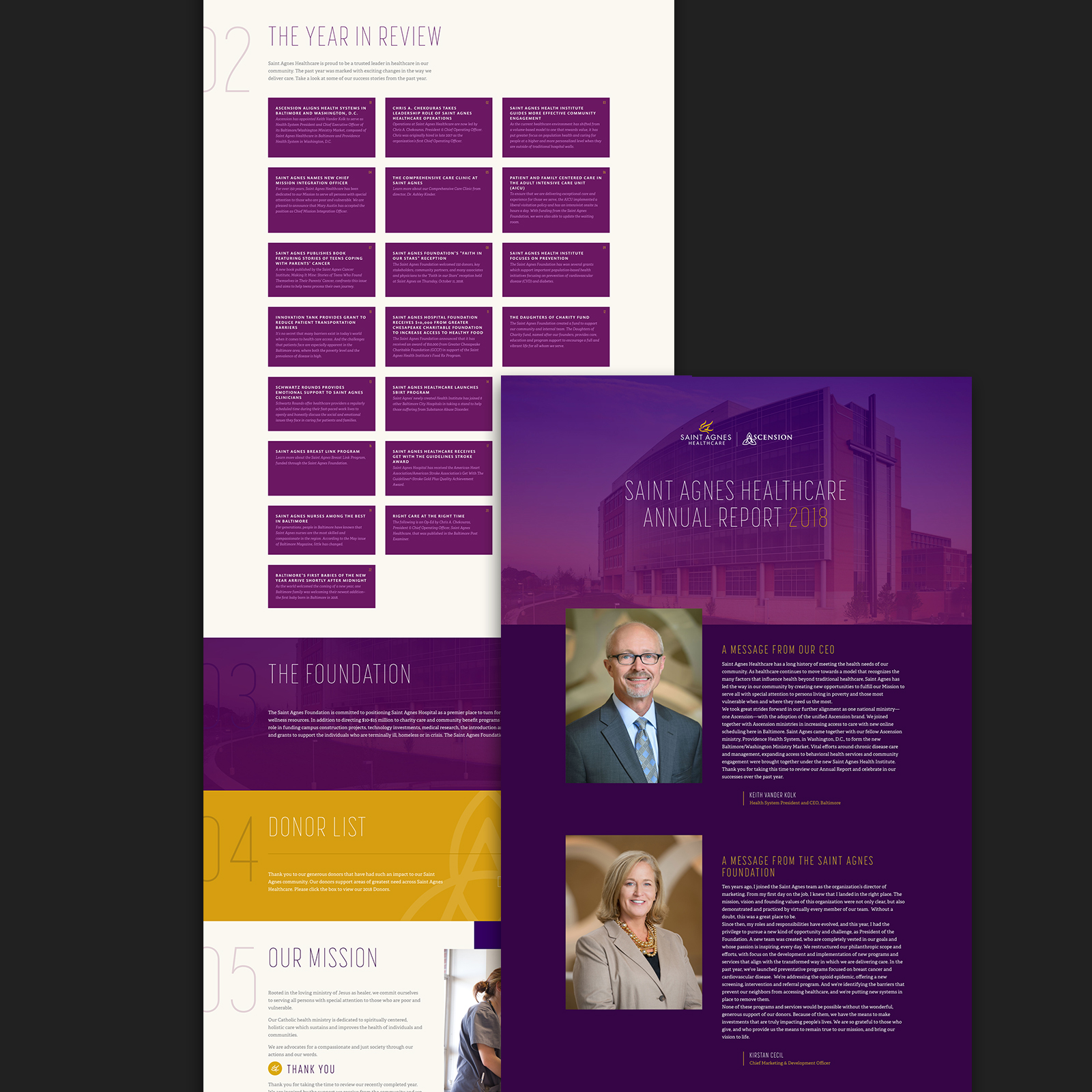 Let's Do Something Great.
Get in Touch.