12 Locations, 9 states. RMF Engineering is a full-service engineering firm adept in applying superior planning, design, engineering and commissioning services to solve engineering challenges — large and small — for clients across the nation.
CHALLENGE
MEP Engineers are thriving in this economy. In many cases firms are pre-sold a year and beyond. Focus for many firms has shifted from business development to recruitment and retention. Competition is fierce. Engineering firms have never had to work harder to attract and retain the seasoned talent they need. RMF chose Vitamin to create a careers microsite focused on tackling this business challenge head-on.
STRATEGY
Vitamin identified RMF's values-driven, best-of-breed team culture as the key component in what truly differentiates the firm from a recruitment standpoint. We then architected a content strategy focused on effectively telling their story of Innovation, Purpose, and Career Growth through a one-of-a-kind user experience. This unique story appeals to candidates motivated by innovative, energy efficient, and sustainable engineering.
RESULTS
The unique user experience is driven by video, animation, and way-finding that revolves around RMF's core recruitment themeology. The Careers website leverages an interface and flow that's mobile-first, integrated with the firm's LinkedIn recruitment effort. Content is presented in large, scannable chunks with data blocked out in easily digestible bursts. Calls-to-action lead to Open Positions, where visitors can apply online.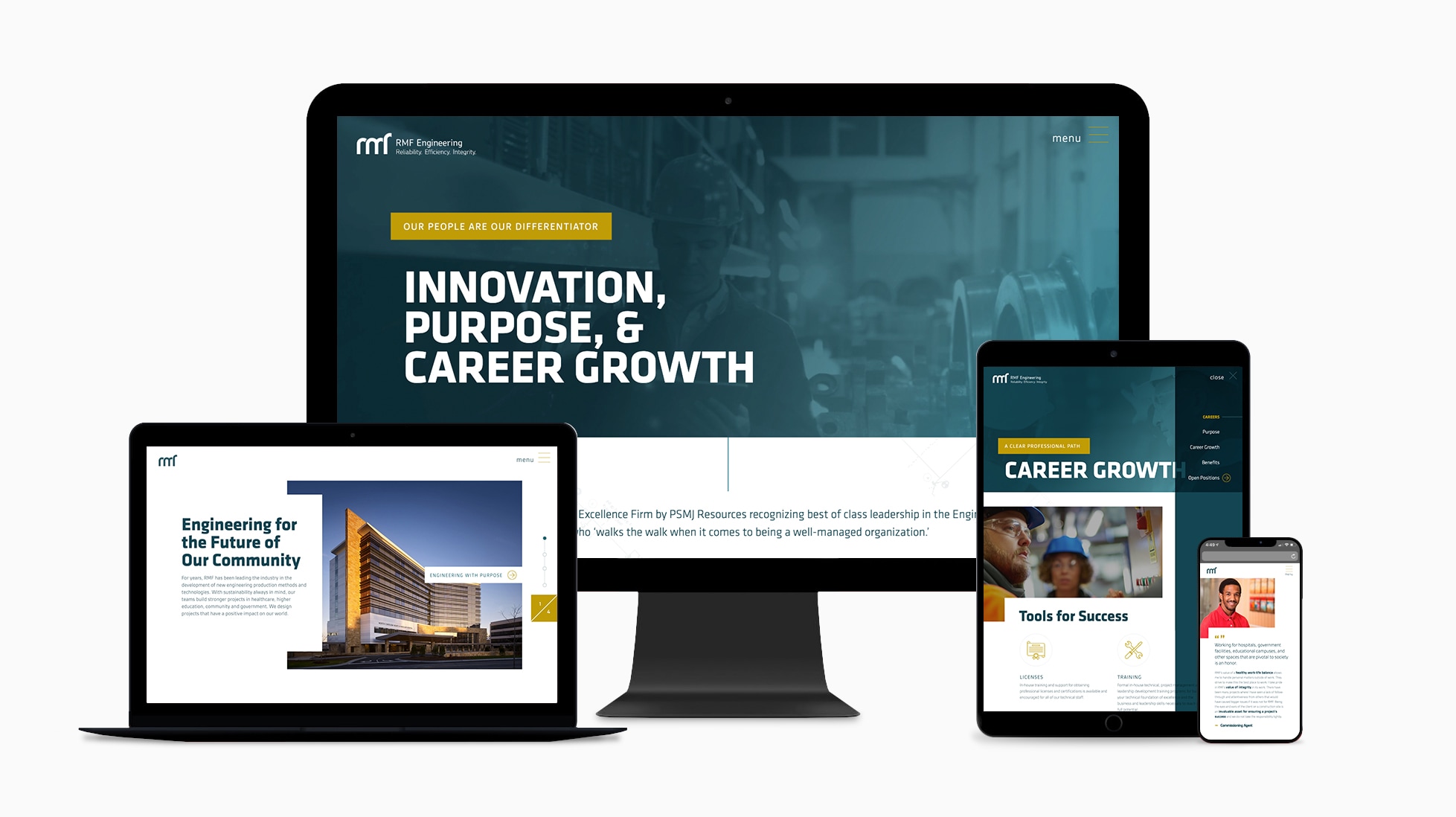 Immersive Storytelling
Video is used as the backdrop to add context and color for RMF's story of Innovation, Purpose, and Career Growth. Photography highlighting quality of life illustrates the impact a career at RMF has on employees and their communities. As visitors scroll, supporting content is reveled to further validate the firm's credentials such as their Circle of Excellence Awards for three years running. Innovative, cutting edge css animation and UX reflect a firm that is forward thinking with a standard for technical excellence poised for the future.
View Live Site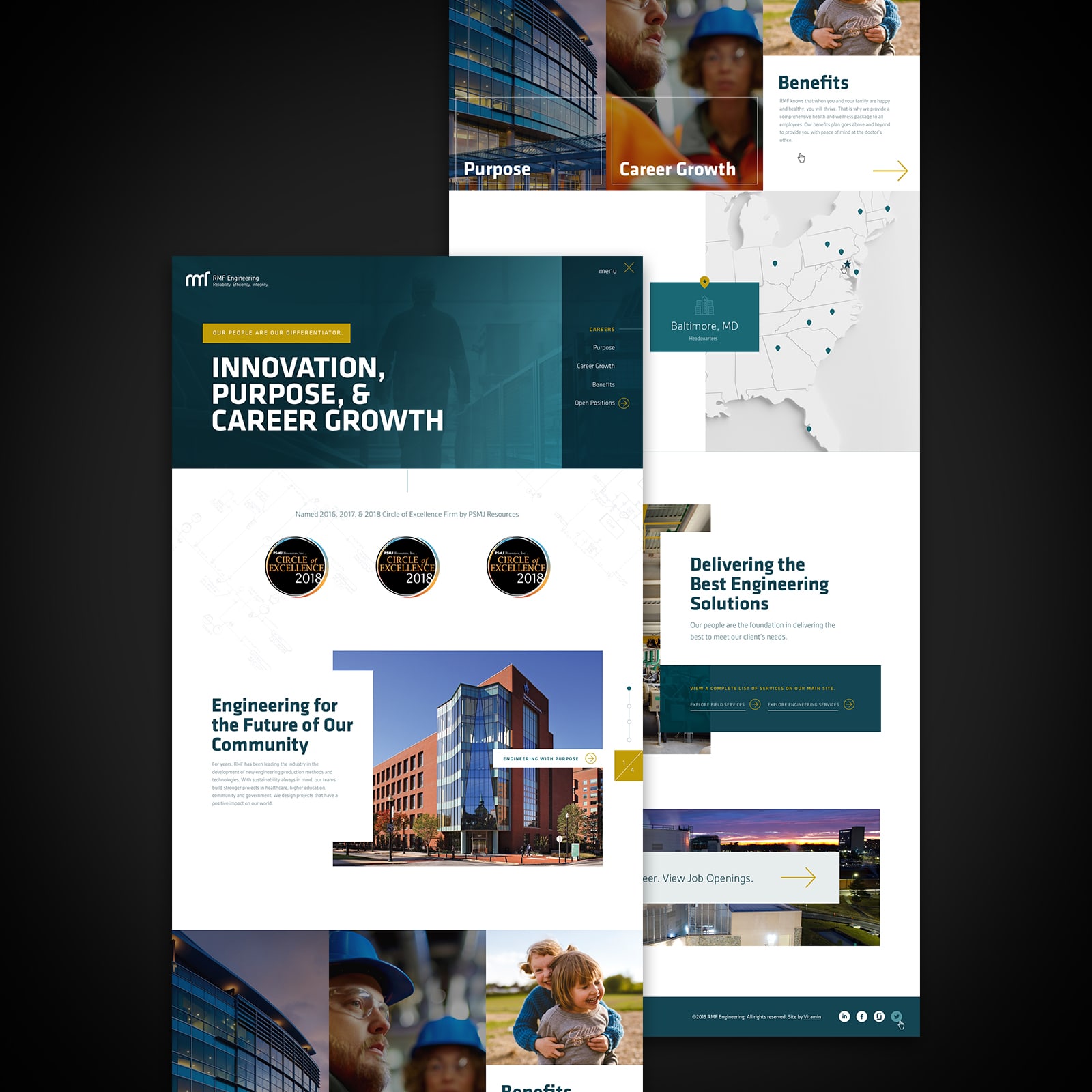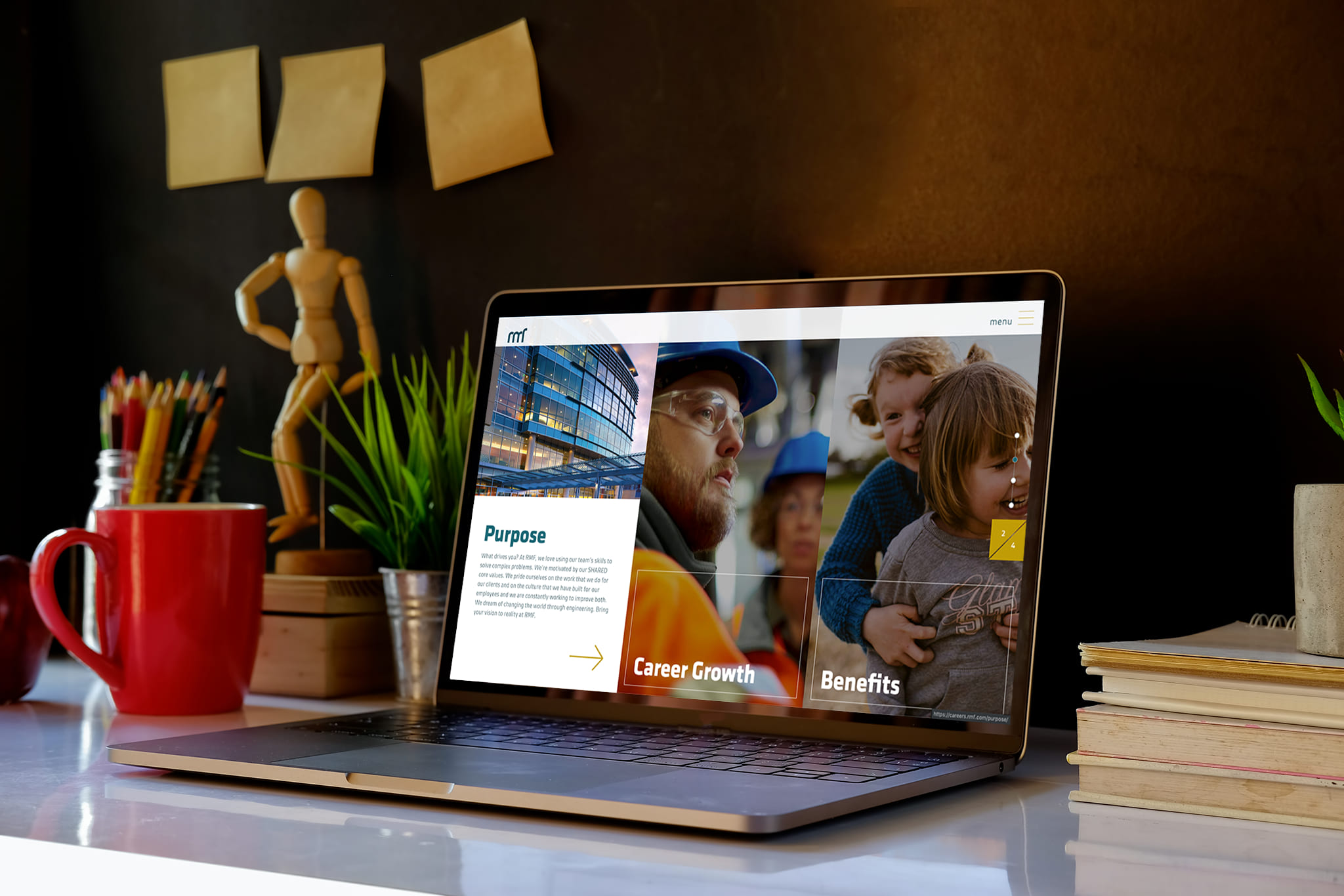 Geographic Reach
Another aspect that makes RMF attractive to potential candidates is the opportunity to move to any of their 12 locations across 9 states up and down the East Coast. This enables RMF to cast a wider net for seasoned talent in various parts of the country. An interactive map on the Careers homepage illustrates this expansive coverage.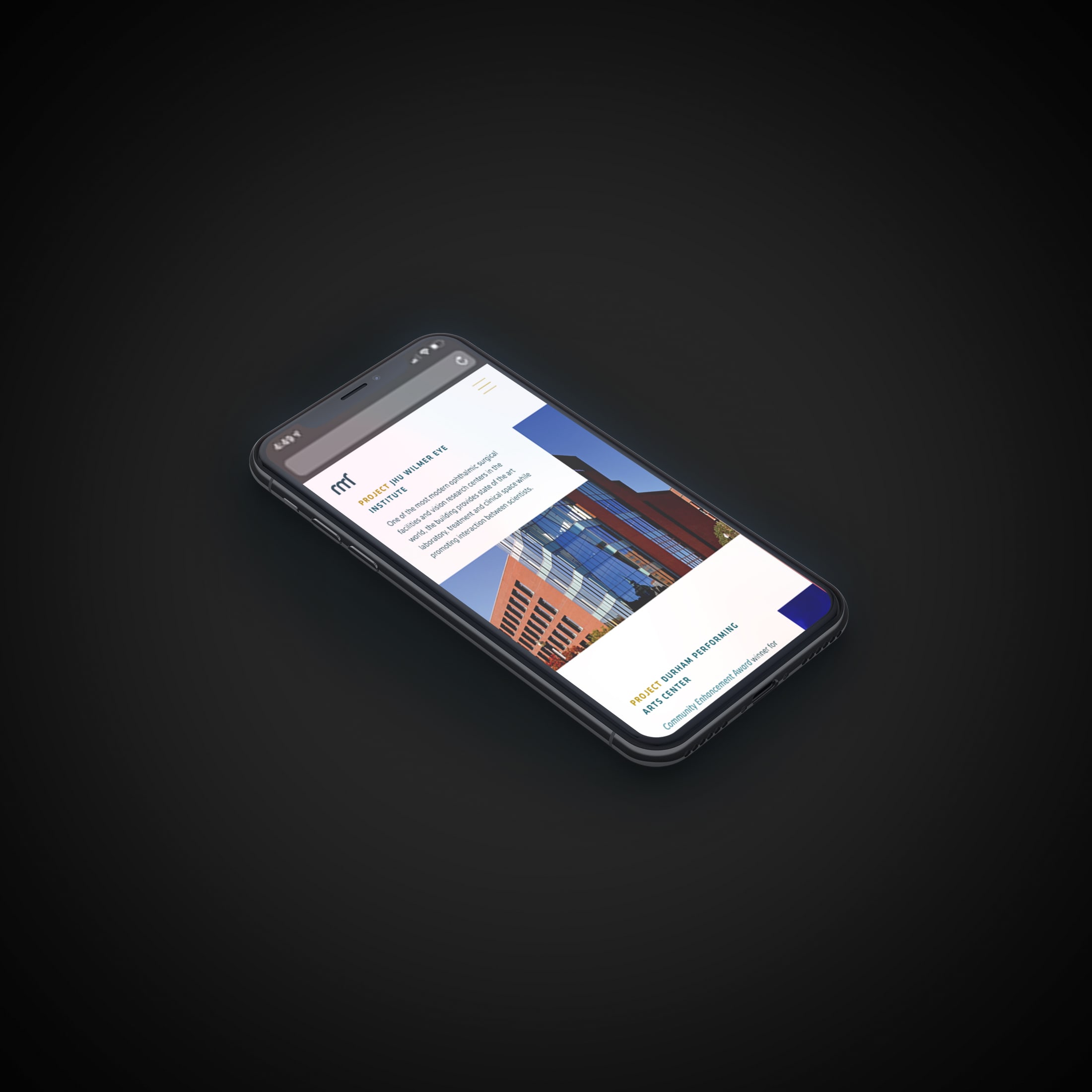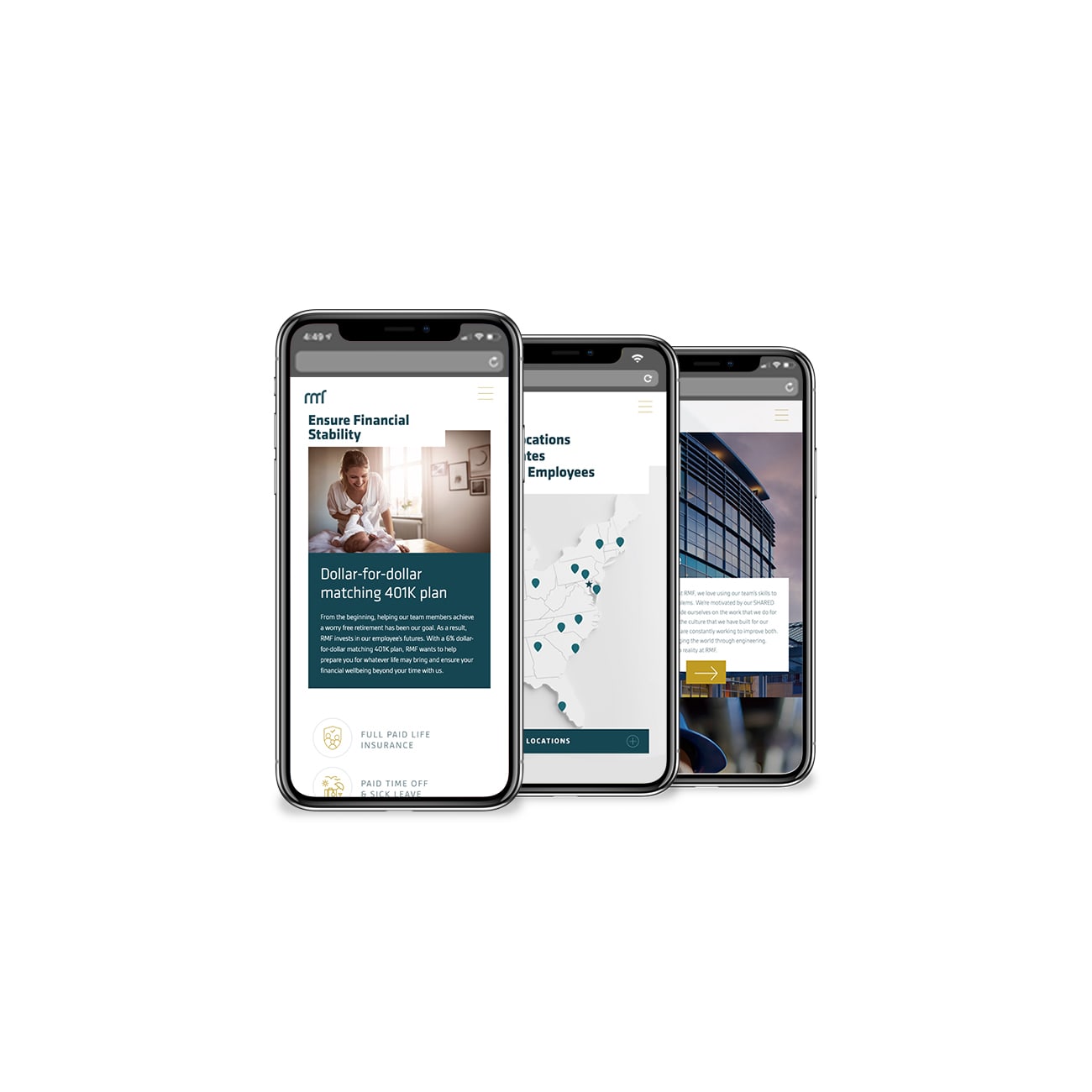 Great Benefits and Ease of Application
All of RMF's featured benefits are easily accessible and outlined on the microsite categorized by healthcare and financial. The site also features real-time integration with BalanceTRAK applicant tracking system to ensure candidates are able to quickly access the latest openings and apply directly from the site.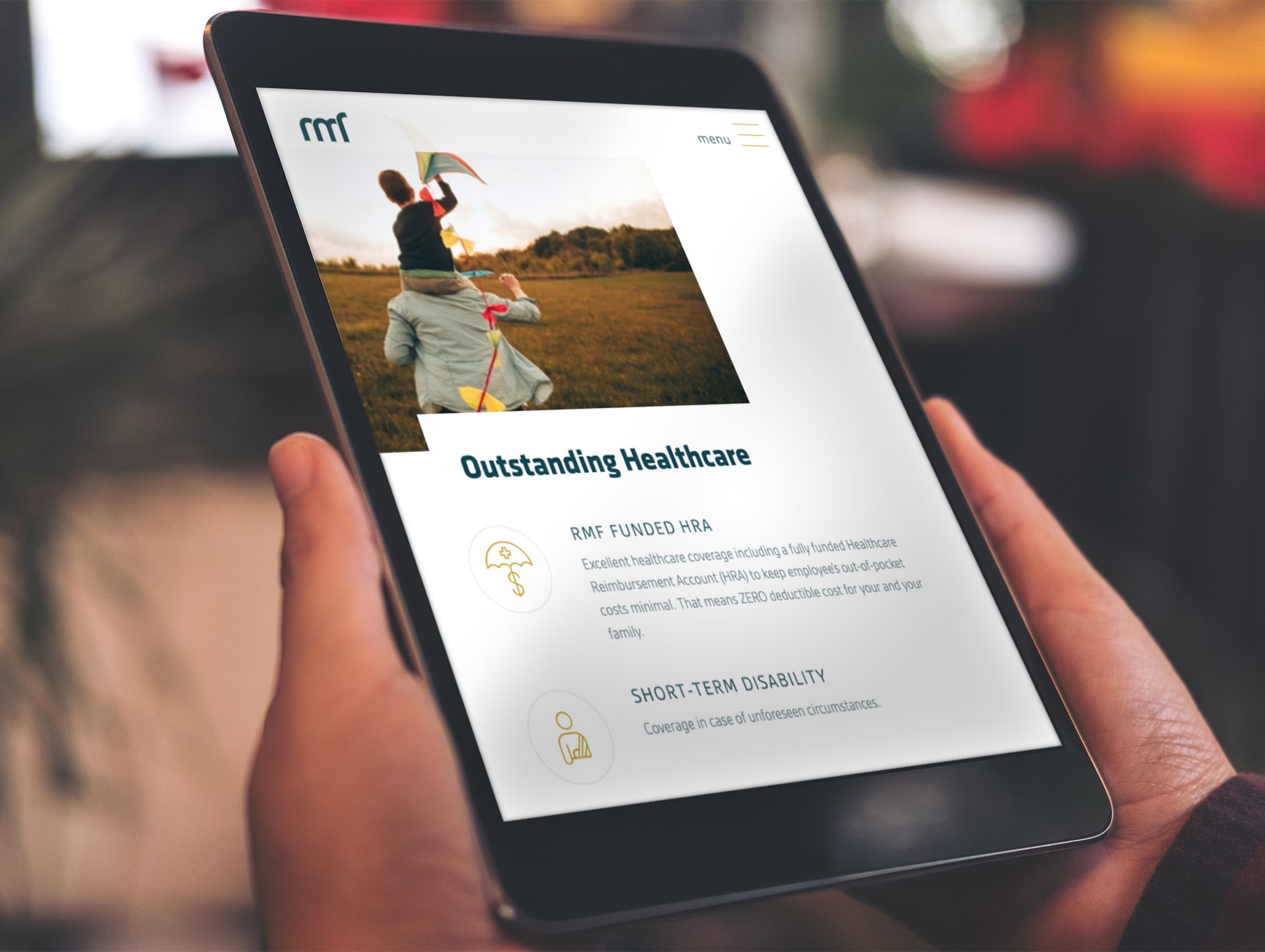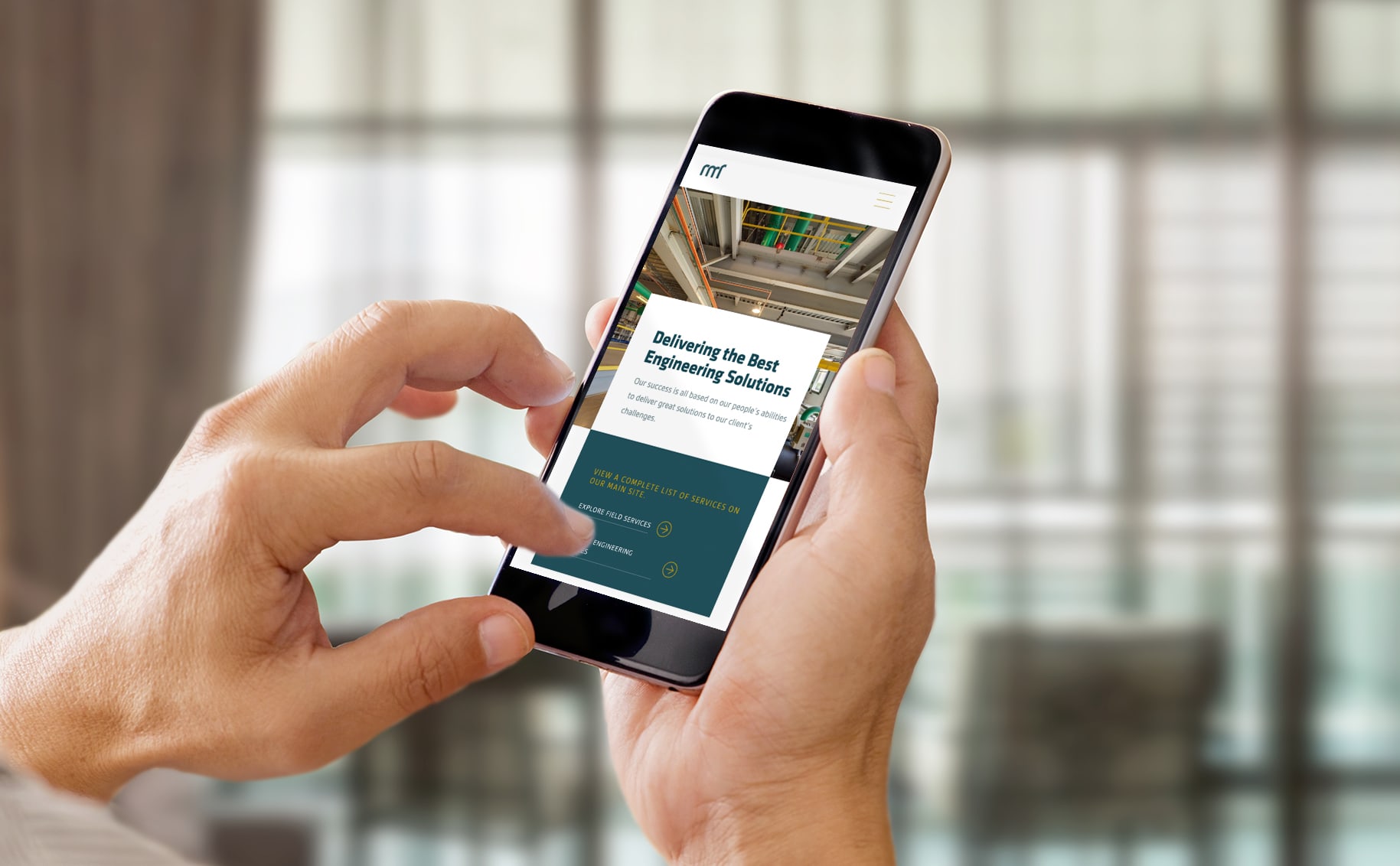 Let's Do Something Great.
Get in Touch.