The SAFE & DV Program at GBMC is committed to providing compassionate and confidential medical, forensic, and crisis counseling to Sexual Assault, Domestic Violence and Child Abuse victims to improve their safety, health and well-being, throughout the individual's lifespan. Using a patient-centered approach, the GBMC SAFE & DV Program attends to victims' medical needs while expertly documenting injuries and collecting evidence of crimes.
CHALLENGE
For victims of sexual assault and domestic violence, isolation is an all too common feeling. So through every interaction on the SAFE & DV Website, Vitamin needed to reinforce that the individual is not alone. Not only through words. But through every aspect of the way the individual experienced the content on the website. Each step needed to reassure that the site visitor is safe, that they can trust the resources provided, and that there is hope for them to get out of their situation.
STRATEGY
We addressed this challenge head-on from a number of dimensions. From a look and feel standpoint, the site utilizes fonts and a color palette that are soft, caring and welcoming. We featured illustrations that are diverse and anonymous which provides a sense of both inclusion and discretion that is critical in cultivating trust. From a user experience perspective, we designed a very clear side navigation utility that is persistent throughout the experience.
RESULTS
With the persistent side navigation and access to the 24 hour hotline critical content quite literally never leaves the user's side. The site enables visitors to quickly identify their situation and access resources, questionnaires, and tips at a moment's notice. An escape menu at the bottom of the browser assures the visitor that – if they feel threatened at any time – they can quickly leave the site. The website is also invaluable for friends and families who are unsure where to turn.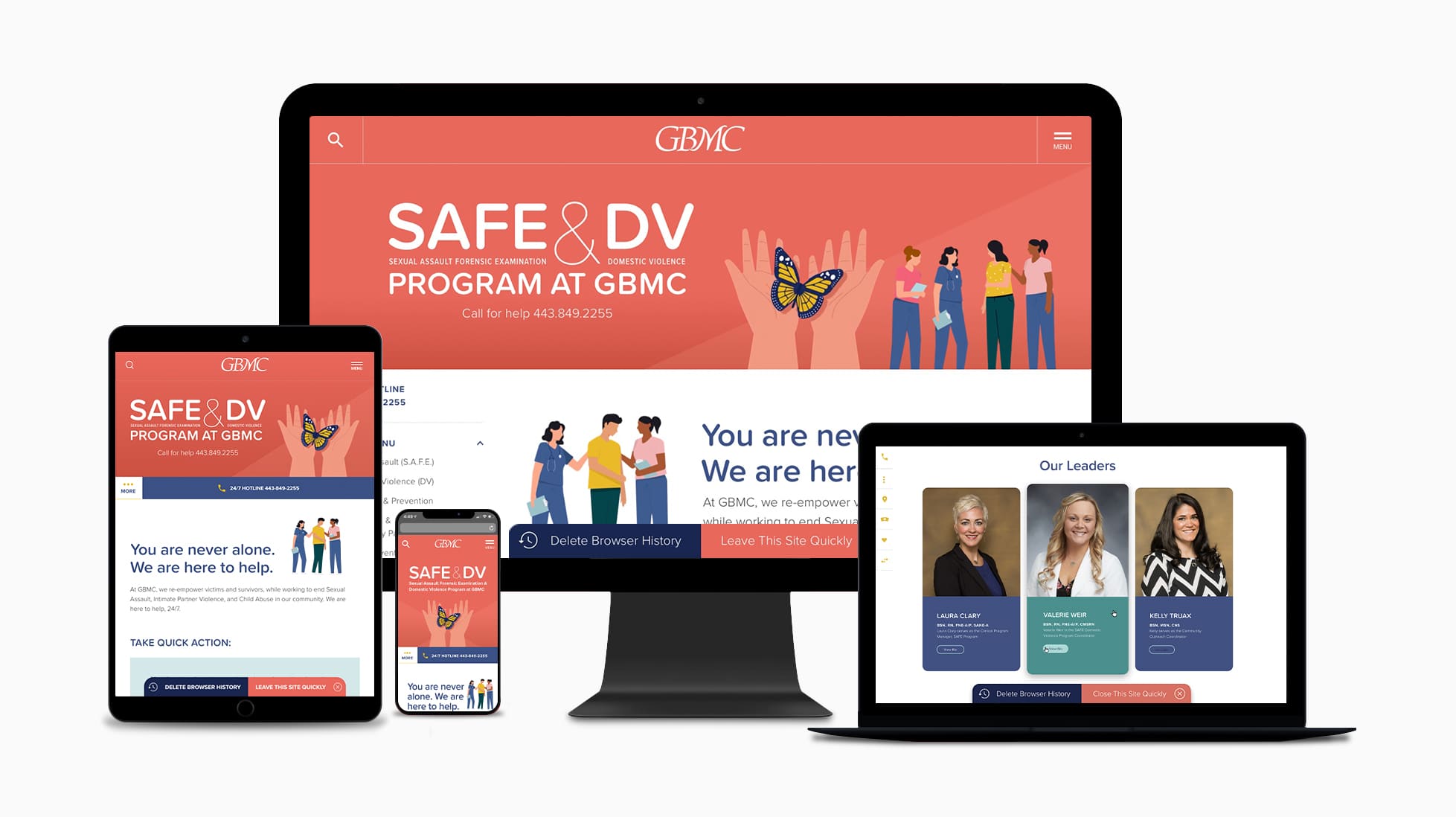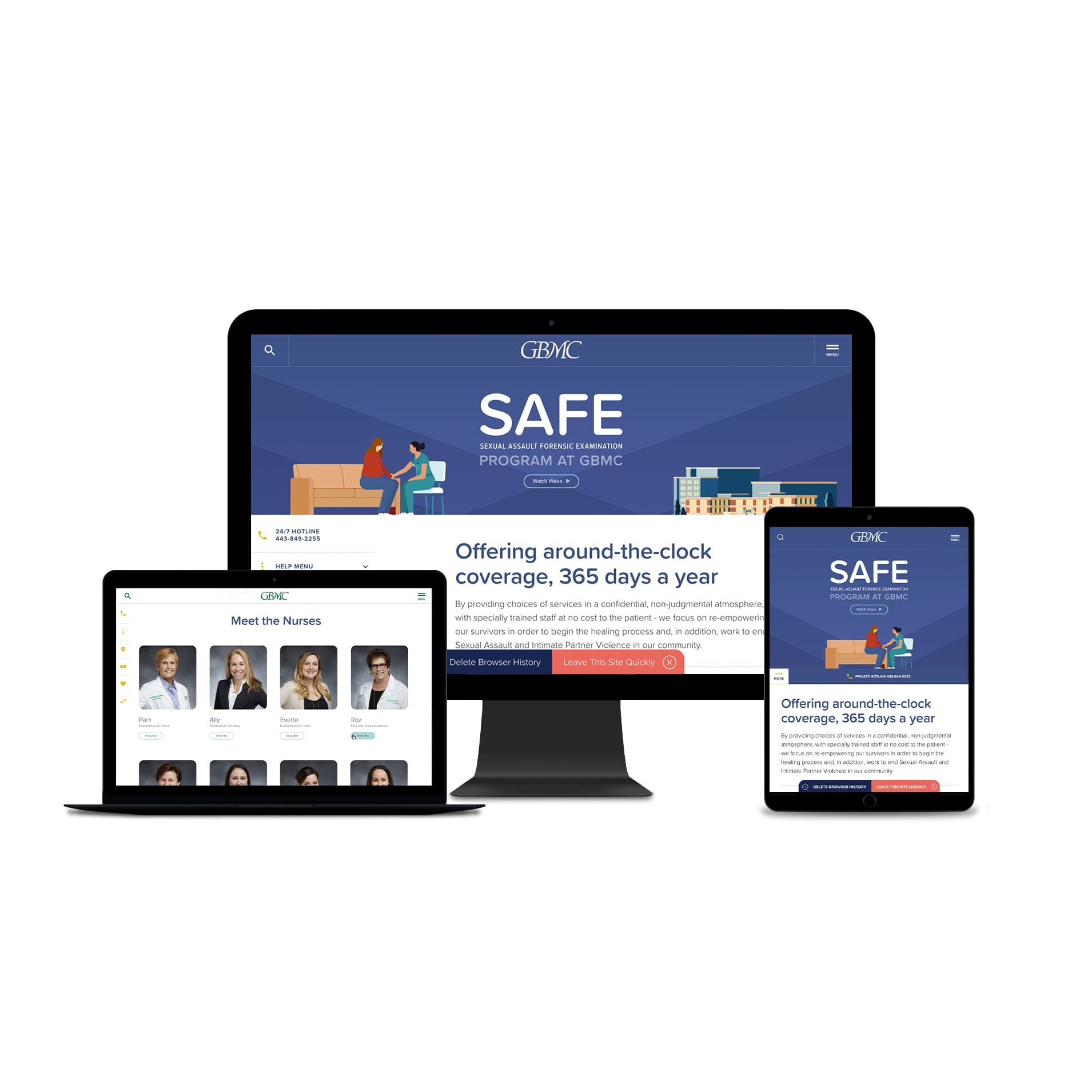 You Are Never Alone.
The SAFE & DV website was designed with tremendous sensitivity and respect for the mental and emotional state of the site visitor. Our first priority is to create a sense of welcoming and understanding. Safety is paramount. There is no pressure, shame, or judgement. Only support, compassion and hope. The promise of confidentiality is reiterated throughout the experience.
View Live Site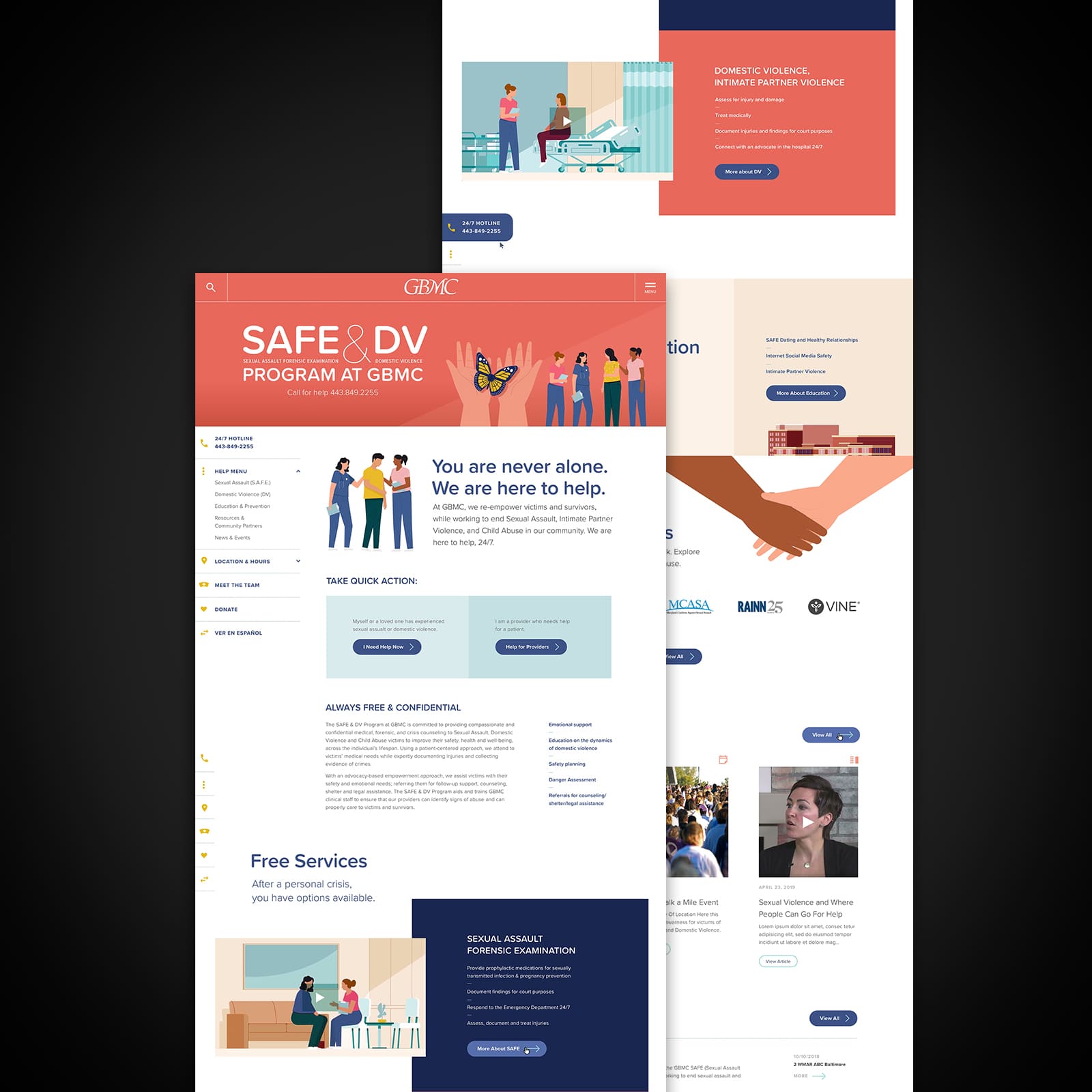 Comforting Video Narratives.
The site features illustrations and animations to help comfort the visitor and set the expectation for what their experience will be like upon coming to GBMC. The warm, soft tone of this content is important to ease an individual who may be highly apprehensive in regards to talking about their situation.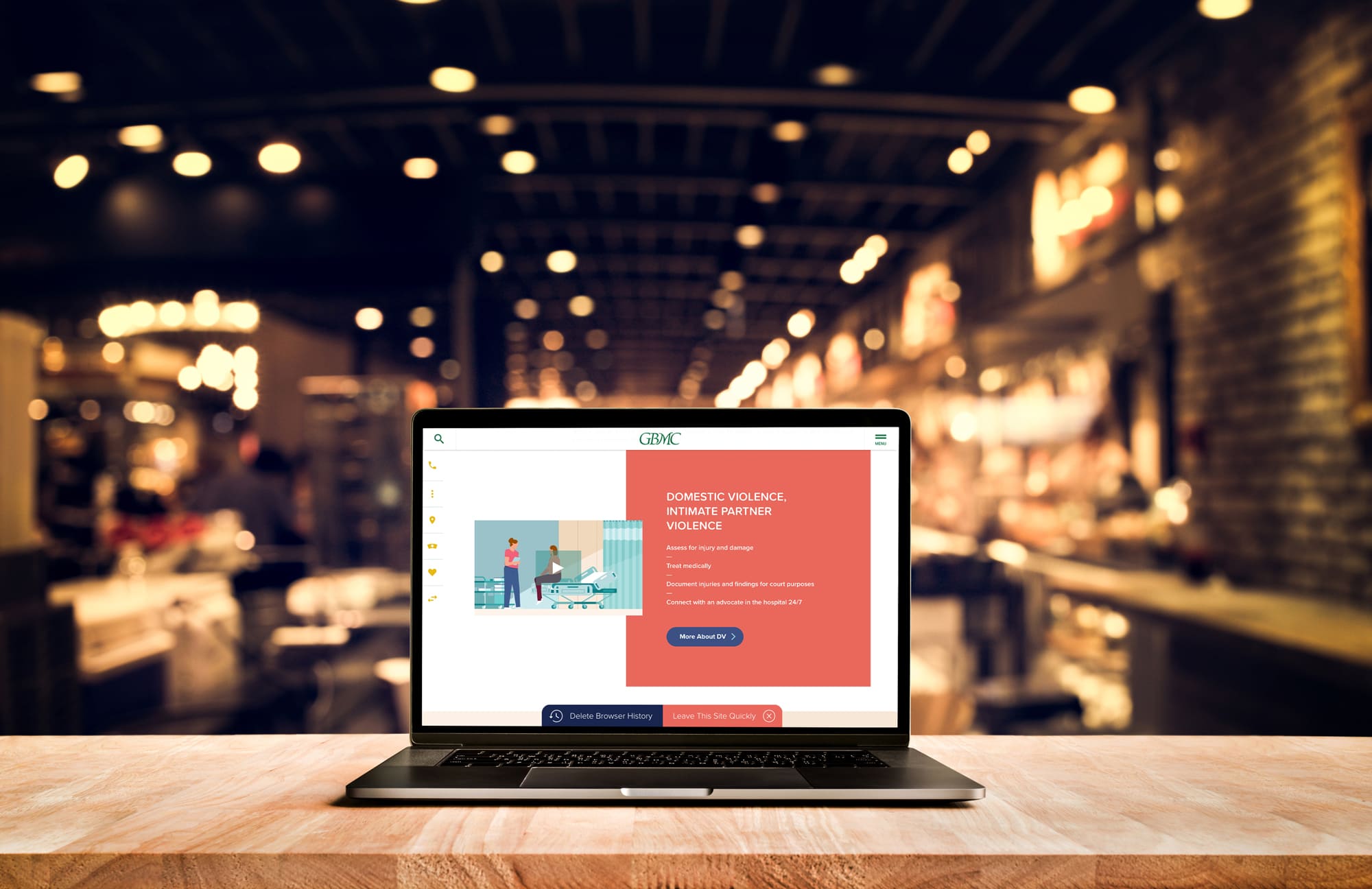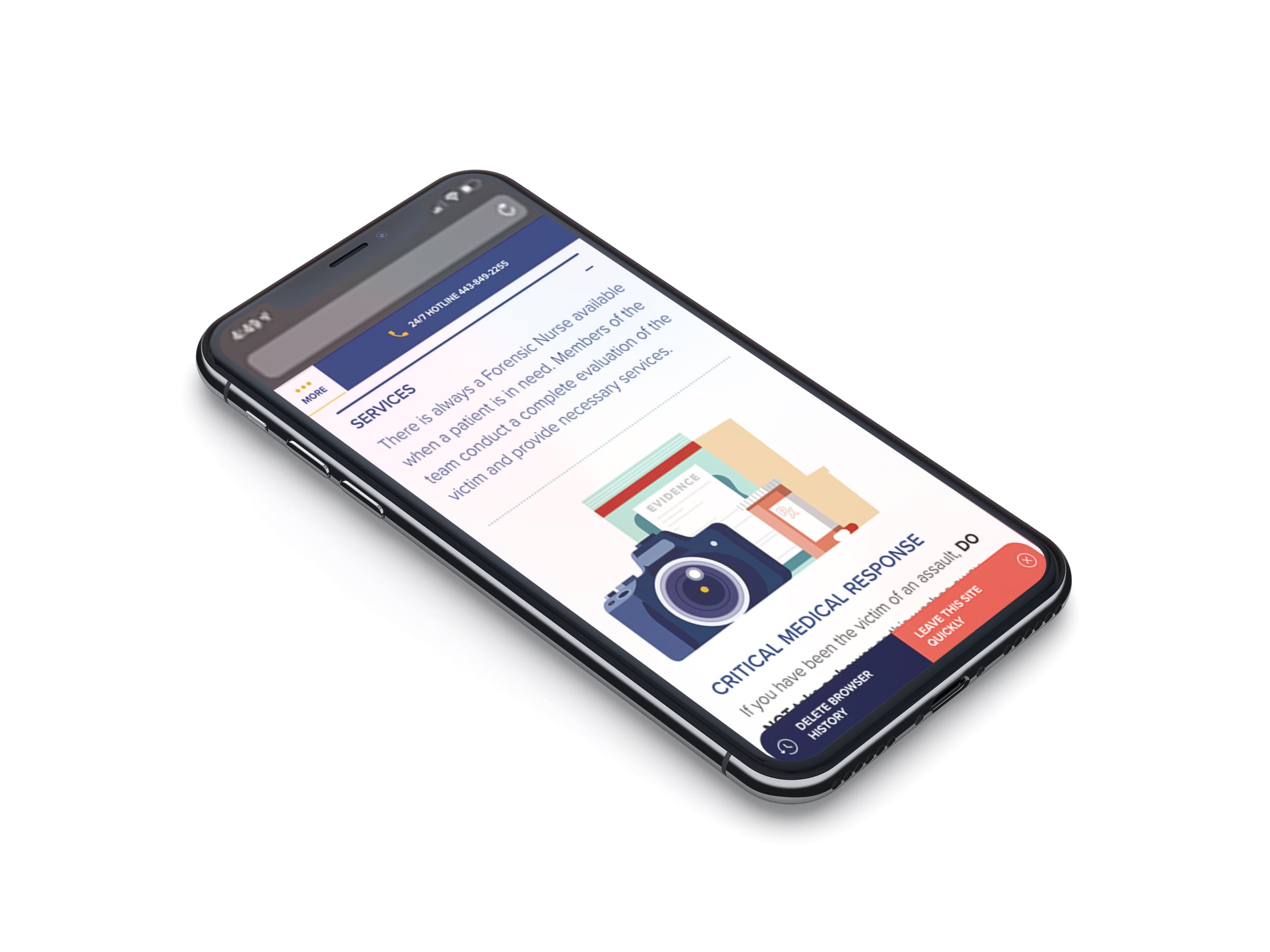 The Faces of SAFE & DV
We have elevated the SAFE & DV team profiles to highlight the friendly, experienced staff that specialize in this type of care. The team at GBMC is world renowned and specifically trained and certified by the Maryland Board of Nursing to care for victims of rape, sexual assault, child abuse, and intimate partner violence.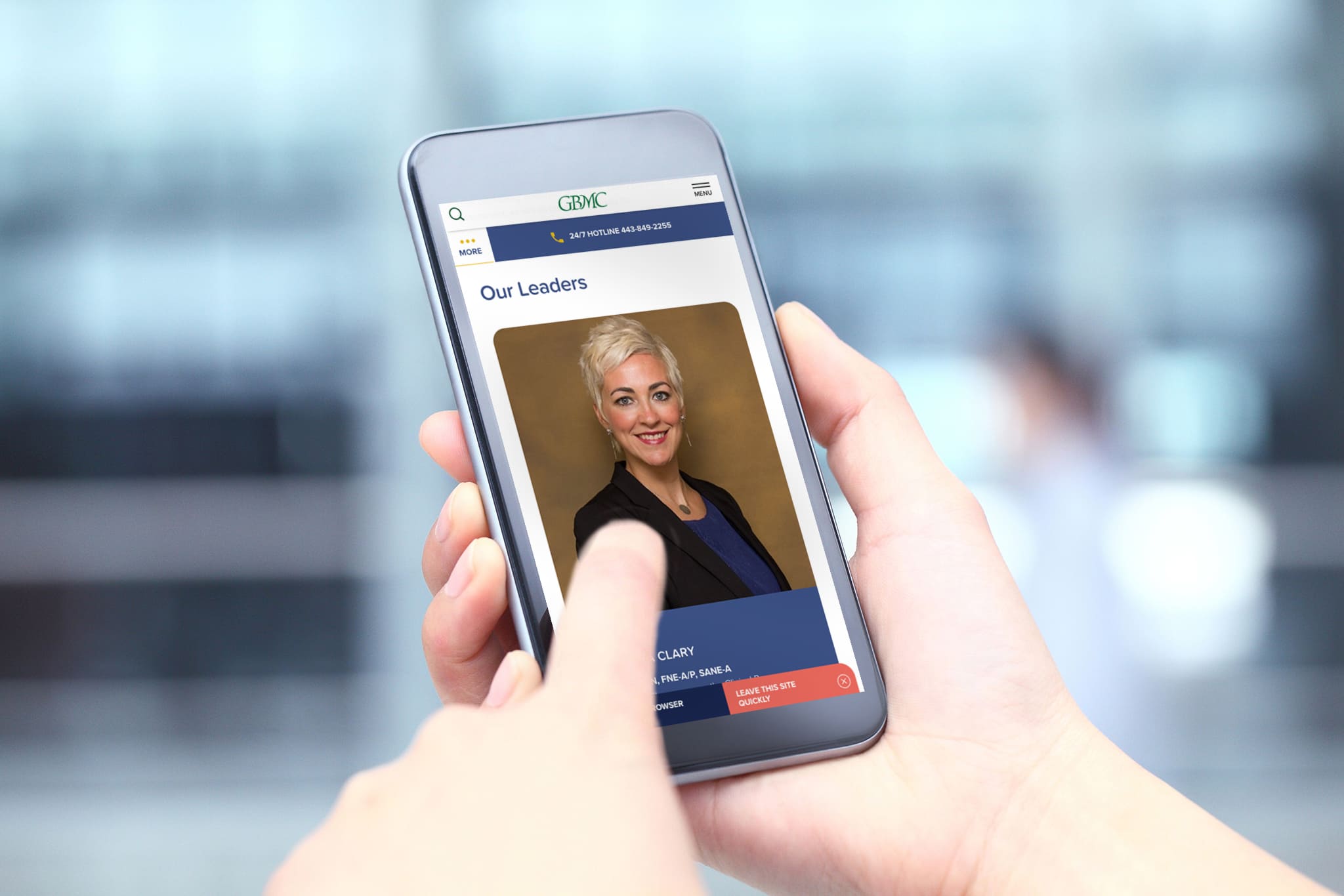 Time is of the Essence
The forensic nurses at GBMC understand the importance of acting quickly to gather and preserve forensic evidence in the case of sexual assault. Therefore, the site is equipped with a fast, step by step questionnaire to guide visitors through exactly what to do, what not to do, and a comprehensive understanding of their options. Before it's too late.
Let's Do Something Great.
Get in Touch.