When Vitamin embarked upon the journey to carve out a new home at 720 Light Street in Federal Hill, the goal was to create a space that would inspire our professionals, foster collaboration and creativity, and to manifest a physical representation of who we are as an agency in a bold and powerful way. The journey was interrupted by the Covid-19 pandemic. With our team working from home, plans to move into our new space together were derailed.
Fast-forward to 2022, and Vitamin's 20th year as The Cure For the Common Brand. The design vision for our new space is now fully realized, and the team is enjoying our beautiful, new digs every day. We're excited to share our space in "Cool Digs", showcasing our unique space which breaks the mold for the typical workplace.
We approached the BBJ editorial team about 720 Light Street, and they agreed. We collaborated internally on our messaging for the article, while professional photographer and vendor partner Papercamera captured the fit out anf finishing touches we're so proud of.
View the article online at the Baltimore Business Journal. Subscription may be required.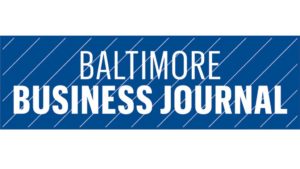 Let's Do Something Great.
Get in Touch.